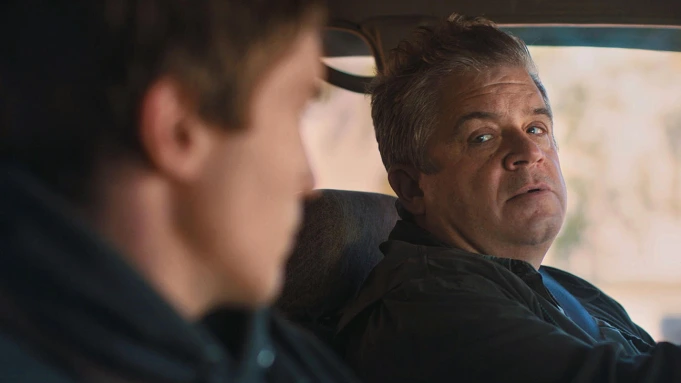 There is the old saying that "the truth is stranger than fiction." So, it might be hard to believe that an estranged father would pose a young woman online and begin catfishing his own son in order to maintain a connection to his son's life. But for writer, star, and first-time director James Morosini, those are the real-life events that inspired his new film I Love My Dad, which premiered at SXSW this weekend.
After Franklin (Morosini) attempts suicide and is sent to treatment for his depression by his mother (Amy Landecker), Franklin blocks his dad on social media in an attempt to set healthy boundaries in his life after years of lies and disappointment from his father. Desperate to keep what little connection he has with his son, Chuck (Patton Oswalt) gets the idea from a coworker (Lil Rel Howery) to create a fake account to keep tabs on his son. Stealing pics from the social media account of a waitress (Claudia Sulewski) that Chuck meets at a local diner, "Becca" is born and reaches out to Franklin online. After some initial suspicion, Franklin finds refuge, connection, and safety in Becca. And all is going well until a plan is accidentally put in place to by Chuck's girlfriend Erica (Rachel Dratch) for Becca and Franklin to meet in person.
I Love My Dad is a great film from top to bottom. The writing is fantastic, and these characters and relationships are brought to life by this stellar cast lead by Morosini and Oswalt. The story is engaging, funny, uncomfortable, and touching in very believable ways. And what so many other films get wrong about showing online communication onscreen, I Love My Dad gets it so right. The messaging of the characters is done in a smart, fresh, engaging way that doesn't leave the audience reading the screen. In a time when people are desperate for real connection, this film explores the lengths people will go to in order to feel seen, heard, and to know they aren't alone in the world.
I Love My Dad is not yet rated and has a runtime of 90 minutes.