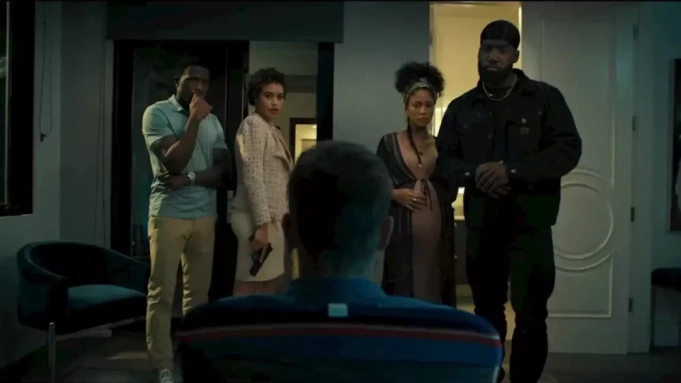 A Lot of Nothing begins in the place where the pain and anger about continued injustice turns from a passive social media post into a series of events that will have lifelong consequences. But in addition to being a thriller that has some darkly funny moments, this movie addresses multilayered and uncomfortable issues through a tense and surprising journey.
After learning that their police officer neighbor has been involved in a questionable shooting that has hit the news, well-to-do couple James (Y'lan Noel) and Vanessa (Cleopatra Coleman) start as armchair activists to call him out publicly and come close to going to confront him in person. But they get caught up in one another and calmer heads prevail. However, the next day, after Vanessa confronts her neighbor, officer Brian (Justin Hartley), things quickly escalate and a tense and racially charged conversation turns into a series of events that not only changes the lives of James, Vanessa, and Brian, but the lives James's brother Jamal (Shamier Anderson) and his pregnant fiancé Candy (Lex Scott Davis) as well.
A Lot of Nothing is the directorial debut of Mo McRae who also wrote the film along with Sarah Kelly Kaplan. The film not only tackles issues of race and racism, but also explores how the intersectional aspects of race, class, and gender all interact with one another. McRae and Kaplan also don't shy away from exploring the identity politics, code switching, and microaggressions that people of color negotiate in their personal and professional lives. The film is beautifully shot and designed. There is clear attention to detail and the overall design helps set the mood and tells us a lot about the characters.
There are numerous scenes that do a lot of powerful work and the film does a good job as showing how complex all of the issues are. Some of my favorites scenes being the one of Vanessa and James trying to decide on their Facebook post as well the scenes that explore the juxtaposition of the two of them in their daily professional lives. However, the ending of the film takes a turn I didn't expect. And although I don't need a film ending to wrap everything up in a nice package, some of the choices that were made just didn't make a lot of sense. The last quarter of the film felt out of place and almost like a different film. But even with an ending I didn't like, A Lot of Nothing is definitely doing a lot of good work and shows the audience that complex issues don't have simple answers.
A Lot of Nothing is not yet rated and has a runtime of 104 minutes.