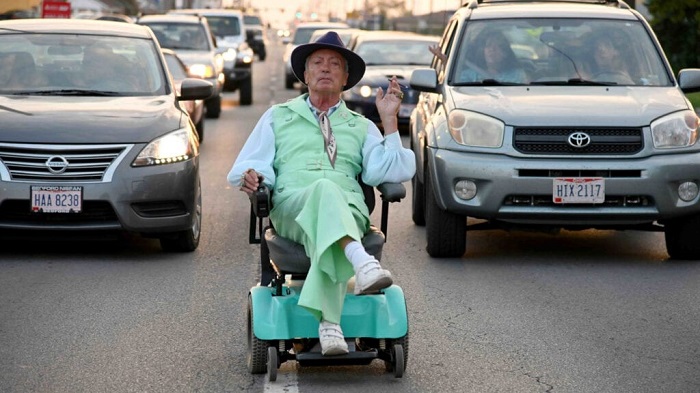 Over the course of his career that spans almost six decades, German actor Udo Kier has been one of those "that guy from that thing"-type of performers. Even if you never knew his name, odds are you've seen him in something because whether it's a supporting role or a cameo, Kier works quite consistently. Especially in the horror genre where he's a mainstay. Thankfully, Swan Song, which premiered at SXSW, allows the esteemed actor's actor to both show himself in a different light and take center stage.
In Swan Song, Kier plays Pat Pitsenbarger, a former hairdresser living in a nursing home. Once a former client and friend Rita (Linda Evans) passes away, Pat is tasked with fulfilling her wish of having him style her hair once more. Due to a falling out between them, Pat is hesitant at first, but he makes the effort anyhow to make amends with her along with other figures from his past including Dee Dee Dale (a scene-stealing Jennifer Coolidge), a disgruntled former employee.
With the way he hoists his cigarettes and struts his way through the rural town of Sandusky, Ohio, Kier exudes poise and flamboyance. He nails the role's comic beats with his sassy snark while letting heavy moments of quietness reveal the lonely, distressed soul beneath his buoyant veneer. Whether he's alone in his nursing home room or visiting the grave of his lover who died from AIDS, Kier's face acts as a window into Pat's crushing sadness. It's a masterfully done tragicomic performance that's undoubtedly at a career-best level.
Another one of Kier's best scenes, besides the aforementioned cemetery scene, involves Pat visiting a gay bar called The Universal Fruit and Nut Company that he once called a safe haven. A scene where he converses with a young bartender that sums up the picture being an ode to the queer trailblazers of yesteryear. Those who've lived openly before it was safer to and made gay bars, such as the one Pat would frequently visit, places of community before they slowly became relics of the past. While there are plenty of gay bars still in business, the wave of dating apps like Tinder and Grindr have people finding new habitats where they can meet and connect.
The world that Pat walks into is different from the one he once knew. While for him, it may seem strange, he still seizes what may be his last chance to see it. Swan Song has a rather fitting title because it's about living life to the fullest while you can since you'll never know when yours will be. Its blend of humor and sorrow is also perfectly captured by Udo Kier's leading performance. This season's Oscars aren't until next month, but there's already a case for Kier to be in the hunt next season. Given the long career he's had, he's certainly earned his due.