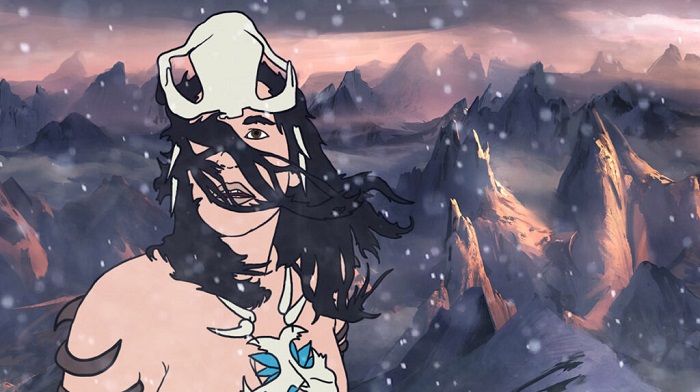 The Spine of Night by co-writers/co-directors Philip Gelatt and Morgan Galen King is a fantastic fantasy film featuring animated imagery that would be at home in the pages of Heavy Metal. While the audience for this type of genre film is narrow, the appreciation by fans will run deep.
Tdoz (Lucy Lawless) traverses naked through a snowstorm to the mountain cave of the Guardian (Richard E. Grant), who protects a magical blue flower. She tells him a number of stories, which are slowly revealed to be interconnected. The first tells of the kidnapping of the Queen of the Swamp by an evil prince who wants the blue flower she uses in her magic so he can channel its energies. The moral of the story and the others Tdoz tells is about the corrupting desire for power having dire consequences in this and her other stories. Tdoz appears to be the Queen, but she dies at the conclusion of the first story. I am not sure if I missed an explanation, but was puzzled whether she is an unreliable narrator or if she has been resurrected through magic.
Through the stories, including one told by the Guardian, this fantasy world features familiar characters of the genre like a barbaric guard (Joe Manganiello) and a scheming scholar (Larry Fessenden). One standout story tells of a battle brought to a walled city. Although it is protected by winged warriors, a trio of women do serious damage for their side in the war.
The Spine of Night has an animated aesthetic that owes a debt to animator Ralph Bakshi and artist Frank Frazetta. The production design of the characters and settings shows a strong influence from both artists. Rotoscoping in a fantasy film can't help but bring to mind Bakshi's iconic work in Wizards and The Lord of the Rings. The animators don't shy away from the damage done by violence with artwork that delivers gruesome images, such as of bones breaking and flesh being burned. The sequence of the three female fighters has outstanding visuals and incorporates steampunk.
Sure to be a cult classic, likely seen on the midnight movie circuit, The Spine of Night is a welcome addition to the fantasy genre.