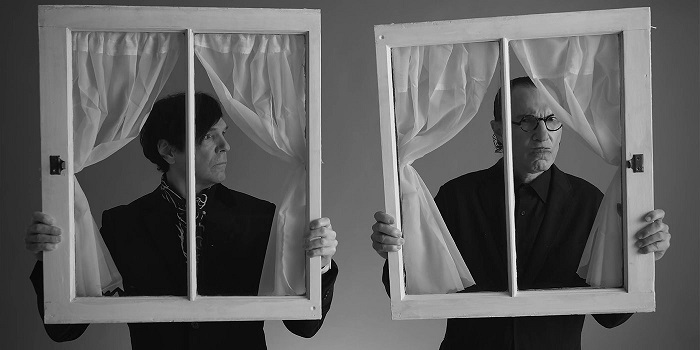 Edgar Wright's The Sparks Brothers is a loving biography that tells a story of persistence and resistance as Ron and Russell Mael followed their muse while working in the music industry for about half a century. While the band has had moderate success over the years, more so in Europe than home in the United States, their eclectic discography was so influential Wright was able to get an all-star roster of musicians to sing the brothers' praises. The interviewees include Beck, Jane Weidlin (who sang on "Cool Places"), Nick Rhodes & John Taylor, Flea, Steve Jones, Todd Rundgren (who produced their first album), Jack Antonoff, Andy Bell, Vince Clarke, Chris Difford, Bjork, Stephen Morris & Gillian Gilbert from New Order, Thurston Moore, and Weird Al.
Wright taps into both his and the Maels' sense of humor by opening the film with music that plays off the medium. He then presents the life and career of the brothers through modern-day interviews and archival footage of them along with animated sequences and related film clips. The brothers are very playful and could be unreliable narrators during Wright's interviews, but they are so entertaining, it doesn't matter. Plus, their songs, album artwork, performances, and music videos have suggested that not everything should be taken seriously.
However, they did take their music seriously, which found them crisscrossing genres and dumping band members quite often. Their first album, Halfnelson (1971), which was also the band's name, flopped, but after changing their name and label, it was re-released the following year. After their second album, the brothers moved to London without the rest of the band. With a new group of musicians, they released their most successful album in the UK. Kimono My House (1974) went to #4 on the charts and the single "This Town Ain't Big Enough for Both of Us" went to #2. At this time, they were experiencing a version of Beatlemania.
When that success died down, they didn't try to replicate what worked before. They chose new sounds to explore and new musicians to work with, but it didn't connect with the same numbers of people. Joking during an interview about working with composer/producer Giorgio Moroder manifested into a partnership where they made a synth-heavy album No. 1 In Heaven (1979) with a couple of UK hit songs. It wasn't until the early '80s that they had their greatest success on the U.S. charts with "Cool Places" (1983), a duet with Weidlin, whose popularity from her band the Go-Go's surely helped garner an audience.
The band continued to pursue their interests, which led to a commercial dry spell until Gratuitous Sax & Senseless Violins (1994) and the single "When Do I Get to Sing 'My Way'," both of which were particularly big in Germany. The pattern continued as albums were released without fanfare until Hello Young Lovers (2006) and again with A Steady Drip, Drip, Drip (2020), which found the band back on the U.S. charts, last appearing in 1984, and making it to #7 on the UK charts. And they show no signs of stopping as they work with director Leo Carax on a film, Annette, and plans for touring once the pandemic gets under control.
Whether a longtime fan, someone who remembers that one song, or if this movie is introducing Sparks to you, Wright's The Sparks Brothers makes a compelling case that they are a compelling band even if you don't find all their music compelling. You're gonna search out their music after viewing this wonderful documentary (I predict).