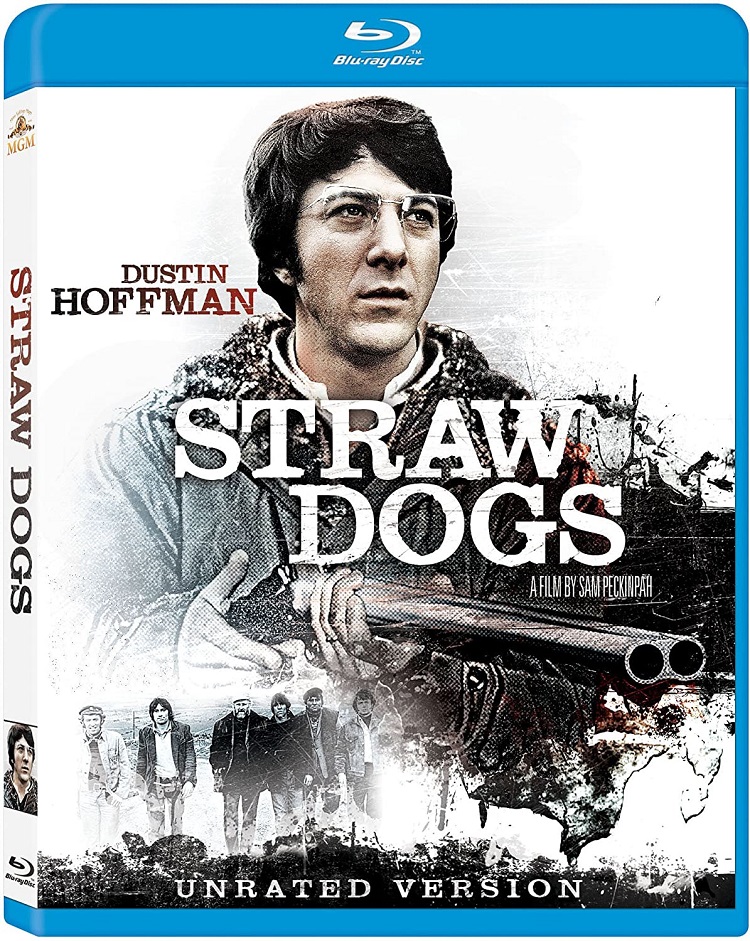 "This is where I live. This is me. I will not allow violence against this house. Don't worry." –David Summer (Dustin Hoffman), shortly before turning into a passive-aggressive creature of merciless cruelty.
The raw human emotion of hate. The violence. Those nipples. While all of those key ingredients may be noticeably absent in the lackluster Hollywood blockbuster remake of the same name, they are still present in Sam Peckinpah's original Straw Dogs. In fact, those very sale delimiting elements will most likely always be present — no matter how old this memorable, gritty, controversial cult classic gets.
Here we are, forty years later, and the force of Straw Dogs is just as nerve-wracking. In case you've lived in the rural farmlands of Great Britain all your life, the story here concerns a recently-married couple — wimpy American mathematician David (Dustin Hoffman) and his busty, beautiful young English wife, Amy (Susan George) — on "vacation" in rural England so that they can get away from just about all of the demons (personal or otherwise) that affect them back home.
Unfortunately, their little getaway doesn't succeed in taking them away from all the madness in the world. As a matter of fact, it brings that very same madness right to their doorstep in the guise of several local bad boys. Ignorant, aggressive, and unforgiving, the men all leer at Amy, while one of them (Del Henney) seizes the opportunity to rape her while the others distract David with a little hunting.
Unpleasant, vile, and insufferable, the actions and brutishness of the brainless will not compare to the hostility and sadism that an intellect can conjure up using normal everyday household items — especially from a little, normally timid and potentially unstable fellow like David. And, after a freak accident involving the proverbial village creep (an uncredited David Warner) occurs following the disappearance of a young local girl, tensions begin to rise between David and a vengeful, drunken group of local yokels — to wit an ordinary man is pushed well beyond the limits of normal, "sane" behavior.
Straw Dogs has been released several times on DVD — including a bonus-laden issue by the Criterion Collection — but this marks the first occasion wherein the unsettling Sam Peckinpah masterpiece has appeared in High-Definition on home video. This Blu-ray presentation from MGM/Fox Home Entertainment presents the unrated version of the film (previously available by Anchor Bay) in a fine-looking video 1.85:1 transfer with a 5.1 DTS-HD Master Audio lossless soundtrack that dutifully upgrades the original mono sound without breaching it. Optional subtitles are presented in English (SDH), French and Spanish.
Sadly, unlike that ol' bonus-laden Criterion DVD (which is now out of print), this Blu-ray release is a rather frill-less edition that only boasts a few TV Spots and a Theatrical Trailer as special features — which is worthy of a little hostility itself.
The Criterion Collection has re-released the film.