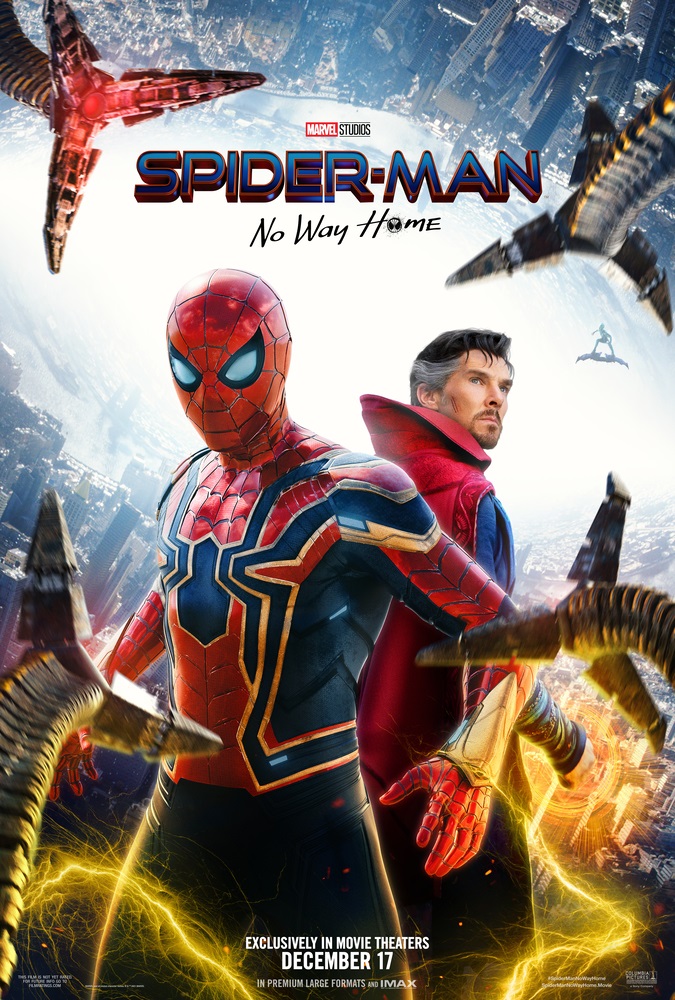 To paraphrase the Spider-Man comics, with great characters comes great responsibility and the Sony/Marvel partnership has met that challenge by delivering another amazing (lowercase) Spider-Man movie. This third installment in Tom Holland's run has had a consistent creative team with director Jon Watts and screenwriters Chris McKenna and Erik Sommers. With the cast, they have created a group characters to care about and root for, which is why there was an uproar when fans thought the Sony/Marvel partnership had come to an end, and may have even been responsible for it continuing. With the crew, they have created an exciting, action movie.
Spider-Man: No Way Home opens with a reminder that in Far From Home Mysterio revealed to the world that Peter Parker (Holland) is Spider-Man and framed him for his murder. Not only is this an issue for Peter, but the news also negatively affects Aunt May (Marisa Tomei), his girlfriend M.J. (Zendaya), and his best friend Ned (Jacob Batalon).
Peter seeks out the help of Dr. Strange (Benedict Cumberbatch) and asks that he remove the knowledge of his identity from everyone's mind to spare his loved ones the hassles they are experiencing. While Strange crafts the spell, Peter interrupts with exceptions, but it's not that simple. These distractions cause openings in the Multiverse, resulting in villains from the previous Spider-Man installments [Green Goblin (Willem Dafoe), Doctor Octopus (Alfred Molina), and Sandman (Thomas Haden Church) from the Sam Raimi films; Lizard (Rhys Ifans) and Electro (Jamie Foxx) from the Marc Webb films] coming to the MCU universe to the delight of many a Spider-Fan. It is an absolute blast seeing the characters from the different films interact and seeing the actors back in their roles.
Peter learns the villains die in their own universes fighting their Spider-Man and he wonders if there is a way to save them. Strange says they have to go back and face their fates, but Peter, at the prodding of Aunt May, won't accept that. After a wondrous superhero battle against Strange in a reality-bending mirror dimension, Peter teams with the villains, but what are the odds that all five will do the right thing and give up their abilities? When the Sinister Six minus One scatter across the city, Peter needs help in rounding up the quintet. Things seem hopeless until it is revealed the source of his troubles may also offer a solution.
McKenna and Sommers juggles the story's many characters well. Not only Peter and his people, but the villains all have nuance to them. For example, Sandman talks about being willing to return to his universe because he has a daughter, which fleshes the character out. While Peter and his friends work together against the bad guys, what elevates this story is seeing Peter make heroic choices, on his own and with help, that come with a huge cost. His life is in a very different place by NWH's end, and it will leave fans curious what's next for him.
Some fans may decide No Way Home their favorite of the Marvel Cinematic Universe. I wouldn't argue and may be one of them. It will see how it holds up to another viewing which I intend to do soon. The film concludes with two credit sequences. A silly one that may have major implications and what amounts to a trailer for Doctor Strange in the Multiverse of Madness, out May 6.