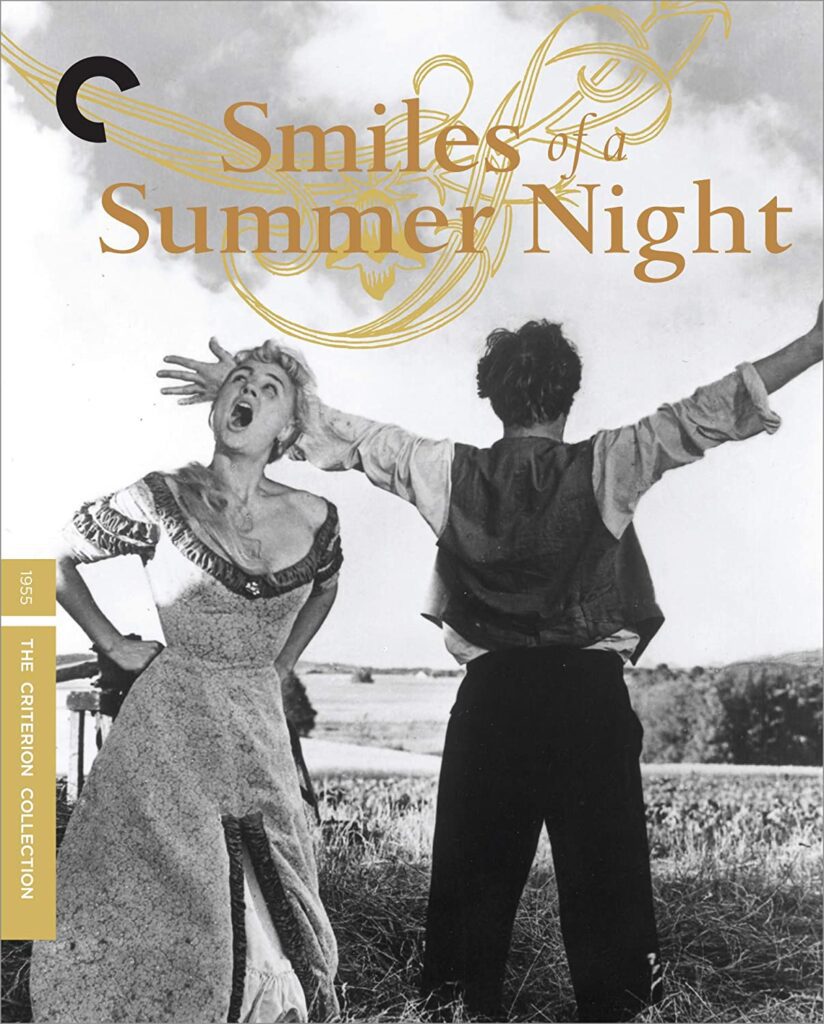 Though legendary director Ingmar Bergman is well known for creating films that deal with serious subjects about life and death, faith and doubt, marriage and divorce, he became an international sensation with this light romantic comedy, which Criterion released on Blu-ray this year.
Smiles of a Summer Night is a charming tale about of group of upper-class, mismatched lovers who sort things out one summer night in the country. Lawyer Fredrik (Gunnar Björnstrand) is married to the much younger Anne (Ulla Jacobsson), who is near the same age as Fredrik's son Henrik (Björn Bjelfvenstam) from his previous marriage to his late wife. After two years, they have yet to consummate the marriage due to Anne's disinterest. Henrik is studying to go into the priesthood and doesn't like his father, both due to his attraction to Anne, which he is unaware is mutual. Fredrick goes to see actress Desiree (Eva Dahlbeck), his mistress before he was involved with Anne, to chat. Desiree is involved with Count Carl-Magnus Malcolm (Jarl Kulle); himself married to Countess Charlotte Malcolm (Margit Carlqvist), coincidentally a friend of Anne's. The Count discovers Fredrick at Desiree's and becomes very jealous of what was an innocent visit. The two love triangles merge together into a very odd figure when Desiree's interest in Fredrik is rekindled, even though the Count has no interest in letting her go. Desiree concocts a plan to get everyone out to her mother's country house and secretly works with the women in the hopes that true love will win out for all of them. The ladies are assisted by some wine Desiree's mother (Naima Wifstrand) claims, according to legend, has secret seductive powers.
The enjoyable story is reminiscent of a Shakespeare comedy with its delightful characters, all of who achieve satisfying results in the name of love. Bergman directs with a light touch and allows the actors be the main focus. I wouldn't have been surprised if this had been a play turned into film, so it's no surprise the story was adapted into the musical A Little Night Music by Stephen Sondheim and Hugh Wheeler. It was also the inspiration for Woody Allen's A Midsummer Night's Sex Comedy.
The video has been given a 1080p MPEG-4/AVC encoded transfer. It is displayed at an aspect ratio of 1.33:1 and is pillarboxed. Blacks are strong and in tandem with sharp whites deliver a satisfying contrast. There is grain and good shadow delineation throughout. An example of the latter can be seen when Anne is in bed after play. There are some minor issues, though. A slight flicker is evident during the exterior scene as the Countess rides her horse and during the montage transition to night before the dinner. Dissolves aren't pristine, and the pattern on a couple of Petra's dresses cause minor aliasing.
The Swedish LPCM 1.0 audio is remastered at 24-bit from a 35mm optical soundtrack print though the source demands very little. Dialogue is always clear and balanced. The track reveals no signs of its age through hiss, pops, or crackle.
The disc comes with only two features, which is rather light for Criterion. "Ingmar Bergman Introduction" (1080i, 4 min) was recorded for SVT Svensk Television in 2003. Marie Nyrerod asks Bergman why he thinks the film was a turning point in his career. "Peter Cowie and Jorn Donner" (1080i, 17 min) have a discussion about the film and Bergman. There is also the trailer.
Though its lightheartedness makes it an atypical film for Bergman, Smiles of a Summer Night is a very important title in his filmography because its financial success allowed him to continue making films. Criterion has given it a nice high-definition upgrade, though the extras are limited and taken from their previous DVD release. It is sure to bring a smile any night.