The HBO television documentary Six by Sondheim is now available on Blu-ray. A fascinating look at the career of Stephen Sondheim, it tells his story through six songs from six of his most well-known shows: "Something's Coming" [West Side Story], "Opening Doors" [Merrily We Roll Along], "Send in the Clowns" [A Little Night Music], "I'm Still Here" [Follies], "Being Alive" [Company], and "Sunday" [Sunday in the Park with George].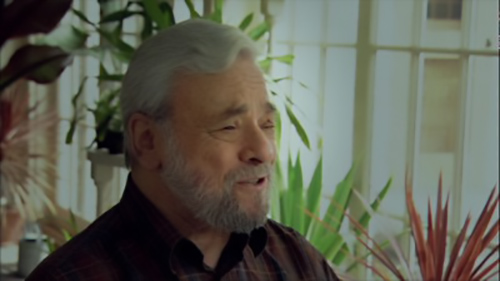 Six by Sondheim is directed by award-winning Broadway director and playwright James Lapine (Into the Woods, Sunday in the Park with George, Falsettos). Lapine also directed the 2010 Broadway salute Sondheim on Sondheim. He utilizes clips from television interviews, and films and stage productions of Sondheim's shows to help tell the story. The viewer gets to time travel with Sondheim, as he tells us, through old interviews clips, his personal history, his career, and his process. He talks about being a loner and not embarking on his first serious relationship until he was 60 years old. He actually had to ask a friend about her marriage to write the songs for Company, which deals with marriage and relationships.
When he was very young, he was mentored by Oscar Hammerstein II (Oklahoma, Carousel) and acknowledges that if not for Hammerstein he not only would not have the career that he had, but he doesn't know what would have became of him – Hammerstein was essentially a surrogate father and sheltered and protected him from his mother, who took out all of her resentment after her divorce from his father on him, her only child. On a lighter note, Hammerstein also got Sondheim interested in puns, anagrams, and puzzles, which contributed to the clever wordplay in his lyrics.
"Of every character you write, part of you is there."
As Sondheim talks about each song, we learn interesting tidbits. For instance, in "Something's Coming" from West Side Story he uses baseball imagery to tell Tony's story, his youthful exuberance.
… Something's coming, don't know when
But it's soon, catch the moon, one-handed catch …
For "I'm Still Here" from Follies, he shares that he based the song on the career of Hollywood icon Joan Crawford.
… Plush velvet sometimes
Sometimes just pretzels and beer, but I'm here
I've stuffed the dailies in my shoes
Strummed ukuleles, sung the blues
Seen all my dreams disappear but I'm here …
We see a clip of Yvonne DeCarlo, who debuted the song on Broadway in 1971 and a Fellini-esque new version of the song, featuring Jarvis Cocker (lead singer in the band Pulp) directed by Todd Haynes (Velvet Goldmine, Safe). James Lapine films a version of "Opening Doors" from Merrily We Roll Along, featuring Jeremy Jordan, Darren Criss, America Ferrara, and Sondheim himself.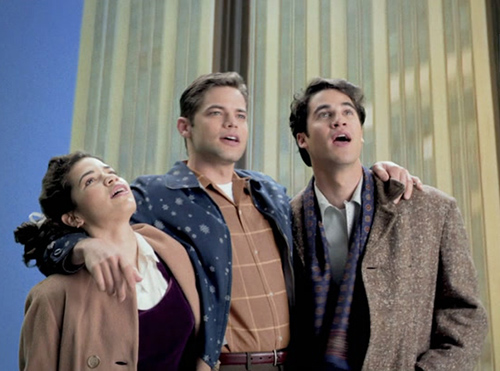 Original cast recordings of "Being Alive" from Company featuring Dean, Jones, Elaine Stritch, and Beth Howland, and "Sunday" from Sunday in the Park with George featuring Mandy Patinkin and Bernadette Peters are great blasts from the past. "Send in the Clowns" from A Little Night Music is one of Sondheim's best-known songs, and one that has been interpreted many times by many artists in many ways, which is showcased in a clever collage featuring everyone from Sinatra to Streisand to Cher to Glynis Johns, who originated the song on Broadway in 1973. Autumn DeWilde (Emma.) also directs a new performance of the song featuring Audra McDonald.
Six by Sondheim, which won a Peabody award in 2014, is a treat for fans of Stephen Sondheim's Broadway career, but is also enjoyable for newbies who may only know West Side Story. The documentary may focus on the six songs, but it does cover his whole career, from the hits (Funny Thing Happened on the Way to the Forum, Sweeney Todd: The Demon Barber of Fleet Street) to the flops (Anyone Can Whistle and Do I Hear a Waltz?) By the end of Six By Sondheim, you will definitely be wanting to hear more.
Specs: The film has a running time of 86 minutes and a resolution of 1080p with an aspect ratio of 1.78:1. Audio is English: DTS-HD Master Audio 5.1 with English SDH subtitles available.