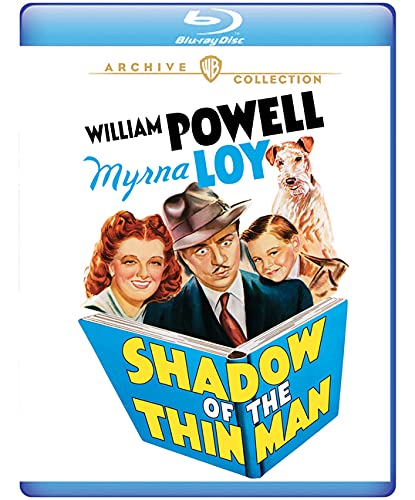 Shadow of the Thin Man is the fourth title in the six-film series featuring the detective team of Nick (William Powell) and Nora Charles (Myrna Loy). Although the screenwriting team of Albert Hackett & Frances Goodrich, who received Academy Award nominations for the first two films, did not return nor was there any involvement from The Thin Man author Dashiell Hammett, screenwriters Harry Kurnitz and Irving Brecher crafted an interesting mystery. But the highlight, as always, is the entertaining interplay between Nick and Nora, which is expanded to include young Nick Jr. (Dickie Hall) The additional family dynamic is folded into the formula deftly under the assured guidance of series director W. S. Van Dyke, marking his last in that job as he died in 1943 before the next installment in the franchise.
Nick and Nora are on their way to a race track where a jockey, who has been accused of throwing a race, has been murdered. Police Lieutenant Abrams (Abrams), who previously appeared in After the Thin Man, requests Nick's help. Nick declines but when asked by Major Jason I. Sculley (Henry O'Neill), who is serving on a commission looking at the role of organized crime on gambling, he acquiesces.
Then a second murder occurs: viewers witness reporter "Whitey" Barrow (Alan Baxter) shot in the office of gambler "Link" Stephens (Loring Smith) by someone offscreen. Whitey is an unsavory character as shown in interactions and statements from other characters. He shakes down Link's girlfriend Claire (Stella Adler) for $5,000; harrasses Molly (Donna Reed), who is Link's secretary and reporter Paul Clarke's (Barry Nelson) girlfriend; and is looking to leave town, which frustrates Bennie who is owed $8,000. Is Whitey's murder connected to the jockey, is it the same murderer, or is it all a coincidence?
Nick works the case and answers these questions. His character is smart and Powell charms his way through every scene, whether interrogating suspects or doing his best at fatherhood, which calls for sacrifices like drinking milk and riding a carousel for the boy. Nora is sweet and involves herself in the case more than Nick would like. Seeing Powell and Loy play so well off each other, it's understandable why they were such a successful and frequent pair on the silver screen.
There's another member of the family, Asta the dog. He also assists in solving the case, going to crime scenes with Nick. He's brought to a seafood restaurant, which seems odd until he is used to set off a ridiculous fight. Unfortunately, it requires quite a few camera tricks, such as undercranking or running the film backwards, for Asta to properly perform what's required.
The video has been given a 1080p/MPEG-4 AVC encoded transfer displayed at the original aspect ratio of 1.37:1. The image looks clean, free of dirt or defect, although I didn't notice film grain. The blacks are inky without crushing and the whites bright without blooming, leading to a strong contrast. Fine texture detail appears in the costume and sets.
The audio is available in DTS-HD 2.0 Master Audio. The dialogue is clear. Composer David Snell's score is limited, but what's here has good fidelity. There's a touch of hiss, but there's plenty of talking to cover it.
Extras include:
The Tell-Tale Heart (1941) (20 min) – Based on Poe's short story, this short film is the directorial debut of Jules Dassin.
The Goose Goes South (1941) (6 min) – This Hanna Barbera short finds a young goose making his way to Florida for the winter.
Theatrical Trailer
Bask in the Shadow of the Thin Man and enjoy the laughs and intrigue. The chemistry of Powell and Loy is a rare quality and wonderful to witness. The Warner Archive Blu-ray delivers pleasing high-definition visuals and the extras allow for what a night at the movies used to be like. It's just missing the newsreel.