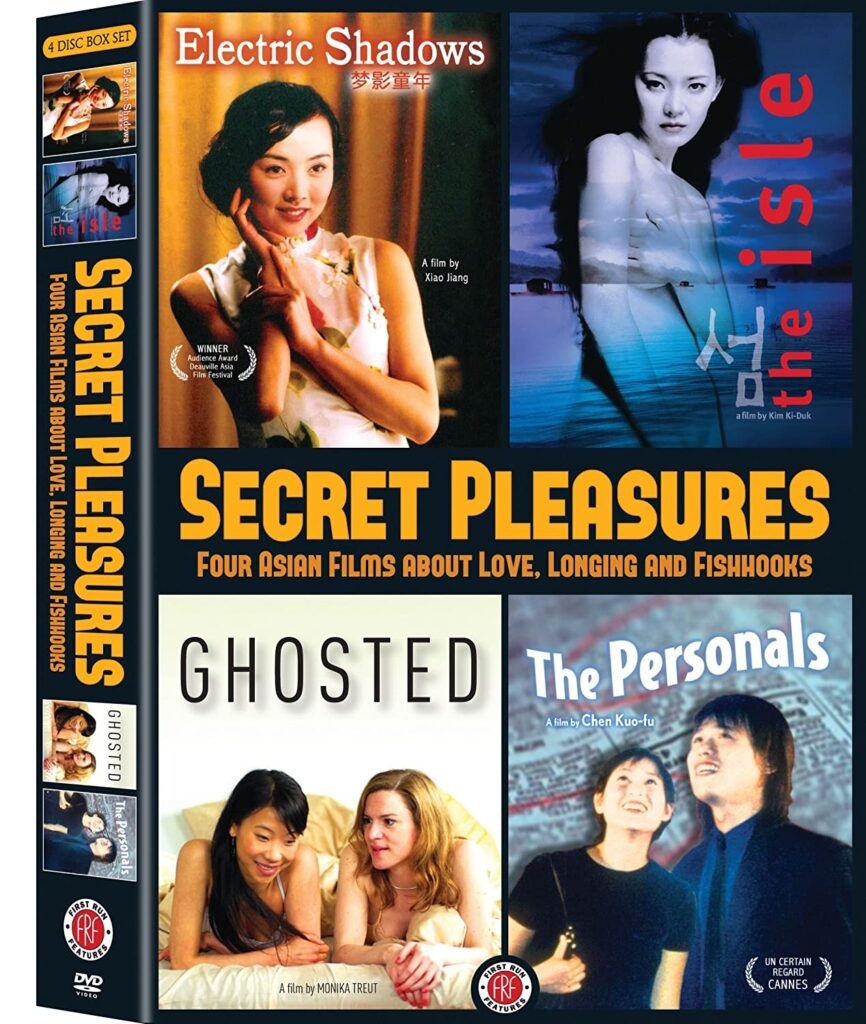 This box set of fairly recent films takes a grab-bag approach, carrying no real unifying theme other than a focus on Asian actors and a production date sometime in the past 15 years. Oh, and current distribution through the same U.S. company of course. As such, there's no discernible reason to pick up the set aside from a lower combined price point for films shoppers probably never would have combined. Still, for adventurous viewers looking for a collection of niche films well outside the mainstream of even these foreign film markets, the individual works clearly offer something offbeat, if not necessarily very rewarding.
Electric Shadows (China, 2004) is the most accomplished and appealing film of the set, with decent production qualities and a interesting if somewhat depressing plot. A hapless deliveryman has an accident on his bike and is subsequently knocked out by a brick-wielding, mentally unstable woman. Although he doesn't recognize her, the two were acquaintances in childhood until their lives took divergent paths. The film slowly reveals their shared past as well as the rest of her sad life, interspersed with their common love of watching old films. It's a lyrical film that doesn't offer much payoff but takes an intriguing, twisty path to reach it.
The Isle (Korea, 2000) is one of iconoclastic writer/director Kim Ki-Duk's earliest feature films and is a fairly nasty little piece of work, with unlikeable leads and an unappealing story. On a remote fishing lake, a mute and unbalanced young woman runs the commercial enterprise of ferrying men back and forth to individual fishing raft huts, serving as their sole lifeline back to the shore. She also sometimes serves as something a bit more, or ferries hookers out to fill the same role. One hut houses a longtime occupant who seems to be on the lam, avoiding all contact with others. Eventually, the woman sets her sights on him but their ensuing coupling is more a primal urge than anything approaching romance, with both subsequently continuing to keep each other at arm's length amidst their separate suicide attempts (via fish hooks!) and drownings of other lake visitors. Good times.
Ghosted (Germany, 2009) splits its time between Taipei and Hamburg and unspools a ridiculous lesbian tale about a German multimedia artist who has a brief romance with a visiting Taiwanese girl, then later fends off advances from another Taiwanese girl who seems to carry the ghost of the first girl. Mostly, it's an opportunity for the girls to cast amorous glances at each other for 90 minutes, although director Monika Treut also tries to shoehorn in a worthless subplot about the first Taiwanese girl's correct suspicions that her expat uncle in Germany is actually her father. Regrettably, the film utterly lacks meaningful resolution, marking the entire production as an exercise in futility.
The Personals (Taiwan, 1998) follows a single lady's attempts to put a ring on it by placing a classified ad seeking a husband. What follows for her is a seemingly endless parade of the biggest losers Taipei has to offer, with the lady patiently listening to their foolish blather and continuing her search in spite of its apparent hopelessness. I'm sure the film is intended as social commentary on the plight of single women and romance in general in the increasingly urban and impersonal big city, but its singular focus on cramming in footage of as many bad dates as time permits offers little more than amazement that the lead would even bother continuing her search after ruling out the first few idiots. We don't learn much about any of the characters including the lead, they're all just broad stereotypes thrown up on screen for maximum ridicule, giving the film next to no thematic weight.
The films are each presented on individual discs but housed in a common case. Bonus features are nearly nonexistent except for the Ghosted disc which features a documentary by the same director along with her biographical information. .