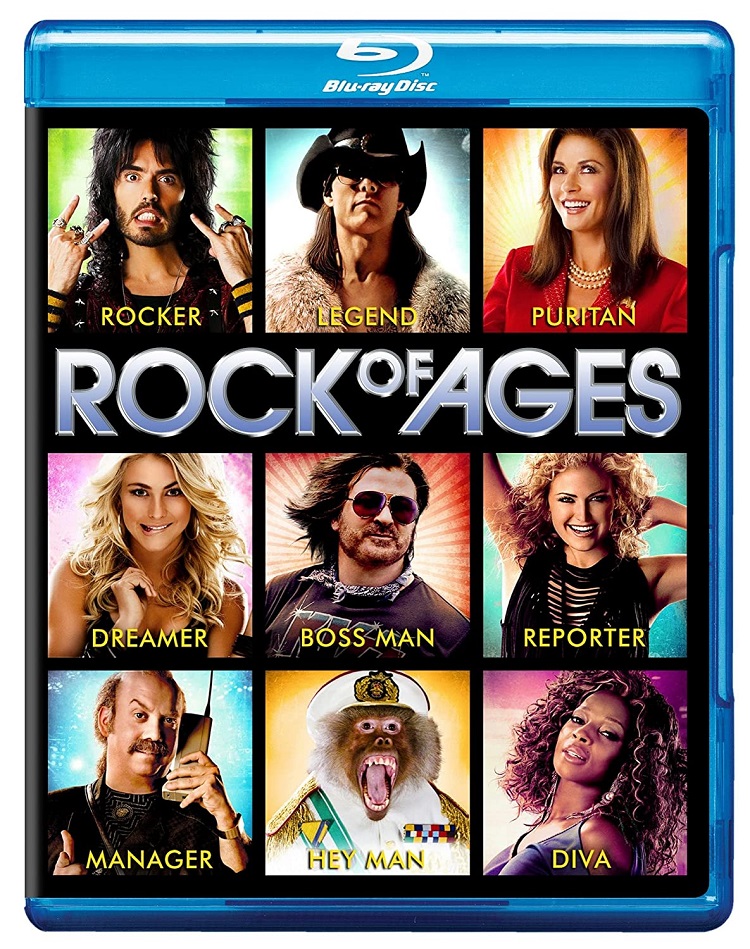 Sherrie and Drew are destined to meet and fall in love. She's just a small town girl, livin' in a lonely world. He's a city boy, taking the midnight train to a career dead end in the music industry. In director Alan Shankman's big-screen adaptation of the hit Broadway musical, the star-crossed lovers battle career adversity to realize their 1980s rock'n'roll dreams on the fabulous Sunset Strip. Since the theatrical run time of 123 minutes apparently wasn't long enough, the new Blu-ray now offers an even more extended cut that pushes the length to 136 minutes by adding another song and scene. That's about two hours too long for me.
Rock of Ages isn't an original musical, it just repurposes mostly atrocious '80s hair rock hits to populate a weak "star is born" tale set among the decadence of the Hollywood club scene of the era. If you (like me) didn't like these songs in the '80s, you're not going to like a musical featuring them either. Quite frankly, when I think about '80s music the last thing I recall or long for is tripe from bands like Twisted Sister, Poison, and Starship (Journey gets a pass though). There were so many more interesting and actually groundbreaking things going on in genres such as alternative rock, electronic dance music, and hip-hop in the '80s that it's a shame to see so much effort and adoration bestowed upon this garbage. If your musical tastes allow for a heaping main course of cheese, you're probably not the target demographic for a musical or its theatrical adaptation anyway.
The movie also doesn't earn any points with the casting of its two leads. The central role of Sherrie goes to Julianne Hough, a talented enough dancer as supported by her years as a non-star on Dancing With The Stars, but just a passable actress and a not-passable vocalist. As expected, she only ignites in a couple of dance numbers, leaving the rest of her unconvincing performance and chirpy singing voice to doom the production. She's especially laughable when teamed with the majestic Mary J. Blige on a track, painfully highlighting the contrast between her amateur act and Queen Mary's true talent. Hough is paired with Diego Boneta as Drew, an actor who carries an unmistakable air of also-ran that suits his character but doesn't bode well for future stardom. He's merely ok all around, and mostly unmemorable.
But hey, you didn't turn up for the two leads who consume most of the screen time, right? No, the elephant in this room is Tom Cruise, appearing as the pivotal burned-out rock star Stacee Jaxx. Surprisingly, Cruise's weakest aspect in this film is his acting, as he settles on a stone-faced, emotionless take on the character that internalizes his offstage pain and suffering so far that we never empathize with him. Also, he's still Tom Cruise, so he's entirely too fit, pretty, and well-postured to pull off the guise of a faded, addled rock star. Still, he gives it his all in some energetic concert performances that are worth witnessing once.
Elsewhere, Catherine Zeta-Jones gets to exercise her musical mojo once again to delicious effect, and Rupert Brand and Alec Baldwin contribute some laughs as they get chummy. Still, they're all movie stars trying to sing and dance, so you've been forewarned not to expect greatness.
The Blu-ray excels in the sound department, offering awesome surround immersion and thump via its DTS-HD Master Audio 5.1 soundtrack. The image quality is nothing spectacular though, with some noticeable artifacting and general lack of precision that makes it little better than DVD. The bonus features are extensive, including a half-hour Legends of the Sunset Strip featurette of interviews with rock stars from bands such as Def Leppard, REO Speedwagon, and Skid Row as they tell the kiddies how it actually used to be in Hollywood clubs in the '80s. Another featurette reuses much of the same talent to recount the true stories behind the lyrics of some of their biggest hits. Finally, a set of brief featurettes focuses on various production elements such as the hair, wardrobe, and song choices used to assemble the film. This is one case where the bonus features are more entertaining than the feature film they support.
Rock of Ages available on Blu-ray Combo pack, DVD and for download on Tuesday, October 9th. All variations also include digital Ultraviolet access to stream/download the film.