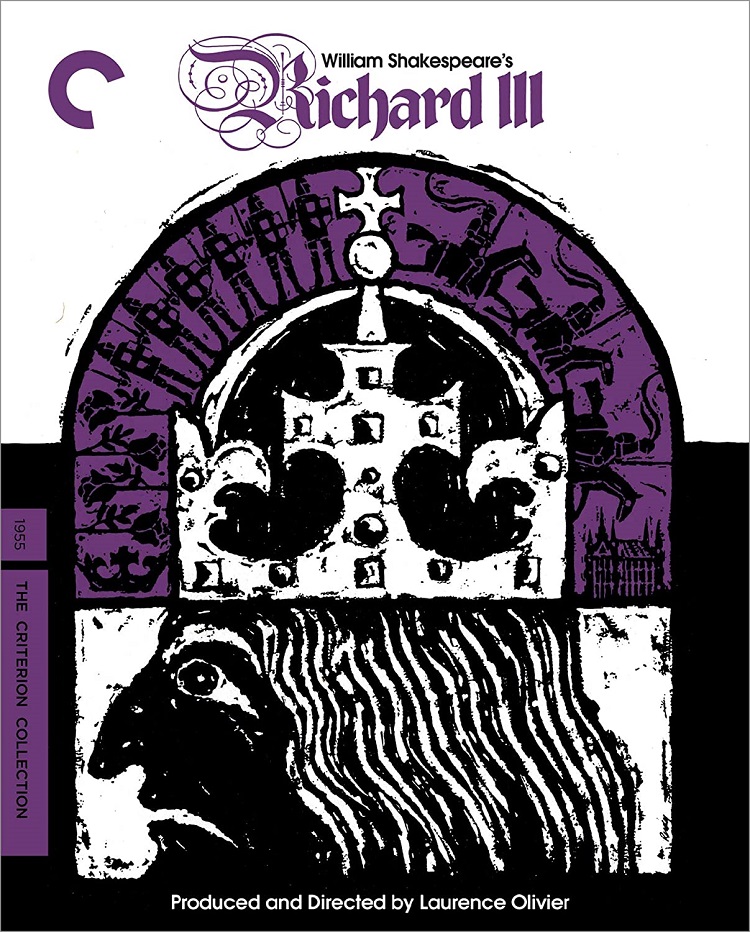 Written by Greg Barbrick
One of the most striking aspects of the newly restored Richard III (1955) is its magnificent use of color. As a young (self-taught) student of film, I came to understand that the greatest Shakespearean actor of all was Laurence Olivier. This is what initially drew me to his production of Richard III. In watching it, I was able to familiarize myself with the play, and with Olivier as well. It was a bit of a cheat I suppose, but I felt that I was killing two birds with one stone. I watched it on public television, and was so focused on the story, that I hardly paid any attention to the presentation. With the new double-DVD Criterion Collection edition of Richard III, it is virtually impossible to ignore the glorious colors and sets though. For fans of classic film, this really is the ultimate version.
Some have taken issue with Olivier and his fellow screenwriter Alan Dent for their treatment of the play. The controversy revolves around the liberties that they took with the Bard's work. I am no scholar, and have already admitted that I took a shortcut in getting to know the play by watching the film. Still, I think this is ridiculous. If one is watching Richard III to make certain that every word is faithful to the original text, then they are missing the point. Granted, it may be easier to look at a nearly 60-year-old film as a distinct work of art than it may have been at the time of its original release. Still, I believe Olivier's Richard III should have always been judged on its own terms. His performance alone qualifies this as the classic that time has judged it to be.
For this viewer, it is Olivier as the Machiavellian Richard III that makes the film relevant to current audiences. It is sad, but Shakespeare, and the English history that he drew from, is not really a part of American curriculum anymore. One can study English Literature in college, but your average citizen knows far more about the life of Kim Kardashian than they do about William Shakespeare.
I mentioned earlier that the colors and the beauty of the presentation of Richard III were aspects of this that really struck me this time around. This is an element that I absolutely believe will draw in the viewer. Still, it is Olivier's presence on the screen that is the most compelling. There was a reason he was honored as a Lord, and his portrayal of the title character in Richard III is a powerful example of his abilities.
While I called my own motivations a "cheat" for watching this on PBS many years ago, that was a bit of an exaggeration. In a way, I think Olivier would have welcomed such a reason. Maybe even be honored by it. And why not? If one wished to familiarize themselves a bit with Shakespeare, and chose to do so by watching Richard III, what is wrong with that? I think it is as valid a reason as any other.
I mentioned the spectacular use of color earlier, and it was consciously used to highlight a number of elements in the play. This is even more pronounced thanks to the use of a filming process called VistaVision. that brings out the colors in an incredibly vivid way. It is too bad that VistaVision has been abandoned, because the look of this movie is unbelievable. It is almost as if you can reach out and "touch" the colors.
There are a great deal of excellent bonus features on the set. The first disc features the fully restored, 158-minute film with commentary. The second DVD includes a remarkable episode of the BBC program Great Acting. Noted theatre critic Kenneth Tynan and Olivier spend the full 47 minutes on his career, and it provides some fascinating insights about the actor.
I found the eight-minute "Restoration Demonstration" to be most illuminating as well. Martin Scorsese hosts this piece about the restoration of Richard III and shows us just how much effort went in to it. He also discusses his own thoughts about Olivier and the film. Scorsese is not only one of the greatest directors in the history of film, but his insights about the medium are always riveting. This segment is not to be missed.
The "Television Trailer" is much more than just an advertisement. It is a 12-minute piece, with footage of Olivier, legendary producer Alexander Korda, and other members of the cast, as well as some of the crew. This too is a very worthwhile bonus feature. The extras are rounded out with the theatrical trailer, a variety of behind-the-scenes stills, and a booklet featuring an essay from Amy Taubin.
In the essay, she mentions that Richard III is a "one-man show," and she is right. Olivier is remarkable, and I think it is his acting ability that drives this adaptation more than anything else. The phrasing may seem a little archaic, but I believe the film transcends these types of complaints. No matter what one's motivation to see it might be, Richard III is a tremendous film. This Criterion Collection edition is marvelous, and more than "good for you." Richard III is the essential example of Olivier interpreting Shakespeare.