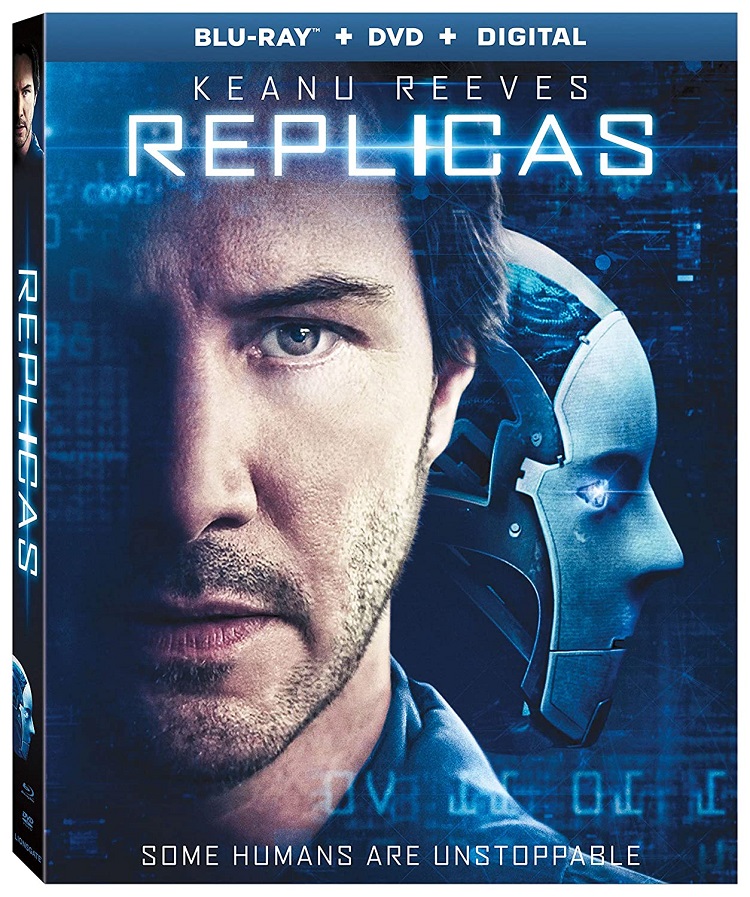 Keanu Reeves plays Will, a neuroscientist who has more than a little bit of Victor Frankenstein to his personality. His specialty is the neural mapping of brains – thoughts, memories, knowledge. BRAINS! He is working at an experimental research base in Puerto Rico on a top-secret project, as one does. The project doesn't make a whole lot of sense, honestly.
We meet Will and his staff and watch the lab on stand-by – until they get a call that a viable body is en route. Their subject turns out to be a dead soldier that will be used as guinea pig. So I guess the government is also somehow involved? So many questions. After an icky procedure involving a long needle and an eye (which we have to endure multiple times during the course of the film), Will wears what looks like a VR crown/bike helmet to transfer the dead soldier's "neurological data" to a nearby I, Robot. But, surprise, surprise, not all goes well. Will tries to soothe the confused robot recipient, "Sergeant, you've transitioned to a synthetic body." To say his vague explanation is not received well is a major understatement.
No one seems to want him to continue with this project. His supervisor, Jones (John Ortiz), rushes him to finish, while simultaneously threatening to kill the project. His wife (Alice Eve) cautions him that he is playing fast and loose with ethics. Even though his project in danger of losing its investors, he decides to take his wife and three kids (Emjay Anthony, Emily Alyn Lind, Aria Leabu) on a little vacation break. The brilliant scientist insists on driving to their destination in a rainstorm, at night, on a curving, poorly lit road, to disastrous results.
After a horrific car crash, landing the car in the water, and Will the only survivor, he enlists his slacker sidekick Ed (Thomas Middleditch), whose specialty happens to be human cloning (convenient!), to help him bring his family back. Ed is understandably reluctant:
Ed: What if something horrible goes wrong?
Will: Something already has.
Will is a master of understatement. The pair proceeds to set up a makeshift lab in Will's home, but they only have three pods (shades of Invasion of the Body Snatchers) and four bodies. Mad scientist Will, who hasn't even had half an hour to grieve yet, decides to sacrifice his youngest, and erases her memory from the other three. Yikes. Things get worse from there, with Will staying home from work writing texts from his family members to fend off any curiosity about their sudden absences (how did he know all of their passwords?), while his colleagues at the lab are trying to save the secret project before it is shut down.
Believe it or not things get even wackier from there, including yet another harrowing car chase – who is letting Will still drive? The film takes a turn away from sci-fi into thriller territory, with some unnecessary gun play, but do we really care at this point? It's just fun (and perplexing) to see how Keanu, I mean Will, will get his family out of danger.
Ths story is by Stephen Hamel, who wrote the equally ethically questionable Passengers (2016). It was directed by Jeffrey Nachmanoff (Homeland).
Specs of the Blu-ray/DVD/Digital: 1080p high definition, 16×9 (2.40:1) presentation, English 5.1 DTS-HD master audio, Spanish subtitles, English SDH, Color, Running time approximately 107 minutes
Extras:
Audio Commentary with director Jeffery Nachmanoff and producer James Dodson
"Imprint Complete: The Making of Replicas"
Deleted Scenes
Trailers: John Wick Chapter 3, Chappaquiddick