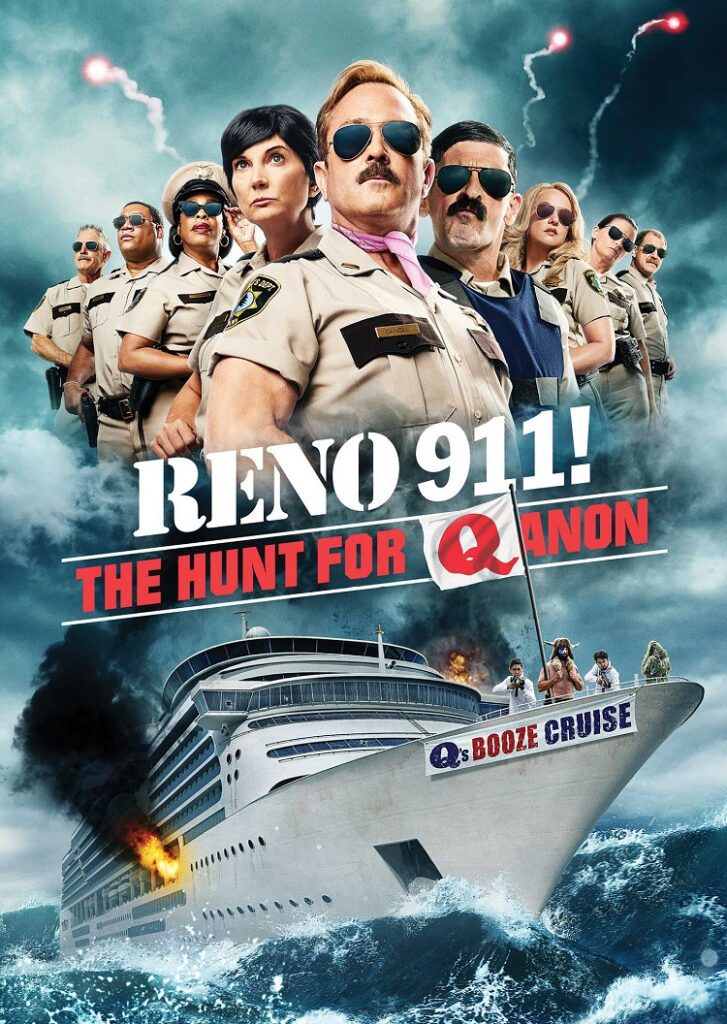 If you're a fan of the ridiculous and over-the-top comedy of the Reno 911! series, your fandom will only grow in watching Reno 911! The Hunt for QAnon. In the second installment of Reno 911! films, the squad is tasked with finding and serving the elusive "Q" of QAnon. And this task takes them aboard a QAnon Booze Cruise where insanity ensues.
Starring Thomas Lennon, Robert Ben Garant, Kerri Kenney-Silver, Cedric Yarbrough, Carlos Alazraqui, Wendi McLendon-Covey, Niecy Nash, Mary Birdsong, and Ian Roberts, the new film reunites the cast of the hit Comedy Central show but also brings in some other fantastic talent in Patton Oswalt, Steve Agee, Rob Huebel, Gary Anthony Williams, and RuPaul to name a few.
Written by Lennon, Kenney-Silver, and director Garant, Reno 911! The Hunt for QAnon begins with the absurdity and comedy fans of the show have come to expect and just keep at it the entire way through. But it is also a smart film as the writers use the setting and characters from Q's Booze Cruise to comment on the current state of American politics. 
While not every joke in the films works, most of it really does. And the characters so many of us have come to know and love from the Reno Sheriff's Department get even better in this film. Without wrecking the joke, I was personally a fan of Dangle's newest passion that he hopes to make into a career.
Shooting a film on a cruise ship in the midst of Covid was not easy task. But for folks familiar with the historic RMS Queen Mary in Long Beach, CA, the ship serves as the prime location for the film. And while in real life she is always in port, the filmmakers did a good job turning her into a functioning cruise ship for the movie.
The DVD release includes 10 deleted scenes which are commercials for the Paramount network to promote the film. These scenes are worth watching not only for the laughs, but to see some other familiar faces. However, the bumpers that bookend each scene, do get to be a bit much after a few minutes. But I wouldn't let that stop you from checking them out.
The Reno 911! The Hunt for QAnon has a runtime of 1 hour 25 minutes and is out now on DVD from Paramount Entertainment.