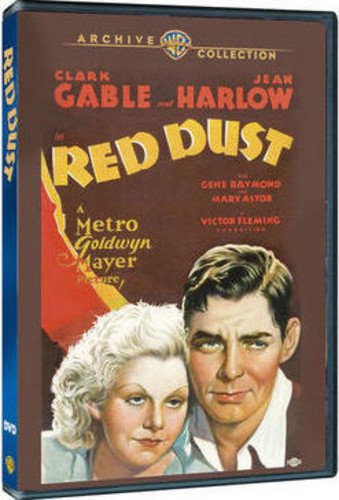 Written by Brandie Ashe
Dennis Carson (Clark Gable) has plenty of trouble: the rubber trees on his plantation in Indochina (modern Vietnam) are not producing, he is dissatisfied with the lackluster performance of his workers, and monsoons threaten to shutter the entire operation. And if that's not enough, a wayward prostitute, Vantine (Jean Harlow), has taken refuge from the law on his grounds. The gruff and demanding Carson is nonetheless charmed by Vantine and gradually gives in to a romantic relationship with her; but while Vantine falls in love with Carson, he looks at their time together as nothing more than a "business transaction." As Vantine prepares to leave, an engineer, Gary Willis (Gene Raymond) arrives to survey the plantation, with his prim wife, Barbara (Mary Astor) in tow. Carson's initial displeasure turns to lust, and he embarks on a torrid affair with Barbara—much to the displeasure of Vantine, who is forced to return to the plantation after her boat breaks down. Soon, the jealous love triangle that develops between Carson, Vantine, and Barbara erupts into violence.
After years of anticipation and impatience on the part of classic movie fans, the 1932 Pre-Code drama Red Dust is finally available on DVD from Warner Archive Collection. To say that this is a welcome release would be an understatement. While many of Harlow's films have found their way to DVD in the past few years, Red Dust had yet to make an appearance, even in last year's fantastic Jean Harlow 100th Anniversary box set. But Warner Archive has more than made up for that now with this newly remastered release. Both the picture and the audio are, for the most part, crisp and clear, really showcasing the gorgeous cinematography of Arthur Edeson and Hal Rosson (Rosson, incidentally, was good friends with Harlow and became her third husband a year after completing this film—though they divorced seven months later).
Red Dust is the second of six films that Gable and Harlow made together, and it is arguably the best of the lot (though personally, I hold a soft spot for Wife vs. Secretary, despite that film's ridiculous title). Gable may have claimed that eight-time costar Joan Crawford was his favorite leading lady, but in my view, the chemistry he shares with Harlow is far greater and (if only evidenced by this film) much, much hotter. Both Crawford and Harlow could easily hold their own with Gable onscreen, but there is an underlying humor and affection in the interactions between Gable and Harlow which makes their pairings somewhat more appealing.
For Harlow's part, completing this film took an immense effort, as her second husband, Paul Bern, committed suicide while she was working on Red Dust. There was some question as to whether or not Bern really killed himself—at the time, speculation ran wild that Bern had actually been murdered and the authorities' verdict of suicide was a cover-up. MGM, desperate to avoid a scandal, initially sought to replace Harlow; however, Harlow soon returned to complete the film. Ever the consummate performer, no sign of her personal turmoil shows up in her dazzling performance, and she steals the movie as the lovely and sharp-tongued Vantine.
That's not to say that Gable doesn't have his moments, too. Red Dust finds the star at his most rugged—he's a virile, electric presence, particularly in his romantic clinches with Harlow and Astor. It's a quality that the film's director, Victor Fleming, seemed especially adept at pulling out of Gable. The movie marks Gable's first pairing with Fleming; the two became good friends, and they would later find their greatest success working together on the 1939 epic masterpiece Gone With the Wind.
Fleming really pushes the boundaries with this film—witness, for instance, the infamous scene in which an obviously topless Harlow bathes in a rain barrel—but ultimately, the movie ran into little trouble with censors, despite the sex-soaked storyline. The film's plot was revisited two decades later, albeit with some Code-dictated alterations, when John Ford directed Gable in Mogambo (1953), costarring Grace Kelly and Ava Gardner as loose approximations of the characters played by Astor and Harlow, respectively.
Fair warning for those who may be expecting any bells and whistles with this long-awaited release: this is the very definition of a "bare-bones" edition of the film. As with most of the Warner Archive Made-to-Order discs, Red Dust skimps on special features—the only one included on the disc is a grainy, flickering Spanish-language trailer. There are no subtitles, and the disc is not compatible with closed-captioning services. But honestly—I can't bring myself to care about the lack of extras here. I'm just grateful to finally be able to see a beautifully-restored version of this cinematic treat. Whether you're a fan of Pre-Codes or not (and why wouldn't you be? The movies from that period are naughty fun), I cannot recommend Red Dust highly enough.