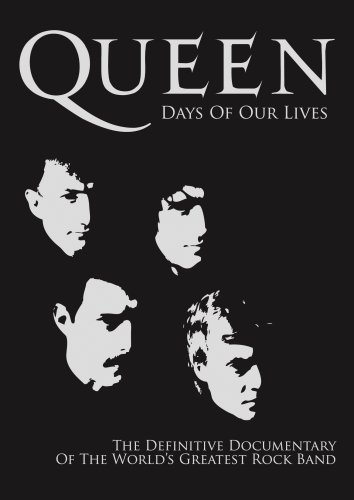 Written by Greg Barbrick
As good a documentary as Queen: Days Of Our Lives is, it is also a bit of a strange beast. To tell the full story of the group, a documentary with an original copyright date of 1986 has been augmented with present-day interviews and additional concert footage. The DVD is presented in two 59-minute parts, which are roughly split between the seventies and the eighties. It is pretty clear that principle filming of the original doc ended in 1984. The group's legendary appearance at Live Aid is not even discussed (in the main body of the documentary), and the album they were working on at the time was The Works.
The majority of the latter-day interviews features a now very grey guitarist Brian May. He has nothing but wonderful things to say about Freddie Mercury, and maybe the "grey-haired" description is a little snide. But the obvious fleshing out of the original bio-pic is just too obvious not to be commented on. The latter period of the group is addressed in the bonus features "From Magic to The Miracle 1986-89;" "Going Slightly Mad: Making Innuendo 1990-91;" and "Made In Heaven 1995."
On a personal note, my appreciation for Queen began in 1974, with their song "Killer Queen." As a kid whose only real exposure to music was Top 40 radio, that song struck a chord like none I had ever heard before. Then came "Bohemian Rhapsody," which Freddie Mercury knew would either make or break the band. There were very few record and radio people who were convinced, and the other members of Queen themselves were even a little wary. But Freddie wrote his own chapter in music history with that tune.
Watching this DVD with Brian May doing the majority of the interviews is quite fascinating. The man remains an undeniably brilliant guitarist, yet nobody could compete onstage with Freddie Mercury. Queen: The Days Of Our Lives contains some excellent, previously unreleased footage of the early days of the band, and this material is a definite highlight.
Besides the previously mentioned bonus material, there are also quite of number of videos included. Many of these are new (or "updated") versions, which contain unseen rushes, performances, and outtakes. These include "Seven Seas of Rhye," "Killer Queen," "Somebody to Love," "We Are The Champions," "Crazy Little Thing Called Love," "Under Pressure," and "Radio Ga-Ga."
Queen: Days Of Our Lives tells the story of one of the truly all-time great rock and roll bands. Even though there has obviously been quite a bit of post-production work done to the original documentary to turn it into a two-hour DVD, Eagle Vision have done a nice job. The previously unreleased live material alone is outstanding. Without a shadow of a doubt, I can say that Queen fans will enjoy this DVD immensely.