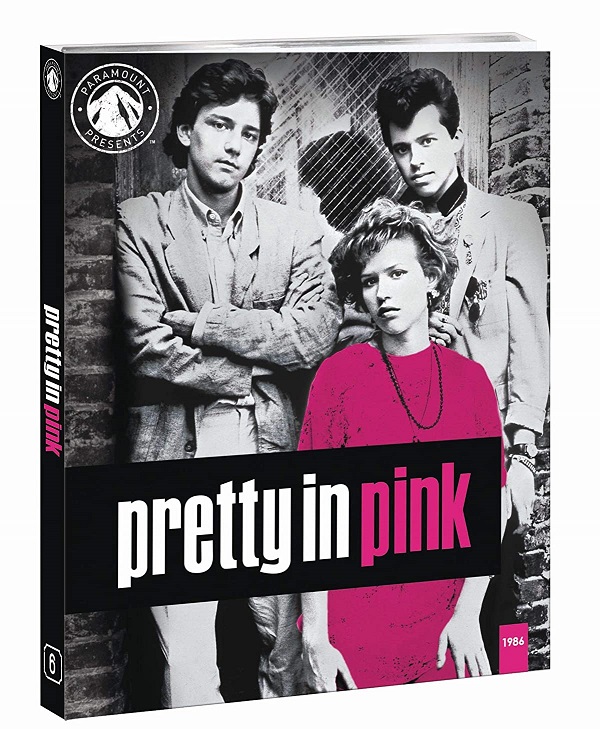 Okay, let's just get this out in the open. The whole "boy falls in love with girl, girl falls in love with boy, complications and peer pressure threaten to tear them apart, but they overcome their differences and end up together" has been done to death, to the point of almost parody. However, if you put that in hands of the late John Hughes and his world of teenagers, then maybe you have something. Written by Hughes and directed by Howard Deutch, Pretty in Pink (1986) does just that. It also shows the growth of Molly Ringwald, especially as an actress.
In arguably her best and most realized performance, Ringwald plays Andie Walsh, a sweet but strong high schooler from a working-class background, who is an outcast at her high school in Chicago (where most Hughes films were set). She works and hangs out at the record store with her older, eccentric boss/mentor Iona (Annie Potts), who owns the store, and her quirky but lovable best friend/classmate Duckie (Jon Cryer, who instantly established himself as an '80s icon), who is madly in love with her. While not at the store, she's at home trying to help and look after her unemployed father Jack (the legendary Harry Dean Stanton) after her mother abandons them both. When handsome Blaine (Andrew McCarthy), one of the rich and popular kids at school falls for her and asks her to the prom, she thinks it's too good to be true. She eventually finds out that it is, as their friends make their newfound romance very difficult, especially because of their differences. Everything comes to ahead at the prom, where Andie shows up alone, but meets and reconciles with Duckie. As they decide to dance, Blane comes back and tells her that he loves her, always. This causes Duckie to tell Andie that he is not like the other rich kids and advises her to go after him or she'll regret it. The last shot has Andie catching up to Blane and then they kiss as the film ends.
While the film is dated and may not have been as original as Sixteen Candles or The Breakfast Club, but it does have a super cool soundtrack, insight, some honesty, and wit that most teen films today definitely lack. In a sort of trilogy, beginning with Candles and ending with Pink, Ringwald reached a maturity and unpretentiousness with her acting, and its one of the many reasons why her legacy as perhaps the definitive teen heroine of the '80s still remains intact. In Pink, she is surrounded with amazing supporting performances from Stanton, Cryer, McCarthy, Potts, and not to mention James Spader as bad guy and Blane's best friend Steff, who insults Andie every time he sees her, but is really jealous because he could never be with her.
Making its Blu-ray debut, it's not packed with special features that previous DVDs had, like Deutch's commentary, a photo gallery, and several featurettes, but it does have a new interview with Deutch, an isolated score, the theatrical trailer, and most importantly, The Lost Dance, which is a featurette focusing on the original ending that had Andie getting together with Duckie, but test audiences booed it, so it was reshot to end with Andie and Blane together. Honestly, I was rooting for her to be with Duckie, but I guess that wouldn't have made sense, especially since they don't have romantic chemistry, and she isn't in love with him. After all, this is a fairy tale, so it had to end with Andie getting Blane.
Although it's not a perfect movie, I still enjoyed it. It has some realism and a slightly deep delve into social class commentary, in which Hughes also excelled in. The '80s may have been a rather gluttonous decade, but it did provide us with some pretty influential portraits of teenage culture, and Pretty in Pink, I have to say, is one of them.