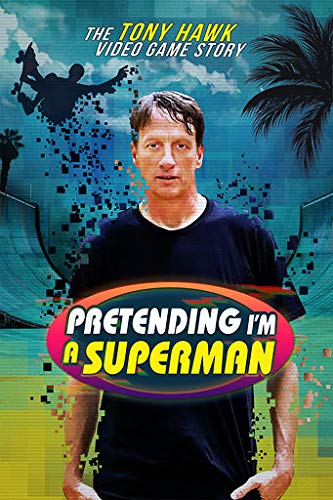 With the Tony Hawk's Pro Skater 1 + 2 remake dropping in a couple weeks (September 4, 2020 to be exact), what better time to review how we got to where we are? Director Ludvig Gür gives us a look at the evolution of skateboarding culture, the rise (and fall) of the game franchise, and how the two have informed one another over the last 30 years.
The movie opens by looking at the rises and falls of skateboarding's popularity from the '70s through the '90s. It got its start with an emphasis on verticality, but as skate parks started closing in the early '80s, skaters had to adapt to whatever surface they could find, and vert tricks didn't translate well to street skating. Hollywood helped put the spotlight back on skateboarding culture long enough to spawn some official competitions, but as pros and game stars like Chad Muska, Steve Caballero, and Rodney Mullen will tell you, it was too commercialized and didn't portray the sport the way its participants wanted.
Tony himself talks about the handful of skating games that came out over the 8- and 16-bit console eras, but that none of them felt quite right. While not yet a household name, Hawk started talking to game developers about working on something more authentic yet accessible, and after some trial and error, they found the right combination with Neversoft and Activision. The same summer Hawk landed the elusive 900, THPS was born, and everything changed.
I played the games growing up, and everything they were aiming for — from making complicated real-world actions feel intuitive and cool to the soundtrack to the objectives and level designs and sound effects — all took me back in a big way. While the front half of the movie covers skateboarding history and, without going too deep, the process of getting the first game off the ground, the next quarter of it contains the following seven entries in the franchise with far less detail, some appearing only in name and a few seconds of footage. Rather than being a love letter to the entire series, the focus here is on how the franchise got its start, while still acknowledging missteps made in the later games, from introducing a game peripheral just as the post-Guitar Hero gaming public was feeling major peripheral fatigue, to adding too many layers of "game" without really doing anything new to the mechanics, making playing later titles feel more like work than fun.
From there, the evolution of skate tricks gets some examination, comparing vert to street to how people started taking things they could do in the video game out to the skate park and trying them out, combinations that would have seemed impossible prior to the game, yet people were working out how to make them happen. The culture and the game really did work well in building each other up, resulting in THPS 1 and 2 being some of the best-selling games of their generation, and getting countless kids into the skating scene who otherwise might never have. Pro skaters from the '90s and recent times weigh in with varying perspectives of their lives in pre- and post-THPS worlds, touching on how having racial and gender variety representation among the available characters in the game were a huge plus for players that often felt unrepresented in their favorite hobbies. One could probably have gone deeper on these subjects, but what was here was enough to get me thinking about it.
Some time is also given to looking at how various bands found great fame from their inclusion in the game, including Bad Religion, Primus, and, of course, Goldfinger, whose soundtrack hit became the title of this very film. THPS also changed how games use licensed third party music in their soundtracks, a trend which was copied many times by other games in the future. It also birthed the extreme sports game genre, one I enjoyed a great deal and have been missing lately. Here's hoping the THPS remake can jumpstart that again as well.
It was a fun watch overall as a fan of the series, and a good way to get pumped up for the release of the remade original two games due out next month. However, if you want an in-depth look at game development, this isn't the place. Neversoft developers and producers and designers were interviewed, but it was more about getting the concept right and then figuring out how to iterate on it rather than detailing the daily grind of writing code. There is enlightening footage and commentary with Tony on doing motion capture and trying to do some of his hardest stunts while wearing a skin-tight suit covered in ping pong ball sensors. If I had to ding one thing about it, the volume transitions between dialogue and music (all taken from the games' soundtracks) were a bit much, having me adjust the sound levels frequently throughout. But it's punk rock and I'm a middle-aged dad now, so it's probably working exactly as intended.
If you were alive in the '90s and have followed the games over the years, you may already know a lot of what's in this film, but if you haven't fired up the discs in years like me, this 72 minutes was a good way to get you back in the mood to string tricks together in an empty warehouse like a madman.