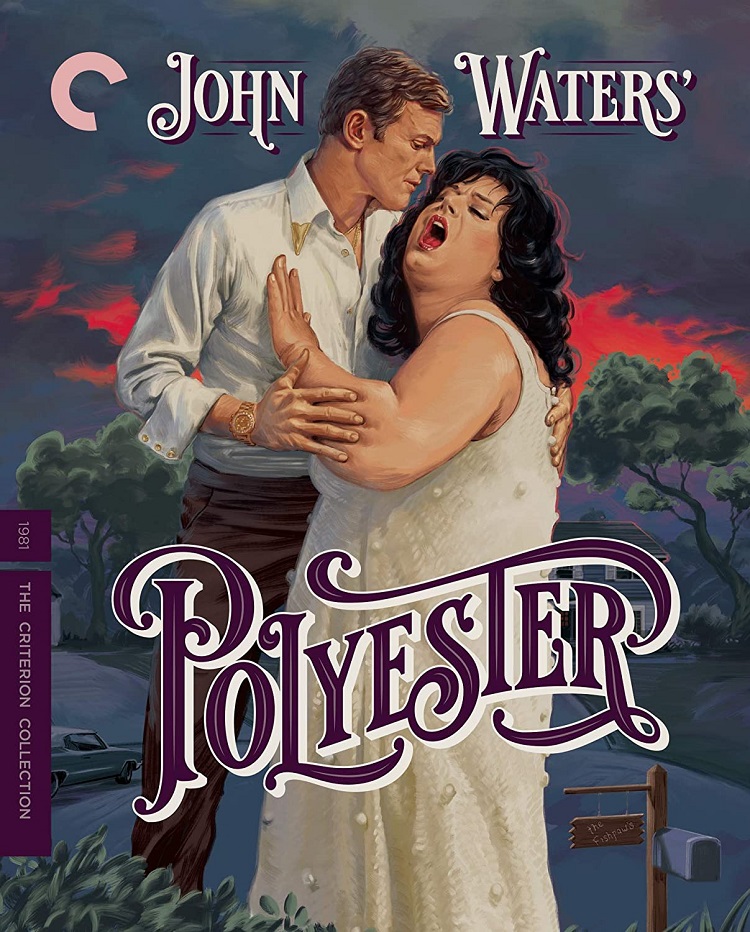 Polyester, John Waters' first big budget, mainstream film, was released by in 1981 by New Line Cinema. Its $300,000 budget may give it a high-rent look, but the low-rent appeal is still there, albeit way toned down from early Waters' films like Pink Flamingos and Multiple Maniacs.
Divine plays Francine Fishpaw, a sweet, submissive housewife married to Elmer Fishpaw (David Samson), a porno theater owner with a bad toupee. Their kids are juvenile delinquents. Her daughter Lu-lu (Mary Garington) is a slutty girl who causes havoc with her greaser boyfriend Bo-Bo (Stiv Baters). Her son Dexter (Ken King) is a glue-sniffing pervert who stomps women's feet as they come out of the supermarket. Even her mother La Rue (Joni Ruth White) steals money from Francine and berates her.
Poor Francine can't win. Her only supporter is her best friend Cuddles (Edith Massey), a maid turned millionaire. Massey's clueless, deadpan delivery makes her scenes with Divine even funnier. (The best Divine/Massey scene takes place in a high couture dress shop. Needless to say, the visit doesn't end well.) Another Waters favorite, Jean Hill, has a minor role as gospel-singer who hijacks a bus.
There's no hope for Francine as she plunges into despair and alcoholism. She catches a glimpse of the handsome and flirtatious Todd Tomorrow (at the site of a heinous car accident, no less). Tab Hunter as Todd seems like the perfect antidote for Francine's miserable life. Todd owns a theatre that shows art films instead of pornos, and he lavishes attention on Francine. Unfortunately, Todd isn't all he seems to be at first, and there are a few distinctly Waters-esque twists and turns near the end of the film.
Visually, the cleaned-up Criterion Collection print looks great. The clothes, set decoration, kitschy pastel colors, and cinematography are crisp and sharp, in all their early 1980s glory. (In an ode to one of the fads of the time, Elmer's secretary/lover Sandra (Mink Stole) has beaded, Bo Derek hair.)
The extras include a scratch 'n' sniff Odorama card to pique mainstream audiences' curiosity and their olfactory senses. (The film opens with an introduction from "Dr. Quakenshaw" (Rick Breitenfeld ) about the wonders of the Odorama card and how it works.)
There's also the funny audio commentary with Waters. There's a 40-minute interview with Waters and journalist Michael Musto, outtakes from the documentary I Am Divine, and Divine and Waters interviewed by Tom Snyder on The Tomorrow Show.
Polyester is a warm-upfor Hairspray, Cry Baby, and other future Waters vehicles. While not the best of Waters' big budget films, it's entertaining and all the performances are exaggerated and fun.