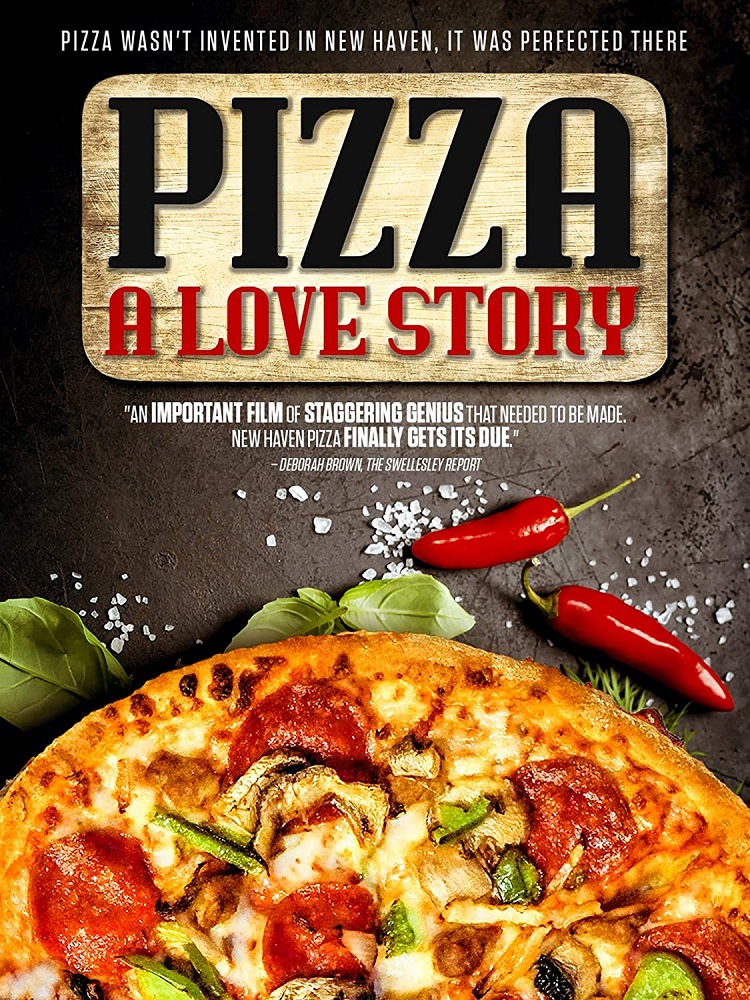 Pizza wasn't invented in New Haven. It was perfected there.
That's the tagline to MVD Entertainment Group's Pizza, A Love Story, now available September 29 on DVD. While die-hard fans of their local pizzerias may initially object to New Haven's claims to the very best of all American pizzas, by the end of the film director, writer, and cinematographer Gorman Bechard has made a pretty good case for the famous Connecticut tomato pies. Helping Bechard tell his story are lots of faithful local patrons as well as celebrity pizza fans such as Lyle Lovett, Henry Winkler, Michael Bolton, and Connecticut Senator Chris Murphy.
Pizza, A Love Story recounts how the town of New Haven became the home at the end of the 19th century to many Italian immigrants from Naples and southern Italy. Initially, Italians found work in factories, such as the Sargent Manufacturing Co., which could provide steady work and a nearby apartment to unskilled laborers. Missing food from their homeland, some of these factory workers decided to open bakeries. These bakeries delivered bread and simple pies with bread and tomato, which would eventually evolve into pizzerias.
It's not burnt, it's charred.
When polling locals, plain, tomato, and clam pies seem to be favorites. The New Haven classic pizza, or plain pie, which is also called "tomato pie," consists of bread, tomato sauce, and grated cheese only – no mozzarella. The top three pizzerias world-renowned for their tomato pies and considered the New Haven "holy pizza trinity" are Frank Pepe's, Sally's, and Modern. Pizza, A Love Story profiles all three, with adherents of each establishment happy to make their case for pizza supremacy.
1.) Frank Pepe Pizzeria Napoletana (numerous times named #1 pizza in the U.S.) – In 1935, Frank Pepe opened the largest pizzeria in the country. In 1936, he may have had the first pizza box constructed to deliver a hot pie. Through archival footage of Pepe making pizza and interviews with his grandson, we see how his pizzeria grew in popularity and led to other pizzerias opening their doors throught the country over the years. Pepe's is the gold standard against which all other New Haven, and maybe even American, pizzas are judged.
2.) Sally's A'Pizza (pronounced ah-beets) – Sally's was opened by Sal Consiglio, the nephew of Frank Pepe. The place is known for its long lines to get in, and even employing a "secret" phone number for its special loyal customers to snag a seat in the always overcrowded restaurant. The Consiglios want their place to be like an extension of their home, as if you have found yourself in their dining room. The family also courted celebrity fans. Apparently, Frank Sinatra loved their pies so much he would order pizzas from Sally's to be delivered backstage to his shows at the Paramount Theater in New York City.
Flo Consiglio (Sal's wife): There's no competition (between Sally's and Pepe's) … It's all family.

Interviewer: Do you ever eat their pizza?

Flo: No.
3.) Modern Apizza – Giuseppe Marzullo, a well-known New Haven pastry maker, and his nephew Tony opened Tony's Apizza Place, which eventually became Modern Apizza in 1944. The place changed hands a few times over the years and has been run by Bill Pustari and his family since 1988.
Owning this place is like being the lead singer of a rock and roll band – you can't do it on your own.
Bill provides the most interesting interviews in the film, describing how their pizza is so special as he creates their most famous offering, "The Italian Bomb," a traditional tomato pie loaded with mozzarella cheese, pepperoni, sausage, bacon, peppers, onions, mushrooms and garlic. Modern make their pizza with an old-fashioned dough. They don't use packaged or brewer's yeast, but create a natural yeast, a living "mother" as he calls it, that they have to feed. Like sourdough, the new dough comes from old dough. They produce so many pies that they need to make dough twice a day.
It's not mozzarella, it's mootz.
Pizza, A Love Story has a running time of 85 minutes. It's an entertaining look at one of America's favorite foods. Director Bechard shares many amusing pizza-related anecdotes, and tomato pies have definitely proved popular, as New Haven-style pizzerias have popped up around the country, from coast to coast and even been referenced in pop culture – on The Simpsons and 30 Rock. The only drawback to watching the film is that it will undoubtedly leave you hungry, and wondering how soon you can book a trip to New Haven, long lines or not.