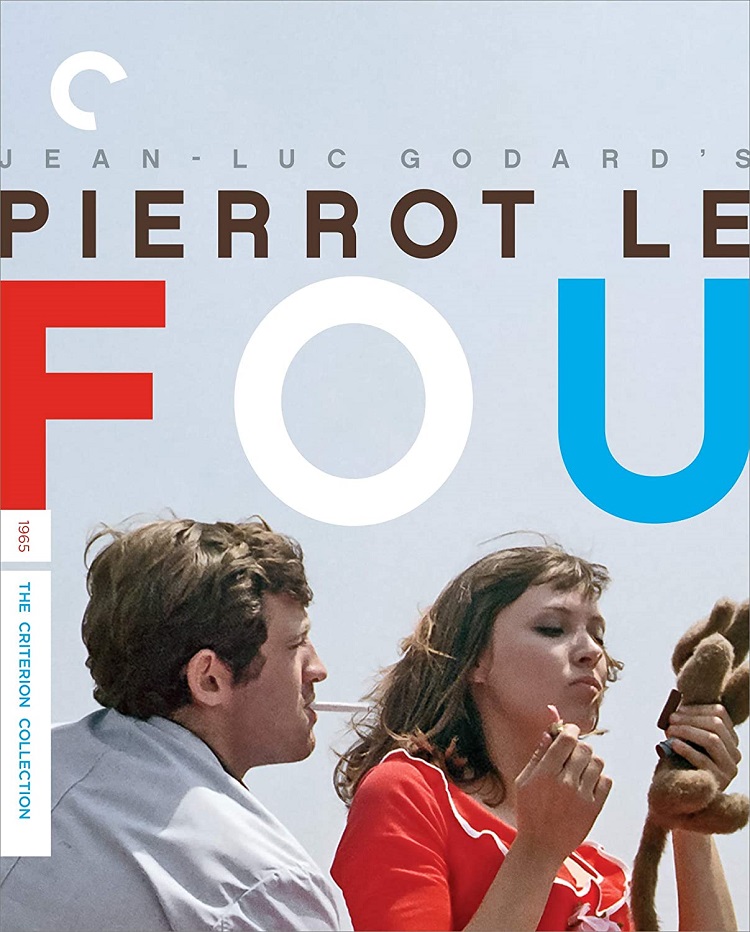 The legendary and unclassifiable filmmaker Jean-Luc Godard is reaching his 90th birthday this year (in just two months from now), and I think that this is a good time to celebrate early by reviewing a film from his past. Although some of the premises of his films are relatively thin, there is enough style, and of course, politics, to make you forget how unmemorable they actually are. This is the case for his 1965 satirical landmark, Pierrot le Fou, which not only remains one of his most accessible, but also one of the most influential films of the now-bygone French New Wave.
It stars film icons Jean-Paul Belmondo and the late Anna Karina (two of the most gorgeous people to ever bless the screen with their presence) as Ferdinand and Marianne. He is a married man and father who constantly reads and quotes books, but who is really discontent with his bourgeois surroundings. She is the lovely babystitter (who happens to be his former lover) who immediately catches his eye. They escape together for a road trip full of rebelliousness and anti-establishment, but also of uncertainty and danger, considering the fact that Marianne is revealed to have a terrible past and is not whom she appears to be. As it turns out, she's killed a man and has ties with a group of mobsters. Ferdinand gets eventually and reluctantly involved in a life of crime, one that leads them on a spree that ends in the Mediterranean. He finds her after she disappears with a new lover and kills her. Figuring that this is the last straw, he decides to kill himself, but he has a sudden change of heart, but it is too late and he dies.
Again, the plot takes a back seat to the exhilarating antics of our two charismatic leads (and who Godard himself called "the last romantic couple") as get they into one absurd situation after the next. There is violence, such as a dead man in Marianne's bed; a gas station attendant who gets his head stuck under a car hood by getting tricked by Marianne; a little man who gets scissors in his throat; Marianne gets shot in the head; and Ferdinand gets blown up. This type of violence seems almost comical, but still no less surprising, especially for those seeing for the first time. But as with typical Godardian touches, there is also politics spread throughout the film, including consumerist satire, adultery, and conflicts between men and women. Ironically, Godard was second to direct Bonnie and Clyde (another iconic crime drama) after Francois Truffaut had to turn it down, but walked out after producers didn't want to film in January. When you see the 1967 classic, you can definitely see the influences from Pierrot and other classics of the French New Wave, including Godard's breakthrough debut A Bout de Souffle (Breathless) from 1960.
Despite the fact that the supplements (from the original Blu-ray and DVD releases) are the same, I was thrilled when the film came back into the Criterion Collection earlier this week where it belongs. Speaking of the supplements, they are still viable and enlightening. They include a 2007 interview with Karina; A "Pierror" Primer, an amazing 2007 video essay written and narrated by filmmaker Jean-Pierre Gorin; Godard, l'amour, la poesie: a 50-minute documentary (in French) by Luc Lagier, about Godard and his work with Karina (his greatest muse with whom he was married for six years); excerpts of interviews from 1965 with Godard, Karina, and Belmondo; and trailer. There is also an excellent vintage essay by critic Richard Brody (Blu-ray only), a 1969 review by critic Andrew Sarris, and 1965 interview with Godard.
Seeing Pierrot film now, for the first time in years, I'm still impressed by how modern and fresh it feels and the sense of freedom that Godard put into it. I think the film has aged well (depending on how you look at it) and contains truths about how important cinema, art, and philosophy is to our overall culture. And don't forget the cameo by iconic director Samuel Fuller in the party scene, for all you fellow film buffs out there.