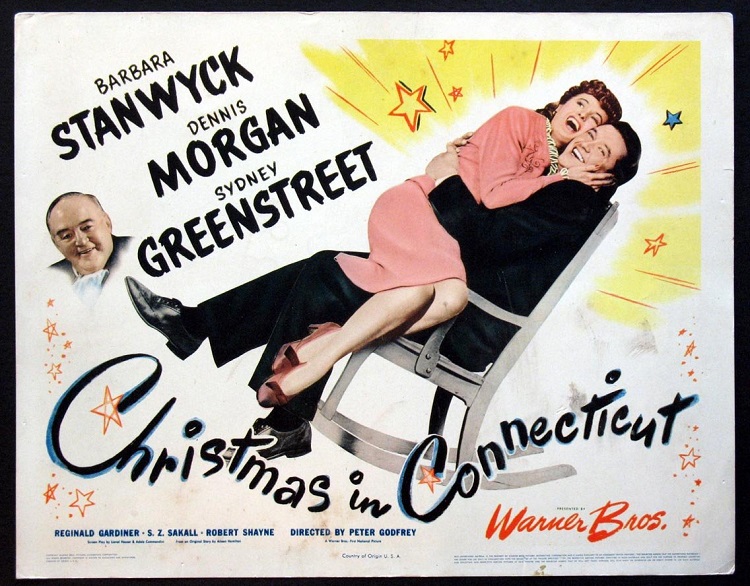 As a gift to our faithful readers, Cinema Sentries offers up a few of our favorite Christmas movies.
Christmas in Connecticut (1945) selected by Brandie Ashe
Elizabeth Lane (Barbara Stanwyck), a successful single woman living in a cramped apartment in New York City, cannot cook to save her life. Ordinarily, that wouldn't be such a big deal, except that Elizabeth makes her living as a sort of Martha Stewart precursor, writing a popular magazine column about the supposed "country home" and delicious, "home-cooked" meals that she shares with her nonexistent husband and baby. When Elizabeth's publisher, Alexander Yardley (Sydney Greenstreet), offers up Elizabeth's festive home for a Christmas visit from a young war hero, Jefferson Jones (Dennis Morgan)–and insists on tagging along as well–Elizabeth and her editor concoct a scheme to preserve their jobs. With the help of Elizabeth's longtime suitor John Sloan (Reginald Gardiner)–who just so happens to own a Connecticut country home–and her "uncle" Felix (S.Z. Sakall), the chef responsible for her tasty recipes, Elizabeth prepares a happy household to greet her guests. But the plan soon collapses into chaos when Elizabeth falls head over heels in love with the handsome soldier.
Christmas in Connecticut is a veritable holiday classic, a pitch-perfect romantic comedy marked by a witty script, inspired touches of screwball humor, and winning performances from a talented cast, particularly its inimitable leading lady. Stanwyck, coming off an Oscar nomination for the previous year's Double Indemnity, utilizes her impeccable comic timing to the fullest extent here. Her Elizabeth is funny and charming, determined to get her way even as her carefully-laid plans fall apart around her. She's matched easily by the blustering Greenstreet and an adorably befuddled Sakall (there's a reason most of Hollywood referred to him as "Cuddles"). Even Morgan, a handsome if slight actor on his best day, shines here as the clueless Jones, who can't understand his illogical attraction to a "happily married" woman like Elizabeth. There's a genuine sense of camaraderie among the cast that virtually shines from the screen, and watching this hilarious and heartfelt film, you can't help but feel enveloped by that warmth.
One word of advice, though–avoid, at all costs, the utterly abysmal Arnold Schwarzenegger-directed TV remake from the early '90s starring Dyan Cannon and Kris Kristofferson. The only word to properly describe that one is "dreadful" (the phrase "Why, God, why?" also comes to mind).
Miracle on 34th Street (1947) selected by Kristen Lopez
I'm generally late to the party when it comes to Christmas films. I'm one of the few who thinks It's a Wonderful Life is overrated (please send all hate emails to [email protected]), and finds The Bishop's Wife to be one of the greatest Christmas stories out there. Yet for this assignment I picked a film that's become a favorite of mine from last year. It's Miracle on 34th Street. Yes, I actually discovered this last year, and no one is sadder about that than me. The story pulls on the heartstrings and is helped by the best performances from Edmund Gwenn, Maureen O'Hara, and a precocious Natalie Wood. It revolves around a department store Santa (Gwenn) who says he's the real thing, and how he changes the outlook of a woman and her daughter (O'Hara, Wood) who don't believe in illogical things.
I simply adore this film because of its contained story and the star-studded acting. The film is one that has to be taken on faith alone; the faith of believing in Santa Claus. Little Susan (Wood) has been taught not to believe in fairy tales or Santa Claus, and yet her only Christmas wish is to have a house and a family. To her, that's as crazy as believing in the unbelievable.
Wood was nine years old when she made this, and she is the best child actress in the world (all in my opinion). She's not wise beyond her years, but she's not a baby either. She's logical without being a genius, yet she's precocious without being rambunctious. The chemistry she has with Gwenn is superb, particularly when he starts trying to rattle Wood's imagination. The scene of her trying to imitate a monkey is hilarious because of how awkward Susan is in the role of imaginary animal. Ultimately, the film's message is allowing people to believe in the imagination itself in order to create beauty in the world.
Gwenn is a great Santa, and interviews that come with the recent Blu-ray release several of the actors said they truly believed he was Santa Claus. Gwenn is charming, affable, and ebullient as Old Saint Nick. The segments where he's on trial force him to be more restrained, but you never stop believing the man is who he says he is. Alongside him is Maureen O'Hara as the beautiful Doris Walker. I don't generally care for her romance with lawyer Fred Gailey (John Payne) in the film as it detracts from the Santa Claus story, but it's necessary for the narrative and both actors are good.
Go seek out Miracle on 34th Street; the original 1947 film in black and white (don't be fooled by the remake or the colorized version of this film). It's sweet, hilarious, heartwarming, and a slate of other adjectives that make it worth your time.
A Christmas Story (1983) selected by Mark Buckingham
Ted Turner saw to it that this movie gets 24 hours of play every year leading up to Christmas. What more of an endorsement do you need? Ok, fine. It's a snapshot of American life in the 1950s minus all that scary post-war "the Commies are comin'" paranoia. Bob Clark brings Jean Shepherd's book to life in the vein of Leave It to Beaver yet somehow manages to take a tale from a generation ago and make it as relatable as ever by focusing on common everlasting truths — that gift we each pine for but think we'll never get, bullies suck, little brothers are annoying, kids actually used to respect and listen to their parents (not the other way around), it's all there.
The magic of the holidays is in full force, but masterfully tempered with the realities of grumpy dad, flat tires, double-dog-dares, and throwing your friends under the bus in a pinch. It's funny, it has heart, and manages to be as timeless in 2012 as it was when it debuted in 1983. I'd swear that Darren McGavin was my dad.
Die Hard (1988) selected by Mark Buckingham
Any time someone wrinkles an eyebrow at the notion that this is a Christmas movie, I think of the scene early in the film where our hero John McClane (Bruce Willis) debates the legitimacy of his limo driver's selection of Run DMC's "Christmas in Hollis" as real Christmas music. Hey, it counts, if even on a technicality.
This is one of the seminal, iconic, trend-setting genre-defining action movies of my lifetime. Enlisting the help of Bonnie Bedelia, Reginald VelJohnson, '80s movie staples Paul Gleason and William Atherton, along with the legendary Alan Rickman helped add character to the chaos. It wasn't just an action movie about ridiculous things happening to people we can't relate to — it's about a group of men with an agenda walking into an office building carrying automatic weapons and holding ordinary white-collar citizens hostage while they pillage the office's vault. No one is safe. McClane is a hero in name and scarcely ability, as he suffers constantly but pulls through on luck and determination, not super powers or enemies with piss-poor aim — those are what the fourth Die Hard movie were about.
It came out 24 years ago and is still great today. You don't need wiz-bang effects when you have characters the audience can root for and empathize with.
Bad Santa (2003) selected by Sombrero Grande
Bad Santa is full of swearing, stealing, drinking, fighting, abuse, neglect, greed, double-crossing, perversion, sodomy, puking, pissing, suicide and murder. In other words, the polar opposite of your typical Christmas movie. Yet despite all these things–or perhaps even because of them–the film achieves a heartfelt and touching embodiment of the spirit of Christmas to an extent that your average family-oriented Christmas movie couldn't possibly achieve, largely by contrasting it against many of the ugliest aspects of humanity.
Bad Santa shows you the "rough," then slowly and subtly reveals the Christmas spirit "diamond" amongst. Lots of Christmas movies have Santa (or some Santa stand-in) racing against the clock to save Christmas, but this film was the first time that I ever really cared that "Santa" succeeded. What would have been lost in all the other Christmas movies had Santa missed his rounds? Lots of spoiled little kids not getting spoiled further with free gifts is all. Willie's run from the police, gripping the blood-stained trunk of Thurman's stuffed elephant as if it were all that mattered in life, means so much more.
If you're not too taken aback by the profuse swearing or depictions of the seedier sides of life, Bad Santa is a very funny Christmas movie with a genuinely touching soul. It warms my heart in a warped and twisted and wonderful way.
Love Actually (2003) selected by Mark Buckingham
For starters, the cast is an ensemble the likes of which I've not seen in decades. From the dramatic side, we've got Liam Neeson, Colin Firth, Keira Knightley, Andrew Lincoln, Alan Rickman, Laura Linney, Chiwetel Ejiofor, Emma Thompson, Billy Bob Thornton, and Sienna Guillory. Right there we have Walking Dead's chief zombie killer, the bad ass dad from Taken, King George VI from The King's Speech, and a swashbuckling pirate princess. For levity, Bill Nighy, Rowan Atkinson, Martin Freeman, and Hugh Grant take the spotlight. One of those men recently abandoned his Hobbit hole to go adventuring with Gandalf. Eye candy appears in the likes of Denise Richards, Shannon Elizabeth, Claudia Schiffer, January Jones, and Elisha Cuthbert. Rounding out the cast are two up-and-comers, the enchanting Lúcia Moniz and adorable Martine McCutcheon.
Having said that, this flick has had numerous imitators that fell flat on their faces, including Valentine's Day and New Year's Eve. They tried to cash in on the magic found in Love Actually by assembling noteworthy casts around iconic holidays, but didn't have the quality of characters or stories to tell that are on display here. The fact that it happens around Christmas is backdrop. You will feel for and care about these characters and their struggles. I've seen it several times and still will tune in whenever I catch it on television. Aside from the body-double couple that probably gets edited out of prudish American broadcasting, it's an entirely PG experience, but speaks volumes about the human experience.
Joyeux Noel (2005) selected by Gordon S. Miller
Writer/director Christian Carion's Joyeux Noel walks a fine line between comedy and drama and excels at both with this story set during WWI in German-occupied France. On the front lines, German soldiers are fighting against the French and the Scots, who are allied together. Huddled in their trenches on a cold Christmas Eve, the men try to make the best of the time. It is all quiet along this western front, when the voice of a German tenor breaks the silence. The Scots answer back on bagpipes. Enemies only hours ago and each responsible for the deaths of their comrades, they become connected through music.
What could have become a wacky, wartime comedy, a la Hogan's Heroes, develops into a poignant drama filled with humorous moments. The story has many wonderful, subtle revelations of character and plot for those that pay attention, adding layers of depth to the exposition without drawing attention to it. What is most remarkable is that the film is based on true events. The actions and motivations of all the characters are believable and their humanity simultaneously creates hopefulness for mankind's potential and a frustration with its progress.
If we missed your favorite, leave a comment and tell us what it is.