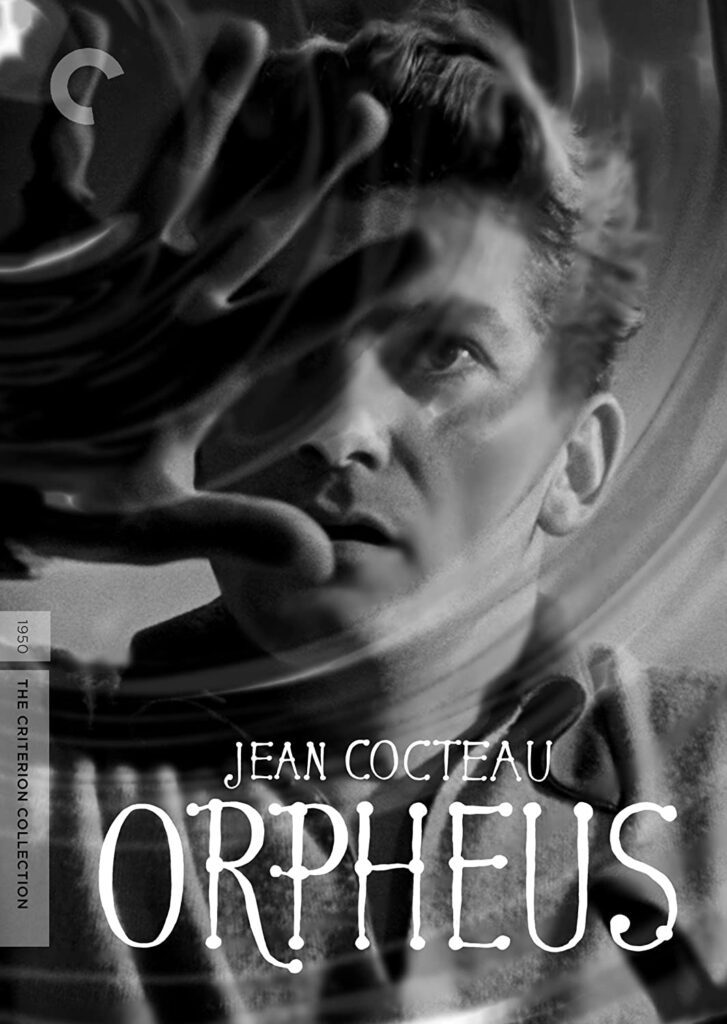 The Film
Jean Cocteau had a knack for applying a distinct surreal stamp to familiar tales. He did it in Beauty and the Beast, which persists as one of the most fantastical fantasy movies ever made, and he did it with his Orphic Trilogy, which transformed the myth of Orpheus into visual poetry.
One of the Criterion Collection's first box sets was Cocteau's Orphic Trilogy, but a recent licensing expiration led it to go out of print. Fortunately, Criterion retained the rights to the trilogy's centerpiece, Orpheus, which they have re-released in a stunning new Blu-ray edition.
Jean Marais stars as the titular hero, and in Cocteau's version, he's no troubadour, but a poet on the outs with contemporary trends. Looking for inspiration anywhere, he finds it in the face of a beautiful princess (Maria Casarès), who he becomes instantly enraptured with. In the original myth, Orpheus is devoted to his wife Eurydice (here played by Marie Déa), but in this telling, she's almost an afterthought.
Orpheus soon discovers that the princess is actually death incarnated, leading him down a longing path to the underworld and back several times. Cocteau uses mirrors to signify portals into the other realm, and a variety of camera tricks and illusions to create an all-encompassing dreamlike sense. The gritty reality of post-war bombed-out location shooting meshes with Cocteau's creation of another world with amazing clarity.
Orpheus is filled with stunning imagery, and like Beauty and the Beast, operates on the plane of high drama almost constantly. But for all of his melodramatic inclinations and grand gestures, Cocteau doesn't obliterate the moments that are quietly sublime, like Orpheus's slow-motion descent into the world below. The story is utterly familiar but Cocteau creates something that feels like almost no other film with Orpheus.
The Blu-ray Disc
Orpheus is presented in 1080p high definition with an aspect ratio of 1.33:1. The sublime quality of the film is matched by this transfer, which is truly remarkable. Fine detail abounds in nearly every shot, with very little softness encroaching on the image. Contrast is superb, with both deep, rich blacks and clean whites rendered nicely. Stray marks and incidental damage that can be seen on Criterion's previous DVD release of the film are nowhere to be found here, and the transfer possesses a lovely, film-like quality.
Audio is presented in an uncompressed monaural track that's perfectly listenable despite its source limitations, which lends to some hollowness of voices and effects. It's overall clean and clear, with no distracting crackle or hissing that pops up.
Special Features
Criterion carries over much of the extras from its original box set, including Edgardo Cozarinsky's feature-length documentary Jean Cocteau: Autobiography of an Unknown and La villa Santo-Sospir, Cocteau's only color film, shot in 16mm, which showcases a location used in Orpheus's sequel Testament of Orpheus.
But Criterion didn't settle for just a simple port, adding tons of value with an extensive collection of new extras. French-film scholar James S. Williams lends an audio commentary to the disc, and two archival interviews with Cocteau look at his directorial approach and his use of jazz music in the film. Director Marc Caro conducts a playful interview with assistant director Claude Pinoteau, who discusses the variety of camera tricks Cocteau employed. Newsreel footage shows the military academy ruins that Cocteau used as a location for the film, and an image gallery showcases Roger Corbeau's on-set photography.
The theatrical trailer is also included on the disc and the package features a booklet with an essay by Mark Polizzotti on the film, an essay by Williams on La villa Santo-Sospir and archival writings by Cocteau on the film.
The Bottom Line
Even for owners of Criterion's previous release, this edition is a must-buy, as its stunning transfer and superb extras ensure.