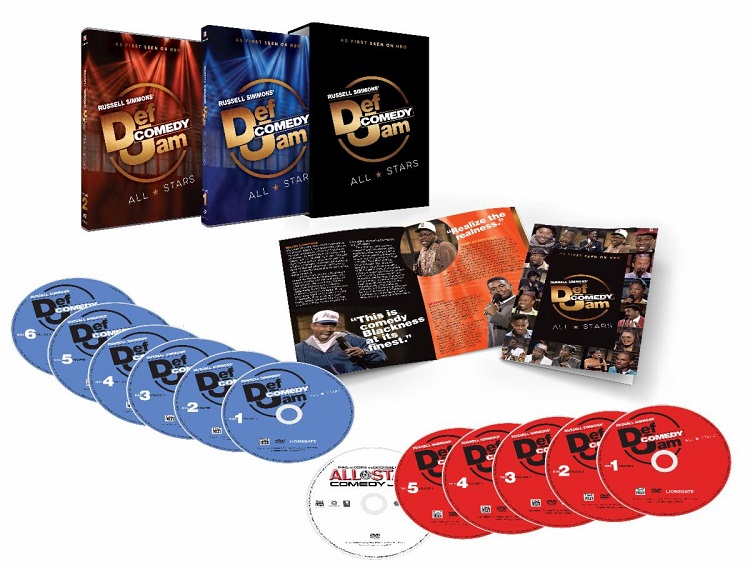 When Russell Simmons' Def Comedy Jam premiered on HBO in the winter of 1992, the nation's cool kids took notice. The "for mature audiences only" show aired Fridays at midnight, leading legions of college students and young adults to exit the clubs and finds TVs — or not go out at all — so they could catch a half-hour glimpse of the would-be stars who made them laugh, and the hip-hop stars and superstar athletes who were in the studio audience. Def Comedy Jam would go on to become one of HBO's earliest mega-hits, and by the late '90s it was the #1 comedy show to ever air on pay TV and cable. In fact, no other modern-day comedy tour or series can boast a run so successful that dozens of its denizens were skyrocketed from regional obscurity to international superstardom, including Martin Lawrence, Chris Tucker, Cedric the Entertainer, Dave Chappelle, Tiffany Haddish, Tracy Morgan, Steve Harvey, Bernie Mac, and Kevin Hart.
Now, Time Life brings this smash series to comedy lovers everywhere with Russell Simmons' Def Comedy Jam Collection, a 12-disc DVD set featuring the very best episodes from the biggest, groundbreaking, star-making comedy show of all time! Included in the jam-packed set are 36 episodes across all nine history-making seasons — over 23 hours of non-stop laughs from comedy giants such as Bill Bellamy, Cedric the Entertainer, Dave Chappelle, Earthquake, Mike Epps, Adele Givens, Tiffany Haddish, Kevin Hart, Steve Harvey, D.L. Hughley, Queen Latifah, Martin Lawrence, Bernie Mac, Tracy Morgan, Chris Tucker, Sheryl Underwood, Damon Wayans, Jr., and so many more! Aside from far too many celebrity cameos to mention, the set also includes a bonus episode of "2 Raw 4 TV," which speaks for itself.
So, this holiday season, liven up your celebrations with Russell Simmons' Def Comedy Jam Collection — it's not clean, it's not correct, and it's still dangerously funny!
BONUS FEATURES
Bonus Episode "2 Raw 4 TV"
Bonus DVD: Shaq & Cedric the Entertainer Present: All Star Comedy Jam — a comedy showcase hosted by Cedric the Entertainer and including stand-up performances by Kevin Hart, Tommy Davidson, Aries Spears, and DeRay Davis!
24-Page Def Comedy Jam Collector's Booklet — Featuring archival photos, jokes, and the story behind HBO's groundbreaking series.