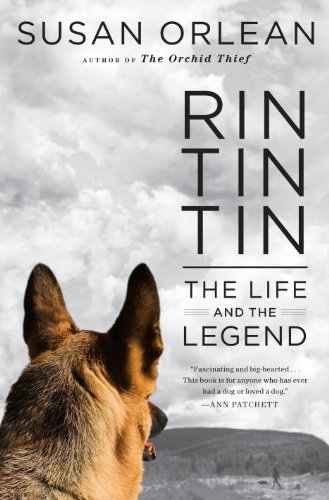 On Tuesday night the New York Film Festival brought together three of my favorite things: silent movies, books about film history, and the delightful writing of Susan Orlean.
Orlean, staff writer for The New Yorker and author of The Orchid Thief, took the stage at the Walter Reade Theater for a reading of excerpts from her new book Rin Tin Tin: The Life and the Legend, the story of (arguably) the second-most-famous canine in film history.
"I'm often asked, 'Why didn't you write about Lassie?'" Orlean told the audience. "Lassie was a fictional character, played by real dogs. Rin Tin Tin was a real dog who became a fictional character, and that's a transformation that, to me, was really magical."
The "real dog" known as Rin Tin Tin was born on a French battlefield near the end of the First World War. Rescued by U.S. Air Corporal Lee Duncan and brought home to Southern California, Rinty went on to star in more than two-dozen silent, feature-length films for Warner Bros. between 1923 and 1930, many of which were written by future mogul Darryl F. Zanuck.
"A dog was at no disadvantage to a human in a silent film;" Orlean writes in Rin Tin Tin. "(B)oth species had the same set of tools for telling a story – action, expression, gesture. In fact, an animal acting without words looked natural and didn't fall into pantomime and exaggeration the way human actors in silent film often did."
Following the reading, the Film Society of Lincoln Center screened Clash of the Wolves (1925), beautifully accompanied on piano by Carolyn Swartz. One of only six surviving Rin Tin Tin features, Wolves is the story of a dashing young prospector (Charles Farrell) who falls for a wealthy rancher's daughter (June Marlowe, future Miss Crabtree in the Our Gang comedies). Rinty plays Lobo, the half-breed leader of a feared wolf pack displaced from his mountain home by a fire. He's feared and pursued by the local townsfolk until he thwarts the schemes of a mustache-twirling claim jumper (Pat Hartigan) and saves the day.
In the course of Wolves's 74 action-packed minutes, Rinty rescues his puppies and mate from a fire, jumps over fences, bounds across rocky cliffs, saves the injured prospector from a sandstorm, and dispatches the villain with an NFL-worthy tackle. He also wears boots and a false beard and acts as wingman as his master tries to score some smooches from his new squeeze. What fun!
Almost as fun as watching the film on the big screen was watching Orlean. From her seat in the front row, she ooh'ed, ahh'ed, and cheered Rinty on, leading the audience in applause whenever he did something heroic. Which was often.
"These were not children's movies," Orlean gushed. "They were action films with a dog that happened to be the star."
And a star he was, in fact the first globally recognized American film personality. The success of his fast-paced adventures reportedly saved Warner Bros. from bankruptcy in the mid-1920s. And, hilariously, Rinty nearly won the first Academy Award for Best Actor, until someone thought better of it.
"The Academy thought it would look strange to give Best Actor to a dog," Orlean explained, in a short documentary that kicked off the evening.
Sadly for his many fans around the world, the original Rin Tin Tin was forced into retirement by the explosive popularity of "talking pictures" because, in the words of studio head Jack Warner, "Dogs don't talk." He made one low budget, 12-chapter serial for Mascot Pictures (The Lightning Warrior, starring Frankie Darro) and passed away on August 10, 1932 at the age of 13. It was rumored that Rin Tin Tin had expired in the arms of sexy starlet Jean Harlow. Sadly for Rinty, this was not true.
"Circus sideshow operators begged Lee for the right to display Rin Tin Tin's body, the way they had once competed to display the body of Jesse James," Orlean writes. "That may sound macabre and degrading, but Hollywood in 1932 wasn't far removed from the world of carnivals and freak shows."
Apparently, some things never change.
One of Rinty's 48 offspring took over as Rin Tin Tin Jr. and appeared in serials, shorts and B pictures throughout the 1930s. Rin Tin Tin III, who may or may not have actually been related to his "father" and "grandfather" ("By definition, all German shepherds are related," Orlean writes) took up the mantle during the '40s, starring in The Return of Rin Tin Tin (1947) with 13-year-old Robert Blake, former Our Gang member and future accused (but exonerated) murderer.
A fourth generation pooch took over around the time Rin Tin Tin moved to television in 1954, though by that point Lee Duncan had ceased to acknowledge the transitions.
"One dog now just gave way to the next, quietly and completely," Orlean writes. "As if they lived in a universe that had managed to exist outside the boundaries of time."
Set in in 1870, ABC's The Adventures of Rin-Tin-Tin (hyphens apparently added for TV) told the story of a boy (Lee Aaker) orphaned in an Indian raid and adopted by U.S. Cavalry soldiers at Fort Apache, Arizona. Of course, he brings his loyal and heroic dog along, and adventure ensues. The show was filmed at Corriganville Movie Ranch in Ventura County, California, home to an estimated 3,500 film and TV productions.
The television incarnation of Rin-Tin-Tin is where Orlean herself enters the story, as a newly minted Baby Boomer watching her older sibling's favorite show. It's also where the real Rin Tin Tin exits. The TV producers chose not to use Rinty IV and, for the first time, the "character" of Rin Tin Tin was played entirely by actors.
"Why didn't we use him?" production manager Sam Manners tells Orlean. "We could never use Duncan's dog because it was stupid. It couldn't do anything!"
That this sad milestone for the Rin Tin Tin lineage came at the moment of the character's greatest mainstream success – the TV series was a smash hit for five years — is just one of the many ironies Orlean explores in this extremely engaging book.
Perhaps emphasizing her belief that Rin Tin Tin represents more than just a bloodline, Orlean welcomed to the Walter Reade stage a beautiful German shepherd named Hunter, a certified K9 from Urban Search and Rescue New York Task Force 1.
"In 2010, he was deployed to Haiti, to the earthquake," Orlean said, as the dog sat quietly by her side. "He assisted in the rescue and recovery, including the little boy who was pulled out many days later. This is a hero."