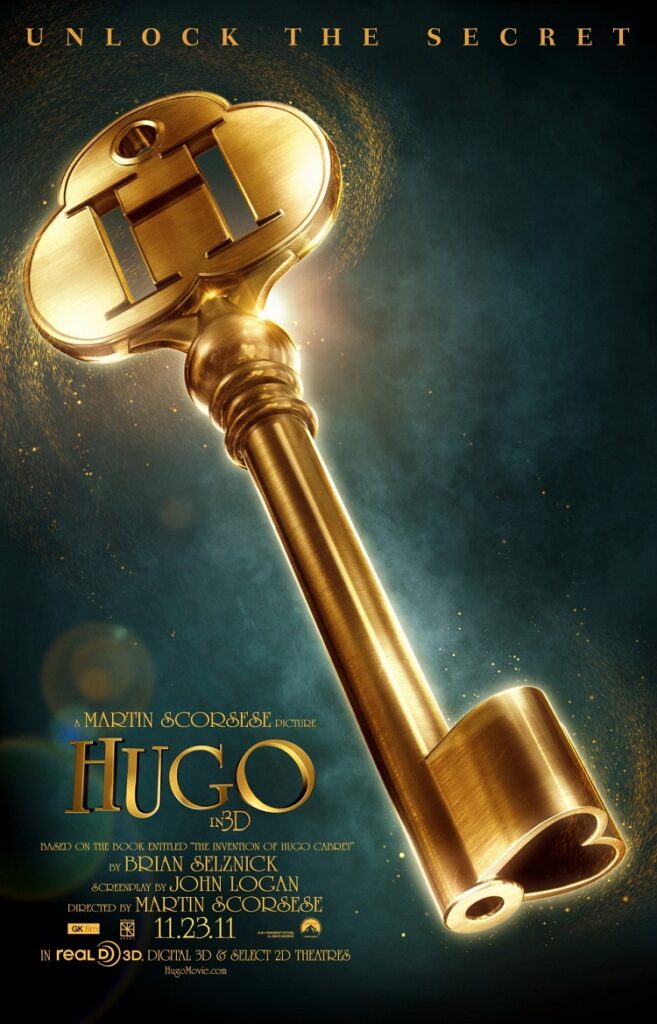 "This is really a special evening for us," said New York Film Festival selection committee chairman Richard Pena, as he took the stage at Avery Fisher Hall on Monday night. "The only other time we've shown a work in progress was back in 1991."
Two decades ago, the work in progress the NYFF audience saw was Disney's Beauty and the Beast, a charming family film that will be returning to theaters with a 3-D release on January 13, 2012. Tonight it was Martin Scorsese's Hugo, a charming family film that also happens to be in 3-D — from the man who brought us Taxi Driver.
I know. It sounds incongruous and more than a bit disheartening. But before you start flagellating yourself with rolled up copies of Film Comment, understand one thing: this is not just a "charming family film in 3-D." It's also a tribute to the unsung pioneers of early filmmaking, using the most modern of filmmaking techniques.
Based upon the 2007 Caldecott Award-winning novel The Invention of Hugo Cabret, Hugo is the story of a 12-year-old orphan (Asa Butterfield) who lives in the dark recesses and clock towers of a Paris train station. He occasionally sneaks down to pilfer gears and mechanisms from a toy maker (Sir Ben Kingsley) in an effort to repair an automaton, a mechanical robot he inherited from his father (Jude Law) after he died in a fire.
Hugo manages to evade the toy maker and the bumbling station inspector (Sacha Baron Cohen) until he is finally caught in the act. The toy maker demands that the boy empty his pockets, and he is forced to hand over a notebook filled with diagrams and schematics for the automaton. The old man has a strangely emotional response to the notebook, confiscates it, and threatens to burn it. Hugo follows him home and enlists the toy maker's granddaughter Isabelle (Chloe Grace Moretz) in his efforts to save the notebook.
Hugo and Isabelle join forces and together they discover that her grandfather is not just Papa Georges, he's Georges Melies, one of the seminal figures in film history.
And here is where Scorsese reveals his hand: Hugo is as much about cinema, its history, and the importance of preservation as it is a family-friendly confection. Over the course of the film Scorsese pays tribute to Melies, the Lumiere Brothers, Valentino, Chaplin, Keaton, Lloyd and the groundbreaking artistry of the first two decades of filmmaking.
Hugo is a valentine to cinema, from a man who has done more to preserve and protect its history than any other filmmaker working today.
Since 1990, Scorsese's Film Foundation has provided support and financing for the restoration and preservation of hundreds of films, from The Great Train Robbery to Powell and Pressburger's The Red Shoes. He even evangelizes for the importance of preserving the aspect ratio of widescreen films shown on TV in a frequently replayed interstitial on Turner Classic Movies.
Of course, none of this information should affect your opinion of this particular movie, but it may help you to understand why Scorsese chose it as a story he wanted to tell. Advance buzz on Hugo has been mixed, with some fans suggesting that Scorsese had sold out, or gone soft in his old age. Others were mortified by his decision to use 3-D. And the trailer, which makes Hugo look like a tarted-up After School Special, doesn't help.
I had a similar response to the 3-D thing, until I saw the film. In telling the story of the first visual magician in cinema history, Scorsese chose to use the current state-of-the-art in filmmaking magic. It makes sense. And you don't need me to tell you that Scorsese uses 3-D far more artfully than the director of The Adventures of Sharkboy and Lava Girl.
Hugo certainly has the best acting of any film I've seen in 3-D. Asa Butterfield and Chloe Moretz are able young leads, and Sir Ben Kingsley is a likely Oscar nominee as Melies. Helen McCrory, Richard Griffiths, and the legendary Christopher Lee are delightful in small but pivotal roles. And Sacha Baron Cohen manages to refine his normally outsized shtick.
Pena took great pains to remind the NYFF audience that Hugo is still unfinished, and not yet ready for formal reviews. So don't consider this a formal review. Rather, look at it as the opinion of someone who hates 3-D movies and actively avoids them.
In the long term, if 3-D evolves beyond kid-friendly gimmickry into a mainstream technique in visual storytelling for all audiences, Hugo may be looked at as a turning point. Short term, Martin Scorsese just wants your butt in the seats.
"I hope you enjoy it," the director told the excited NYFF audience before the screening. "And I hope that those of you who really do like it come to see the final film."