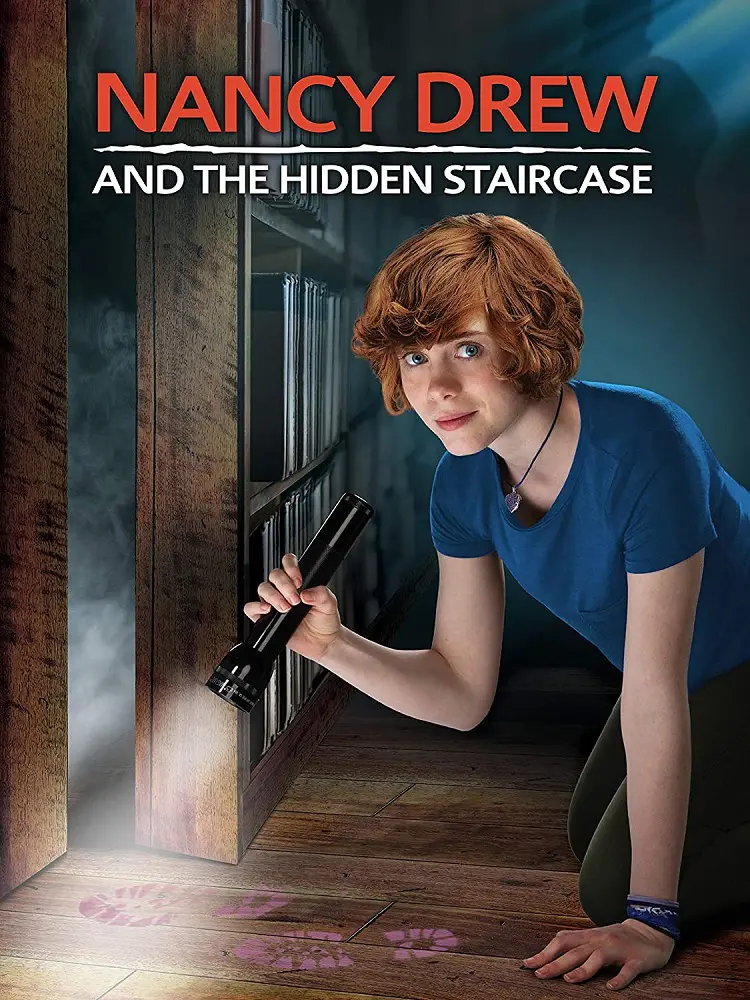 Do kids still read Nancy Drew? I hope so. She was the original girl power hero, solving mysteries and having adventures. There have been many adaptations of the character and books over the years, with Sophia Lillis (It, Sharp Objects) the latest to portray the plucky heroine. We meet this new Nancy as she is skateboarding her way through town, ear buds blasting. She is a smart, contemporary teen who has a gift for solving mysteries and righting wrongs (like when one of her friends is being cyber-bullied). But this Nancy also has a degree of angst. She is mourning her mother, and not too happy about her current small-town life in River Heights, where her lawyer father Carson Drew (Sam Trammell) has moved them from Chicago after her mom died. The film is presented as an origin story for the teen sleuth.
After we meet the characters and watch Nancy as she devises and pulls a prank on the aforementioned bully, she meets Flora (Linda Lavin), a woman who thinks her house, Twin Elms, is haunted. And what a house. The production team definitely had a blast decorating an already old and atmospheric house to reflect Flora's quirky personality – complete with colorful spray-painted grass and pink flamingos. Nancy and Flora bond instantly. The teen is intrigued by her ghost story and volunteers to investigate the possible haunting. Flora's niece Helen (Laura Slade Wiggins) insists on tagging along to keep her eye on her aunt and Nancy. Helen also happens to be dating the cyber bully, which will present some challenges to Nancy's investigation of the house and her preconceptions of who at school is nice and not so nice.
The film has modernized Nancy and her best pals George (Zoe Renee) and Bess (Mackenzie Graham), who is a chemistry whiz with some big self-esteem issues. There is no sign of Ned, the book series' dependable but dull boyfriend of Nancy, but Nancy definitely has some chemistry with a young police sergeant (Andrew Matthew Welch), which has potential. The story does include the original book's (The Hidden Staircase, Book 2) plot points of a controversy surrounding the building a local railroad line, as well as Nancy's checking out the haunted house.
Produced by Ellen Degeneres's production company, A Very Good Production, and directed by Katt Shea (Poison Ivy), the film has a bit of a television movie-of-the week vibe. It starts out like many a typical teen movie, but really takes off after Nancy visits the haunted house. Sophia Lillis is definitely a star on the rise. She has tons of personality and has a great rapport with Linda Lavin and the rest of the cast. There are nods to a possible sequel at the end of the film, when the girls talk about visiting the nearby Lilac Inn (The Mystery At Lilac Inn, Book 4). A Nancy Drew film series that updates the books for a new generation could be a good thing. Movies with strong, smart, young female protagonists are always welcome.
The film is rated PG for thematic events and language. It includes a digital movie to watch anywhere. Resolution: 1080p high definition 16×9, 1.78:1. Sound: DTS-HD Master Audio: English 5.1, Dolby Digital: Francais 5.1 & Espanol 5.1. Subtitles: English SDH, Francais & Espanol
Extras:
Previews of Alex & Me, Lego Movie 2, 4K UltraHD ad
"A Sleuth, A Girl, An Inspiration" – Interviews with the cast and crew and behind-the-scenes shots
"Pink Footprints: Touring Twin Elms" – A behind-the-scenes look at the over-the-top set design of the haunted house owned by Flora (Linda Lavin)
Gag Reel