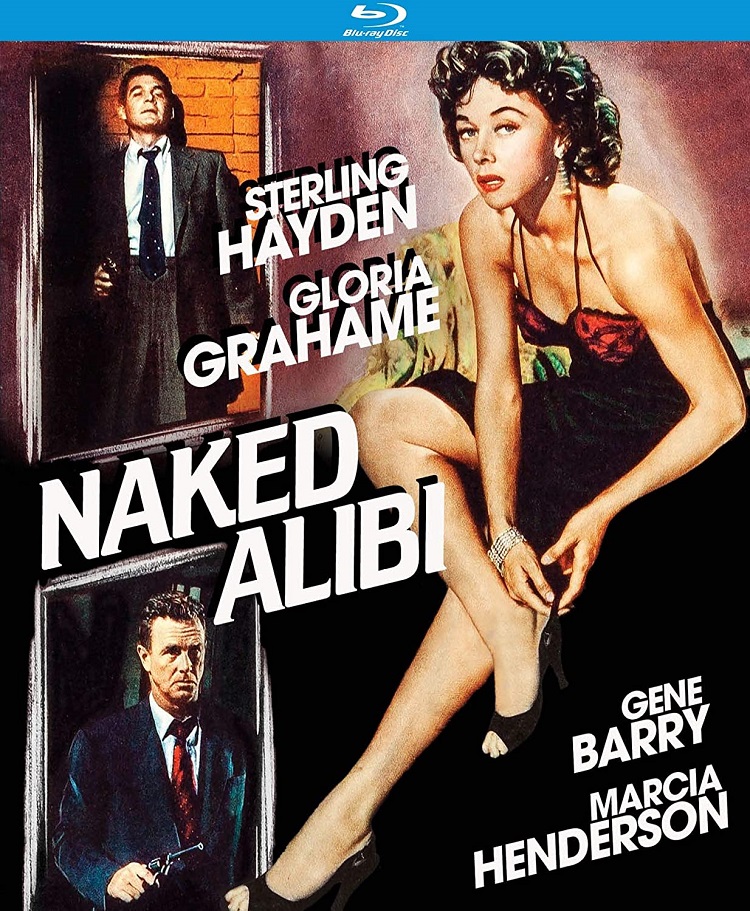 The cops pick up a guy on a drunk and disorderly. He doesn't have any identification but says he's a baker and a family man. He doesn't look like a family man. He looks like a tough guy. He talks like a tough guy. The cops are on edge because there has been a string of unsolved robberies of late and the higher-ups are on their case. The drunk gets mouthy and punches one of the cops. The cops hit back. And how. He promises to get even with the cops.
Police Chief Conroy (Sterling Hayden) comes in just as the guy is getting a beat down. He doesn't mind so much because he's just sure this guy is the robber. They talk tough to one another. But then the guys story checks out. His name is Al Willis (Gene Barry). He does run a bakery, he is married, and his alibi is solid. Conroy lets him go but has him followed.
The next day one of the cops who did the beating is killed. During that time period, Willis had given the cops the slip, but he's got an alibi from the fellas at a local club. The next day, two cops are killed when their car explodes. Conroy knows it's Willis but he can't prove it and his constant harassment draws the attention of the press and the city councilman. When the newspaper prints a photo that looks like Conroy attacking Willis (but was actually Conroy attempting to keep Willis from falling onto a hot stove), Conroy gets the sack. Will that keep Conroy from trying to prove Willis is a bad guy? No, it will not.
The first act of Naked Alibi plays out like a two-fisted police procedural. We're not quite sure whether Willis is a decent guy with over-eager cops trying to put the crime on him without evidence, or if he really is the bad guy. The plot follows both Conroy as he does the work of policing and Willis who seems to be trying to run legitimate business and take care of his wife. It is in the second act when things switch over to more film-noir territory and the morality gets a little more gray.
Conroy follows Willis to a border town near Mexico (wonderfully named, in that noir way of doing things, "Border Town"). There we see Willis' true self. He meets up with Marianna (a terrific Gloria Grahame), a nightclub singer who bats off wannabe suiters like Babe Ruth at the plate. He apparently comes to this town on the regular as she's in love with him and thinks they are going to get married. He treats her, and everyone around him like trash.
When Conroy is mugged by some street toughs, it is Marianna who takes him in and stitches him up. At first, she doesn't know who he is but when she's dressing his wounds she finds a newspaper clipping of Willis in his pocket and learns of his other life. She sweet talks Conroy hoping to get more information and eventually finds herself torn between the man she loves and the man who might be able to save her.
The inevitable show down is well handled. There is a nice chase through the alleyways and on top of the buildings. It ends fairly predictably, but it's handled well enough to keep things exciting with a bitter sweet conclusion.
Naked Alibi is a b-movie with no pretensions of being anything else. Made on a tiny budget, it plays things quick and dirty. The sets are cheap and the writing hard boiled. It makes good use of its black and white photography, but don't expect too much from director Jerry Hopper. He made quite a few movies but most of them have been forgotten. Most of his career was spent directing television series like The Rifleman and Have Gun – Will Travel. His work here would have suited him well on TV where the budgets are limited and the time frames short. It's solidly made but there are no frills.
Sterling Hayden is good as the tough and obsessive Conroy but it's Gloria Grahame you'll stay for. She's one of those actresses I've seen in numerous films, but never remember. Whenever she appears in a movie I'm watching, I'm always glad because I know it is going to be a good performance. But then when it's over I forget who she is. After watching her in this, I think she'll stick. She's both sultry and vulnerable. She's tough and in need of saving. She burns up the screen every second she's on it.
Kino Lorber Studio Classics is releasing Naked Alibi just in time for Noirvember, the month in which every film buff celebrates all the film noir, both the great and the not so good. This one falls into the "pretty good" category. The story starts out more in line with classic police procedural and it takes its time before moving into noir territory. The direction is workmanlike and the camera work average. Sterling Hayden does a fine job but again it's really all about Gloria Grahame. If you are a fan, you'll definitely want to catch her in this one. Even if you aren't a fan, you'll want to see this so you can become one.
The film comes with a 1080p transfer with an aspect ratio of 1.85:1. Extras include an audio commentary by film historian Kat Ellinger and the theatrical trailer.