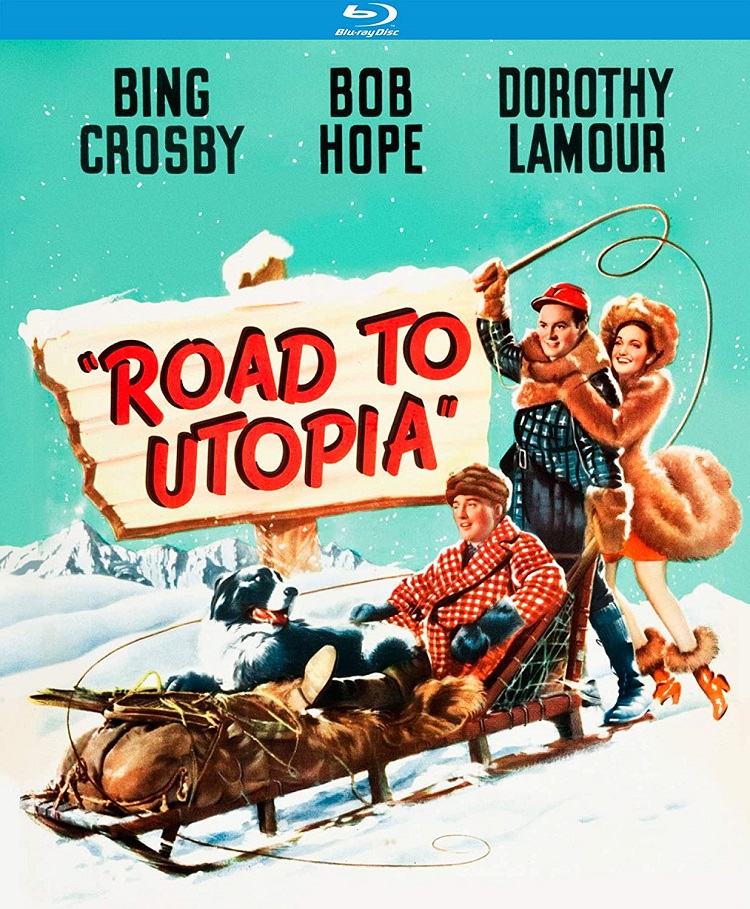 As the fourth annual TCM Classic Film Festival was approaching, I was filled with anticipation as I made my top selections of films that I wanted to see. y next moment of anticipation was the schedule since lots of times movies I want to see conflict with each other. This year, I was able to see just about everything that I wanted to and the programmers did a wonderful job of picking a range of movies I have never seen or even heard of along with those that I was thrilled to finally have the opportunity to see on the big screen.
My festival experience started Thursday evening with Road to Utopia (1946) starring Bing Crosby, Bob Hope, and Dorothy Lamour. Comedian Greg Proops introduced the film and I was shocked to learn that there were seven such road films. We follow the duo on an adventure to find an Alaskan goldmine. Crosby and Hope are very competitive and snarky with each other. The laughs are many along with fun musical numbers. Lamour is charming and lovely as the love interest the men are fighting for. After seeing this, I will be seeking out the other six.
Safe in Hell (1931) stars Dorothy MacKaill as a prostitute driven to an isolated Carribean island in an attempt to escape the law for a crime she believes she has committed. The festival had to turn people away resulting in a second screening the last day of the festival. The introduction was conducted by the director's son, William Wellman Jr., and film historian Donald Bogle. The film was very ahead of its time focusing on a strong-willed woman surrounded by lecherous bad men trying to control her. Additionally, the hotel MacKaill ends up in is run by a black couple. MacKaill's performance is worth seeing, and it is unfortunate that she is not very well known today.
Friday was the day I was least excited about but it ended up having my favorite films of the festival. Libeled Lady (1936) was one such favorite. Considering the cast of this film includes Spencer Tracy, Jean Harlow, William Powell, and Myrna Loy, I don't know how I had never heard of it. Tracy is a newspaper editor engaged to Harlow. On the day of the wedding, an emergency at the paper delays the ceremony. Loy is an heiress suing the paper for libel, and Powell is dragged into the mix in an attempt to get her to cancel the lawsuit. This was the funniest film of the weekend, delivering hardy laughs with charm and wit. All four of the actors provide great performances and are a delight on screen. I can't recommend it strongly enough.
I went from a real high to my biggest low of the weekend with the western River of No Return (1954). Marilyn Monroe stars as a saloon singer who ends up on a river rapid adventure with Robert Mitchum, a farmer recently reunited with his son. When Monroe's fiance runs off with Mitchum's gun, his only source of defense against the Indians that surround his farm, they are forced to take to a raft and follow the thief. While this was the weakest film of the festival, it wasn't horrible. Just lackluster and ridiculous at times.
The charming English tale A Room with a View (1985) was the first film to bring foreign cinema to my attention and has always been on my must-see list. Lucy Honeychurch (Helena Bonham Carter) is on vacation with cousin Charlotte Bartlett (Maggie Smith) when she encounters George Emerson (Julian Sands). Once back at home, Lucy becomes engaged to boring and arrogant Cecil Vyse (Daniel Day-Lewis). George continues to try and win over Lucy in this romantic jaunt. Judi Dench also has a small role. It is amazing to see this cast so young many years before emerging as huge stars. One of the biggest treats was seeing Simon Callow who I only ever knew from Four Weddings and a Funeral. I don't know that I would ever watch A Room with a View again but I am glad to have experienced it.
I was introduced to Clara Bow last year as a wild brawling and boozing young gal in Call Her Savage (1931) This year found her in a very different role in It (1927). Bow still has some spunk but is more ladylike as a shopgirl trying to win over the boss. I was thrilled to watch another movie based on a strong female character out to get what she wants. Bow is charming and lights up the screen; it is very clear why she was selected as the actress to portray Elinor Glyn's popularized term. The silent film was accompanied by a 15-piece orchestra playing an original score by Carl Davis. It was truly an amazing experience and a representation of the experiences which make this festival so special.
My hands-down favorite screening of the festival was On the Town (1949). I almost skipped it for Hondo (1953), which was being screened in 3D, since I thought I had previously seen On the Town. This charming musical starring Gene Kelly, Frank Sinatra, and Jules Munshin as sailors in New York who have an amazing night with Ann Miller, Vera-Ellen, and Betty Garrett brings about pure joy. From the opening number, my wide grin never disappeared. All of the actors are incredible performers, and the singing is only second to the dancing. Ann Miller has always been on the top of my list. Seeing her name pop up in the credits verified that I made the right decision. I will watch it many more times in the future but am so glad to have been able to see it for the first time with a theater full of fellow happy movie lovers. It is a moment I will never forget.
Last but not least, I ended my longest movie day with Plan 9 From Outer Space (1959). How could I resist what is called the worst movie ever made? Never having seen an Edward J. Wood Jr. film, it seemed like this was the perfect opportunity. Comedian Dana Gould introduced the film and summed it up perfectly, it isn't the worst ever because it is entertaining. And it is, especially with a crowd loving the goofy ridiculousness.