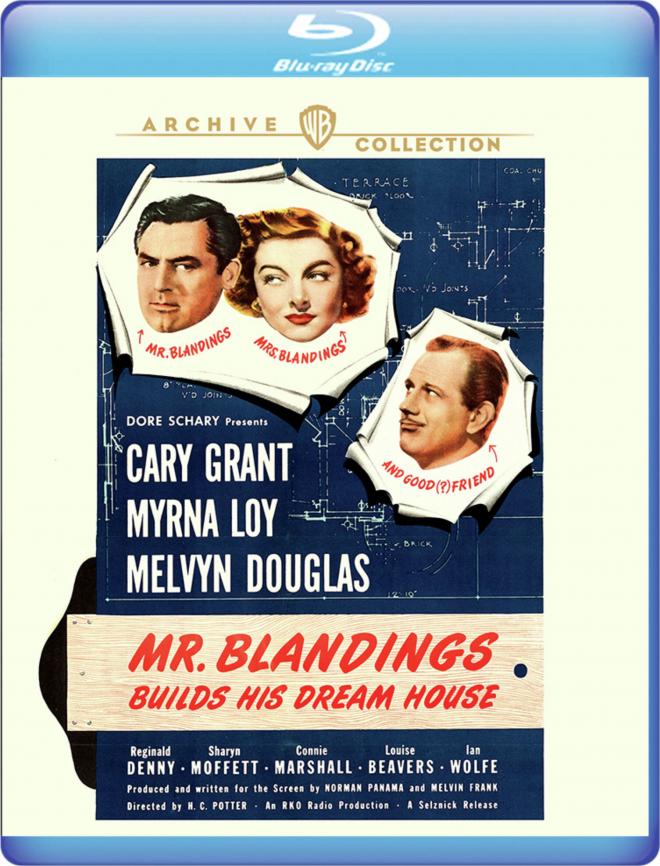 If I hadn't watched this new Blu-ray, I never would have realized that the old Tom Hanks comedy The Money Pit was a remake. While it's a completely obvious connection, this original Cary Grant/Myrna Loy adaptation of a novel differs from the Hanks version (and I'm guessing the later Ice Cube remake Are We Done Yet?) in that the new house remains an aspirational goal for the devoted couple throughout the film, not a terrorizing anchor dragging them down.
Grant plays an ad man in New York City who tires of the cramped urban quarters of his family and longs for more space in the country. Myrna Loy plays his devoted wife with sly sophistication, similar to her most famous work as William Powell's onscreen wife in the Thin Man series of six mystery films. When they find a fixer upper in Connecticut, they make the plunge for country life in spite of the protestations of their sensible friend (Melvyn Douglas). What follows is a string of expensive comedic disasters as their new home budget balloons to ridiculous heights, but it's all proven to be worthwhile as they keep their positive outlook and soldier on to achieve their vision.
Grant and Loy have very convincing chemistry, no doubt greatly aided by their prior two screen pairings in Wings in the Dark and The Bachelor and the Bobby-Soxer. Melvyn Douglas adds louche sarcasm to the proceedings, the voice of reason the happy stars choose to ignore. It's fun to see the usually unflappable Grant burdened with an escalating series of financial missteps, growing increasingly perturbed as his character remains dedicated to achieving the American dream.
The new Blu-ray features a 1080p HD master sourced from a 4K scan of the original nitrate camera negative. The master is in excellent shape, with fantastic contrast and no visible defects. Sound has been enhanced to DTS-HD Master Audio 2.0 and is equally superb. This release is quite obviously the best quality the film has ever been presented, making it an essential addition for fans of the cast.
Bonus features include a vintage cartoon short by Tex Avery titled The House of Tomorrow that shows all of the futuristic things in store for home owners of our day. While the short has no story, its collection of sight gags is good for some laughs. The other bonus features are two different radio broadcasts of the film's story, one an hour in length and the other only a half hour. Cary Grant reprises his role in both broadcasts opposite different female co-stars. It's interesting to hear the different takes on the story, especially because they were recorded with live audiences, so the funny lines get laugh tracks. The extras are rounded out with a re-issue trailer that spends far too much time on a far-fetched infidelity subplot, totally misrepresenting the film.
Mr. Blandings Builds His Dream House is available on Blu-ray on May 18. Warner Archive has graciously posted the film's opening on YouTube for a sample of its pristine quality as shown below.