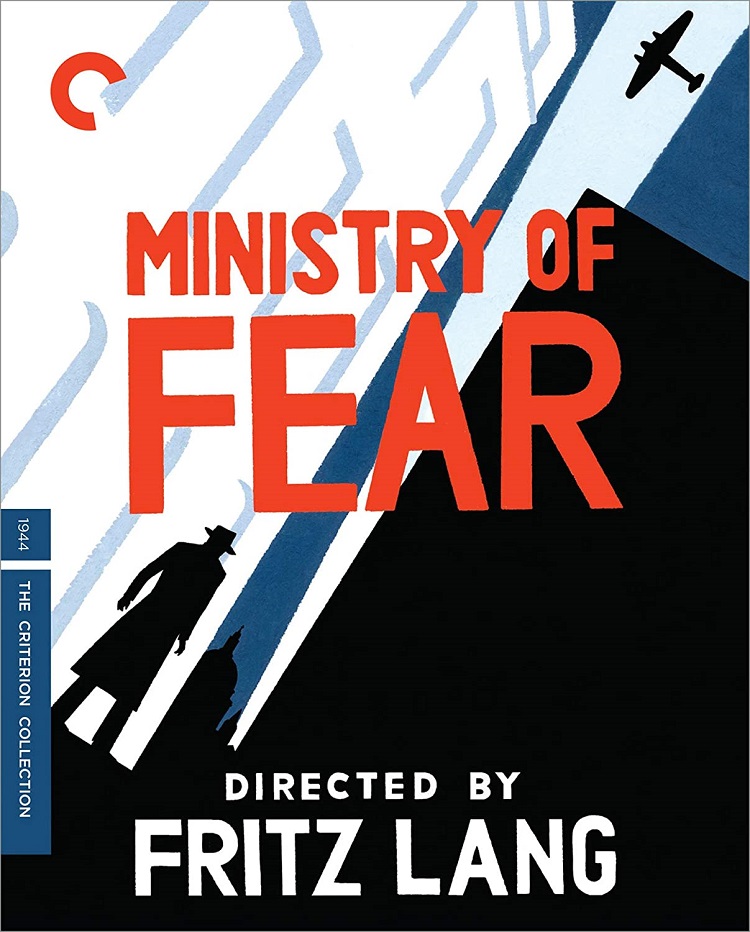 Written by Brandie Ashe
Stephen Neale, a handsome young Brit, stares at a clock on the wall, counting down the final minute before he is to be released from an asylum. After a warning from a physician to avoid future involvement with the police, the man heads to the train station and buys a ticket for London. While waiting for the train, he wanders into a nearby fair, where he is coerced by an older woman to visit the palm reader's booth. His initial amusement turns to discomfort when the fortuneteller remarks upon his past love life. Telling her to "forget the past—just tell me the future," the woman cryptically instructs him to guess the precise weight of a cake at one of the prize booths. After following her advice and winning the prized pastry, he is perplexed by the strange reaction of the other fairgoers, who stare at him oddly as he walks away, cake box in hand.
So begins Fritz Lang's 1944 wartime noir thriller Ministry of Fear, starring Ray Milland in a career-highlight performance as the hapless cake-winning gentleman in question, and it's safe to say that Fear more than lives up to its name as Neale unwittingly finds himself pulled into a far-reaching conspiracy. The film, adapted from a 1943 novel by Graham Greene (who also brought us the base material for another noir classic, 1949's The Third Man), is a shadowy, dark, and twisting tale of subterfuge and treachery, for Neale's cake is, as you may guess, no mere pastry. It hides the film's MacGuffin, a plot-driving strip of microfilm that holds military plans, intended to be smuggled out of Britain into Nazi Germany. As is tradition with the MacGuffin (a term coined by director Alfred Hitchcock, who used the device perhaps more cleverly than any filmmaker in Hollywood), the contents of the microfilm are unimportant. It is merely the means by which we witness Neale's descent into the dangerous world of espionage, as he tries to extract himself from danger with (naturally) the help of a "girl Friday" figure, Carla (Marjorie Reynolds), whose brother Willi (Carl Esmond) may or may not be involved in the spies' plot.
It is interesting that Hitchcock comes to mind here because, whether intentional or not, the entire film feels as though it borrows easily from Hitchcock's oeuvre, as we see that director's signature brand of comingled suspense and sometimes unexpectedly humorous touches emerge in various moments throughout Fear. But Lang's film differs most distinctly from Hitchcock's filmography in its sometimes labyrinthine construction; whereas Hitchcock's narratives tend to be rather straightforward, Fear, like fellow maddening noirs such as Howard Hawks' The Big Sleep (1946),seems to revel in its convolution (though, granted, Fear does a much better job of tying up its loose ends than the later film).
Admittedly, watching this film for the first time can be an exercise in frustration. Lang takes his time in unveiling the nuances of the Nazi conspiracy: characters disappear and reappear under different names; no one is who he appears to be upon first glance; apparent good guys are definitely up to no good, and the supposed enemy is not immediately identifiable. Just when you think you have the storyline figured out, Lang and screenwriter Seton I. Miller throw a wrench into the works, turning the plot on a dime.
And it must be said that the ending presents a rather abrupt transition in tone, with a happily-ever-after resolution to the entire affair that is little more than a tacked-on bit of (likely) studio-dictated nonsense. In later years, Lang himself professed to be less than impressed with the final result, expressing dissatisfaction with Miller's script and even claiming that he attempted to cancel his contract with Paramount rather than make the film. Still, even considering some of the more troublesome aspects of the plot, Lang manages to craft an undeniably compelling narrative, building a marvelously paranoiac aura of suspense that is both disconcerting and highly effective.
The recent Criterion release of Ministry of Fear presents a lovingly detailed 2K digital restoration of the movie, a crisp, clear, and gorgeous presentation that highlights Henry Sharp's fine, stylish cinematography. Though extras are relatively scarce, the disc does include an extended interview with author and film scholar Joe McElhaney as well as a trailer for the film. Also included with the disc is an insert containing an interesting essay about the film's construction written by MSN film critic Glenn Kenny.
Lang may not have been impressed with the final product, but nearly seventy years after its initial release, Ministry of Fear remains an essential entry in the film noir canon, with some truly entertaining performances and a storyline that, while sometimes hard to follow, is nonetheless gripping. This new restoration is definitely one any classic film fan will want to add to their collection.
Ministry of Fear is available now on DVD and Blu-ray from Criterion.