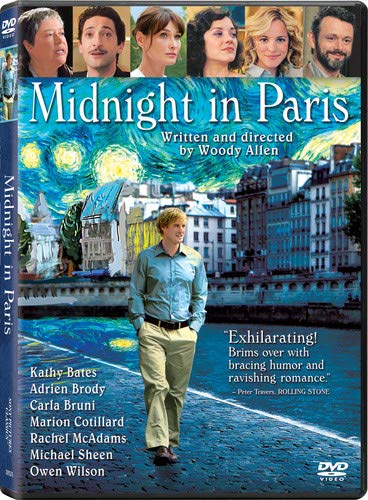 My brother is four years older than me so when I was just a kid he was a lusty teenager who always went out on the weekends with a girl or his friends or whatever. My father would usually stay up and wait for him to come home and I'd usually stay up with him. Back then the USA network was still in its infancy and as such had very little original programming but rather mostly showed reruns of random TV shows and lots of dumb old movies. Friday and Saturday night they ran what they called Up All Night, which was a collection of god-awful B-movies, slasher flicks, and for some reason the occasional Woody Allen comedy.
That was my first taste of Woody Allen and I have many fond memories of sitting up into the wee hours with my father watching Bananas, Everything You Wanted to Know About Sex (But Were Afraid to Ask), Sleeper, and several others. They never played any of his more serious films, just the really silly ones but we loved them. Sometimes dad would stay up even after my brother had come home and finish the movie.
I've loved Woody Allen ever since. His latest film Midnight in Paris is coming out on DVD this week and the reviews have been really good. As with so many of his latter-day films this one is set inside an exotic European locale (obviously Paris as its in the title, but also possibly my favorite city on the planet). It stars Owen Wilson, Kathy Bates, Adrien Brody, and Carla Bruni (wife to French President Nicholas Sarkozy – imagine an American First Lady starring in a Woody Allen movie!). The DVD release is pretty bare bones with only a small documentary entitled "Midnight in Cannes" but a good Woody Allen picture doesn't need anything extra to make me purchase it.
Also coming out this week of interest:
Nothing Sacred (Kino Classic Release – Blu-ray): I've never heard of this 1937 film but Kino (much like Criterion) does really good releases so I'm definitely interested.
A Farewell to Arms (Kino Classic Release – Blu-ray): I've never managed to see this picture based upon the classic Ernest Hemingway novel, but now seems to be the perfect time to investigate.
Margin Call: This Kevin Spacey flick about the recent (and still ongoing) financial crisis sounded intriguing when I first heard of it. Apparently it just kind of came and went in the theatres as I don't recall hearing any buzz about it, but I'll definitely give it a shot on DVD.