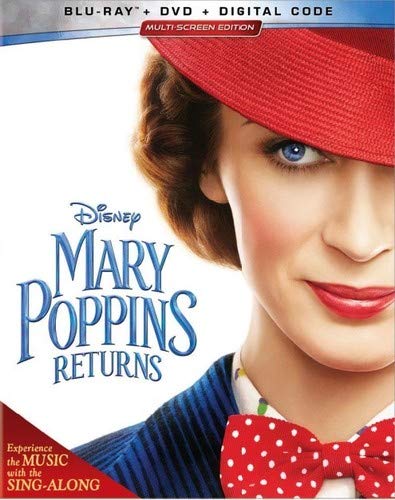 When I first heard that there would be a Mary Poppins sequel, I was extremely skeptical. How could anything possibly compare to Julie Andrews' performance along with those songs? As further information was announced, I changed my tune. Learning that Rob Marshall would be directing was the main reason for piquing my interest. I consider his adaptation of Chicago one of the best films of a Broadway musical ever made. Finding out that Emily Blunt would play the iconic character, with supporting roles by Lin-Manuel Miranda and Emily Mortimer, guaranteed that I would be watching. My expectation was that, if nothing else, Mary Poppins Returns would be magical, musical fun and it did not disappoint.
After the death of his wife, Michael Banks (Ben Whishaw) is struggling to support his three children, John (Nathanael Saleh), Annabel (Pixie Davies), and Georgie (Joel Dawson). His sister Jane (Mortimer) has moved back into the family home to help along with the assistance of long-time housekeeper Ellen (Julie Walters). In order to keep the family afloat, Michael took out a loan with his part-time employer Fidelity Fiduciary Bank. Little does he know that the new chairman, William "Weatherall" Wilkins (Colin Firth), will go to any length to call the debt. Wilkins sends two lawyers to inform the family that if they do not pay the loan in full they will lose their home. Their only hope is to find the bank shares that their father left them.
During their search, Michael discovers his old childhood kite but disposes of it in despair. While the children are out in the nearby park, they find the discarded kite and decide to fly it, causing Mary Poppins (Blunt) to descend from the sky. Poppins returns home with the children and informs Jane and Michael that she will be the new nanny. While Michael argues that he can't afford her, she pushes forward insistently. Jane and Michael remember the joy that Poppins brought to their lives when she was their nanny but dismiss that there was anything truly magical about her. Along with the local lamplighter Jack (Miranda), Poppins takes the children on several adventures in an attempt to help them save their home and family.
The songs suffer as well when compared to classics, such as "A Spoonful of Sugar" and "Supercalifragilisticexpialidocious". The original film's soundtrack contains one incredible song after another while the current one has a couple that I would maybe listen to on a regular basis such as "The Place Where Lost Things Go," "Turning Turtle" (thanks to Meryl Streep), and "Nowhere to Go but Up" (due to the amazing Angela Lansbury). These songs are particularly successful because of the messages behind them such as things may appear differently depending on your outlook and remembering how to view the world with childlike wonder. Blunt and Miranda are the standouts and shine brighter with each moment they are on screen. The live-action/animation sequences are still impressive even though it isn't as unique as it was when the original film was released in 1964.
The video is displayed at an aspect ratio of 2.39:1. The colors shine brightly and cover a spectrum of shades, such as the variety of different greens in the park during the wind storm and the many hues that shine during their adventure in within a bowl's artwork. The image exhibits sharp focus, which contributes to the depth and fine texture details.
The English 7.1 DTS-High Definition Master Audio track offers an immersive experience. The dialogue is clear. Marc Shaiman's score fills the surrounds, but never overpowers the singing. Ambiance augments the scenes without being distracting. Objects move about and are well positioned across the channels, opening up the soundscape. Bass is strong, as heard when delivering the boom of the Admiral's cannon.
The Blu-ray release offers some bonus features including Sing-Along mode with on-screen lyrics, a deleted song, deleted scenes, bloopers, and a making-of featurette. An audio commentary by director Rob Marshall and producer John DeLuca is a digital exclusive, disappointing that it's not on the disc.
I can't say that Mary Poppins Returns is as good as the original. However, standing on its own, it is entertaining for the whole family.