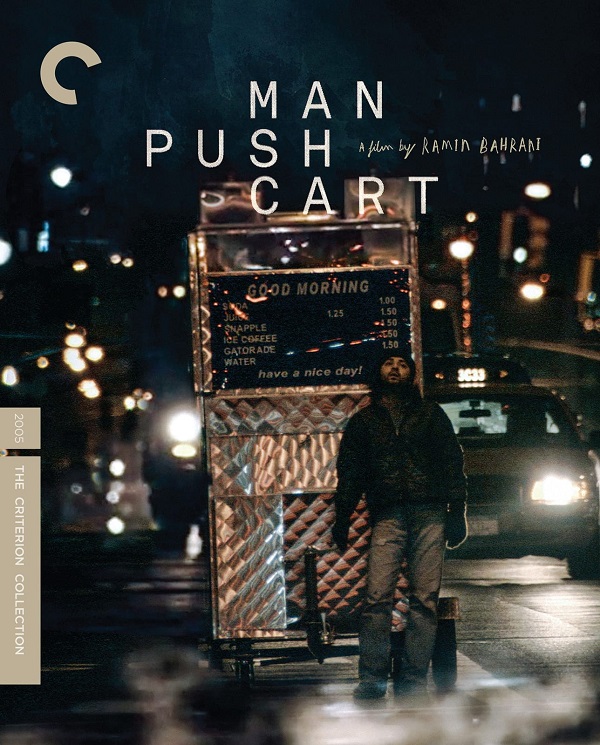 Foreigners in a foreign land express the often grim, depressing, but sometimes hopeful studies of immigrants desperate to survive a new existence in America. Being of a different culture while trying to adjust to a new way of life has been depicted a lot in film, but in the hands of director Ramin Bahrani, you're able to get the viewpoint of a very un-glamorous character too rarely seen in film (independent or otherwise). This is the essence of Man Push Cart, a quietly devastating post-9/11 depiction of the everyday human condition.
Ahmad (Ahmad Razvi) is a former pop sensation from Pakistan and now widower living (or struggling) in downtown Manhattan who works as a vendor of a food cart that he's trying to buy. He wakes up at 3 am every morning, pushing (or pulling) the cart (and exhausting himself) all around the city, selling coffee and bagels on a day-to-day basis. He is working to get an apartment for himself and his young son, whom he is estranged from. It all seems mundane, until a glimmer of hope in the form of a businessman gives him a leg up. He also seems to form a romance with a cute Spanish woman who works in a nearby newspaper/magazine kiosk. Just when he thinks that everything is going well for him, his cart gets stolen, the businessman cuts all ties with him, and the young woman leaves to go back to Spain. In the end, he is left with nothing, except for a new food cart lent to him by an old friend. In this case, despite having to go back to square one and start all over again, he seems content with his fate, because it's the only life he really knows.
Told in an unvarished way, the film tells a realistic and stripped-down story of people that we all owe a greal deal to, but continue to want to erase from society. In this case, Ahmad turns out to be just another lost soul in a world full of them. This rings unfortunately true and heartbreakingly relevant, especially during the ungodly four years of ex-president Donald Trump, who wanted to send immigrants back to their homeland, and even tried to have a wall built between the U.S. and Mexico. The film bleakly suggests that many people will continue to see immigrants as a threat instead of seeing them as honest people who just want the chance at a better life, just like everyone else.
Criterion's edition of this subtly powerful film is amazing. The restored picture and sound really does bring out its low-budget qualities and helps unfold the story even more. The supplements are also worthwhile and informative. They include a 2005 audio commentary with Bahrani, cinematographer Michael Simmonds, assistant director Nicholas Elliott, and actor Razvi; new conversation with Bahrani, Elliott, and Razvi on the challenges/obstacles in making the film; new conversation between Bahrani and film scholar Hamid Dabashi on the origins of the film and and Bahrani's cinematic influences/inspirations; Backgammon, a 1998 short film by Bahrani; and a trailer. There is a great new essay by critic Bilge Ebiri.
I personally prefer these films over the usual standard fare. You're able to get a sense of experience that's commonly non-existent in most movies. There should be more cinema like this; a type of essential cinema steeped in diversity and stories of people who are deep down just like us.