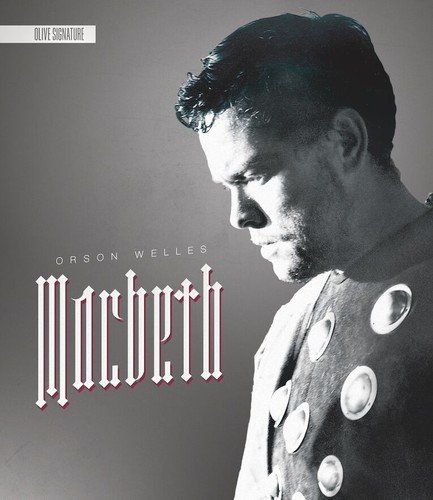 Orson Welles was always a man of very eclectic tastes and certain cinematic desires. He wasn't just a dominating, and towering actor. He was also a director, producer, and writer whose many gifts became legendary in the history of cinema, especially with his 1941 breakthrough masterpiece Citizen Kane, which is often regarded by many critics as the greatest film ever made. However, his personality could be a little too larger-than-life, where his manic and perfectionist attitude took over many of his most iconic projects. His 1948 effort and adaptation of Shakespeare's Macbeth represents just that. It took the words and themes and turned it inside out, and in my opinion, it just maybe the best adaptation of the iconic play.
Welles performs the titular position of Macbeth, a Scottish lord who receives an apparition from three ghostly witches that he will one day emerge as the King of Scotland. Ruled through ambition and the actions of his conniving wife, Lady Macbeth, he proceeds to kill the original King Duncan, and takes over the throne. This ultimately leads to his tragic undoing where guilt and hysteria come into play, and he is compelled to commit even greater crimes to relieve the suspicion immediately pointed to him. In this case, his tyranny leads him even deeper into the abyss as he and Lady Macbeth subsequently go berserk from the insanity they've created, and their fate is immediately sealed.
Obviously, Welles dominates the film with his incredible performance as the doomed Macbeth, but let's not forget the supporting cast, especially Jeanette Nolan, who makes a devilish Lady Macbeth, and Dan O' Herlihy as Macduff, who also delivers a magnetic portrayal. There is also Roddy McDowall, and Alan Napier rounding out the main cast. This is where Welles' famed Mercury players truly shine and help him achieve film immortality which their roles in the film.
It's not just the acting that makes this adaptation such a standout; there is the matter of the really slick black and white cinematography by John L. Russell that gives the film a really ominous sense of dread throughout the entire production. With the help of shadows, eerie atmosphere, and unorthodox camera angles, you really get the sense that you are literally witnessing a world disemboweling itself from the inside out. It's amazing how Welles acheived this considering the limited budget, and that it followed another 1948 Shakespeare adaptation, Laurence Olivier's version of Hamlet, which was better received. Given this information, the Welles film flopped with critics and audiences, but I think time will eventually be good to it, because it is just as good as Olivier's film or any other adaptation of Shakespeare's works.
Olive Signature gives special treatment to one of Welles' greatest 'babies'. The restoration is extremely immaculate, to the point that it feels like you're watching a nitrate film, especially for the first time. The special features are equally amazing:
DISC ONE
The original 1948 version, complete with affected accents, and in High-Definition
All new audio commentary by Welles biographer Joseph McBride
DISC TWO
The alternate 1950 version, without the accented dialogue
"Welles and Shakespeare" – all-new interview with Welles expert Professor Michael Anderegg
"Adapting Shakespeare on Film" – a new conversation with directors Carlo Carlei and Billy Morrissette
Excerpt from We Work Again, a 1937 WPA documentary containing scenes from Welles's Federal Theatre Project production of Macbeth
"That Was Orson Welles"- new interview with Welles' close friend, co-author and legendary director Peter Bogdanovich
"Restoring Macbeth" – new interview with former UCLA Film & Television Archive Preservation Officer Robert Gitt
"Free Republic: Herbert J. Yates and the Story of Republic Pictures"- a documentary about the film corporation that lasted from 1935 to 1959
Rounding out this Criterion-like release is a great new essay, "Orson Welles's Macbeth" by critic Jonathan Rosenbaum.
In closing, this is a really compelling vision of a timeless play that I think symbolized the genius of Orson Welles, a man who redefined what it means to be an iconic figure in the history of cinema and theatre. Fans should definitely check this Blu-ray out.