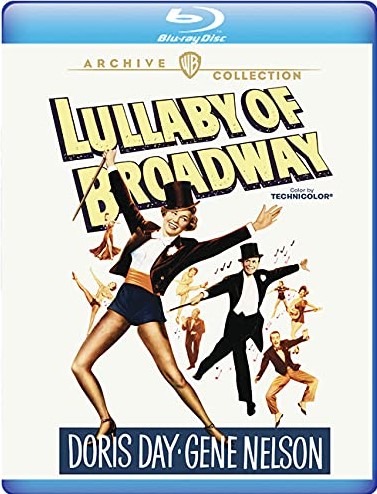 Doris Day leads an engaging cast in this fairly conventional but highly entertaining musical. She stars as a young dancer named Melinda returning home to New York after years of schooling in Europe. During her Transatlantic cruise home, she's hit on by a seemingly smarmy playboy named Tom (Gene Nelson) who she promptly turns down, only to run across him days later when he's performing at a high society party. Soon enough, they're both cast in the same Broadway show, with their work quickly turning to romance.
That's the love story, but the movie also has some fun for us with a subplot involving subterfuge and mistaken identities featuring an elderly German beer kingpin/Broadway producer, his nagging old wife, their live-in maid and butler who are also performers, and Melinda's alcoholic mother, once a queen of Broadway but now a washed-up lounge singer. All of the supporting players are fantastic, making this a strong ensemble piece rather than just a star turn for Day.
The movie is stuffed with musical performances including the famous title track, but it's not the product of one songwriter. Instead, the film seems to just throw together a stew of ingredients from various composers: a little Gershwin here, a dash of Porter there, but mostly lesser-known artists. Still, all of the numbers are entertaining, and they get a bit of unconventional staging that adds some zest to the recipe.
One number finds a life-size wind-up toy couple entertaining an audience with dance, costumed in such a way that I'm still scratching my head about how they did it even after the reveal. Another number starts as a normal dance routine between Day and Nelson before morphing into super slo-mo for the final half a minute or so, an intriguing touch that is pulled off splendidly. The showstopping production of the title track finds Day, Nelson, and a huge company of backup dancers navigating an imposing flight of stairs on stage with furious footwork, all the more impressive considering that Day suffered a car accident in her youth that left her with severe injuries that limited her dance prospects.
The Blu-ray features a newly restored 1080p HD master of the film that is a visual delight, completely devoid of flaws and seemingly HDR-adjacent with a pleasingly oversaturated color palette that makes it look much newer than its 1951 production date. The mono soundtrack is also flawless and arrives with a DTS-HD Master Audio option. Unfortunately, there are no bonus features aside from the original theatrical trailer. Still, the movie on its own is so joyous and feel-good that it's impossible to watch without a smile on your face.
Lullaby of Broadway is available on Blu-ray on November 23rd. For more information and a gallery, visit Warner Archive's website.