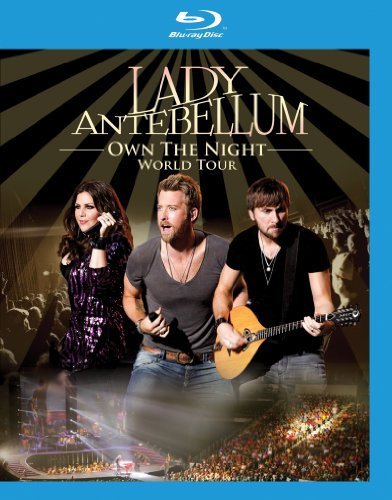 Before watching this concert, I wouldn't have called myself a great fan of Lady Antebellum, which is comprised of Hillary Scott, Charles Kelley, and Dave Haywood. I had "Need You Now," considered the greatest-selling country single of all time, on my iPod but never considered buying an album or seeing them in concert. With prices what they are these days for tickets and with my seats getting further and further away from the artist, watching a concert on home video seems like a solid solution.
Taken from their Own the Night world tour, their second as a headliner, the concert footage here was recorded in Little Rock, Arkansas in June 2012 during the final weekend of the North American leg. The 90-minute performance includes 13 songs in the pop-country style that has propelled them to the top of the charts and earned them awards. In between each song, there are documentary excerpts about the start of the band, interviews, and a look at the backstage happenings. The close-ups of the band performing are fun. They help you feel the emotions behind the songs. Scott, Kelley, and Haywood are all incredibly likable and seeing the behind-the-scenes footage enhanced the concert performances.
The video has been given a 1080i/AVC encoded transfer displayed at 1.78:1. The image comes through strong. The stage is well lit, allowing for solid colors to come through and contributing to the well-defined objects that don't get swallowed up in the darkness. The audio is available as DTS-HD Master Audio 5.1 surround mix and LPCM 2.0 stereo. The 5.1 track sounds fantastic, regularly coming through clear and crisp. However, at times, depending on the liveliness of the crowd or the sound mixing, it can be impossible to make out the words that are being sung.
The bonus features provides five additional tracks, including a rehearsal, the opening acts joining the band with husband and wife country duo Thompson Square singing the Allman Brothers "Midnight Rider" and Darius Rucker from Hootie & The Blowfish signing the Doobie Brothers' "Black Water," and a cool rock/country spin on Aerosmith's "Sweet Emotion." "What Goes Down Doesn't Always Come up" highlights a stage-lift issue the band experienced while playing in San Jose that bring to mind Spinal Tap, and "What Happens Backstage" is a meet and greet.
Own the Night World Tour will appeal to any type of Lady Antebellum fan. For avid fans, they can relive the concert from a different perspective while obtaining information they might not know. For the new fan, it provides an opportunity to explore the band and determine whether or not they would want to see them live. After watching, I am a bigger fan. While it still isn't the same as experiencing the energy and excitement of a live concert, it is a great way to see a band up close and personal.