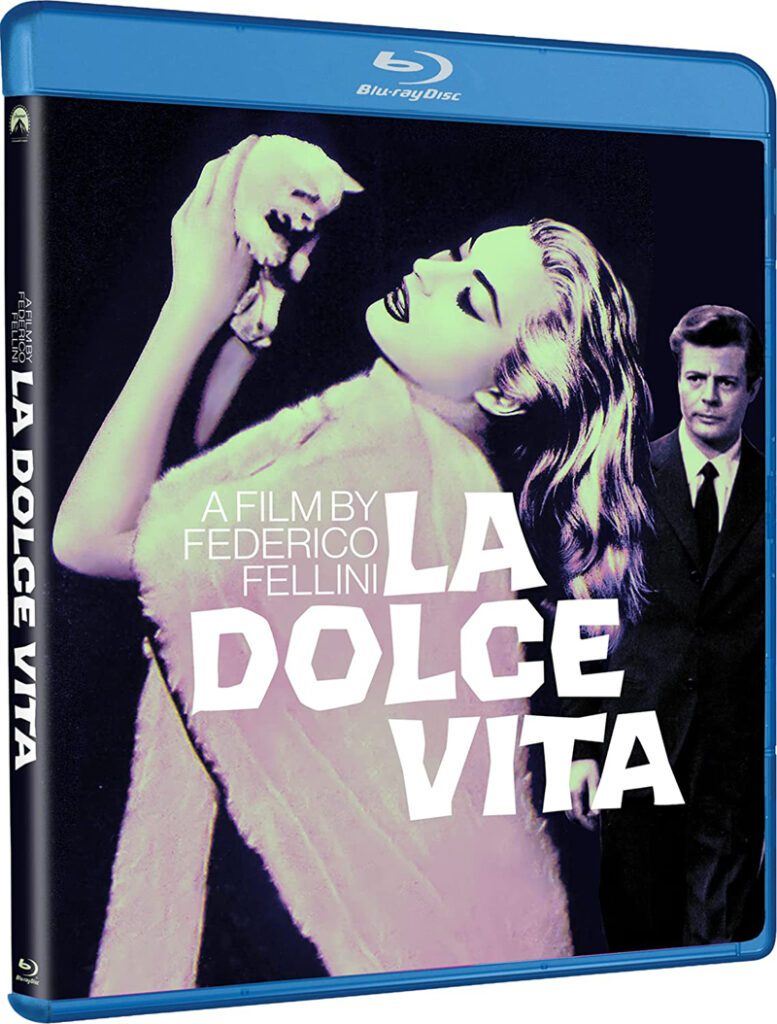 Federico Fellini's La Dolce Vita clocks in at nearly three hours, the usual length of some big-budgeted epics that would be released during the 1950s and 1960s. But it doesn't feature sprawling battle scenes or anything to be expected from something with that length. It's all about the desire for something that is far out of reach, and how one man can keep reaching for something he craves and wanting to live "the sweet life," the English definition of the term. But, deep down, he is unhappy. The people with whom he surrounds himself are has-beens, who also aim for the sweet life. Or they currently live what they think is the sweet life and don't progress beyond that as they get older.
From a distance, one may question why a movie with that premise needs to be that long. And in some regards, Fellini does take longer than needed to showcase certain elements of the movie. The criticism of this lifestyle and idolatry, in general, is obviously present and doesn't hold back in scolding those who are cynics with the desire for a lavish lifestyle. But at certain points in the film, it feels too dragged out.
La Dolce Vita follows a week in the life of reporter Marcello Rubini (Marcello Mastrioni). He always wants to get the latest scoop on a big story. He thrives for it, but he also doesn't feel like his life and career have advanced much. His fiancée Emma (Yvonne Furneaux) is a depressive, suicidal person who wants attention from the man who supposedly loves her, and Marcello isn't giving her any. Marcello doesn't appreciate how Emma reacts and doesn't support him. He finds himself more interested in others, such as the beautiful movie star Sylvia (Anita Ekberg) and heiress Maddalena (Anouk Aimee). From his perspective, they live a great life – or at least one that's better than the one he's living. On top of that, they are both gorgeous and seem happier and more carefree.
Fellini's approach to telling Marcello's story comes across as streamlined and brief. We keep circling back to his relationship with Emma, as it devolves over time, while other interactions are short-lived. This style may seem off-putting to most mainstream audiences, as we don't get much attachment to many characters. But it works in the sense of Marcello having so much desire and lust for something that is, in reality, toxic to him and those around him. Mastrioni's performance perfectly captures the feelings and emotions one faces as they find themselves in a dead-end in their life.
La Dolce Vita is a gorgeously shot film, leaving the viewer desiring a trip to Rome. While it may take longer than necessary to reach its final destination, the direction by Fellini and his critique on lavish lifestyles is deliciously biting and doesn't hold back.
The new Blu-ray release for La Dolce Vita from Paramount Home Entertainment doesn't have much going for it. While the restoration looks great, the only feature it has is an introduction by Martin Scorsese – who explains the film's impact on moviemaking and reminisces about the time he saw it in theaters. Those who had the opportunity to purchase Criterion's now out-of-print release may not want to bother double-dipping here, since it doesn't have any new special features. But those who have yet to experience the movie and want to own it will want to go for this release, as the picture and sound quality are exceptionally done.