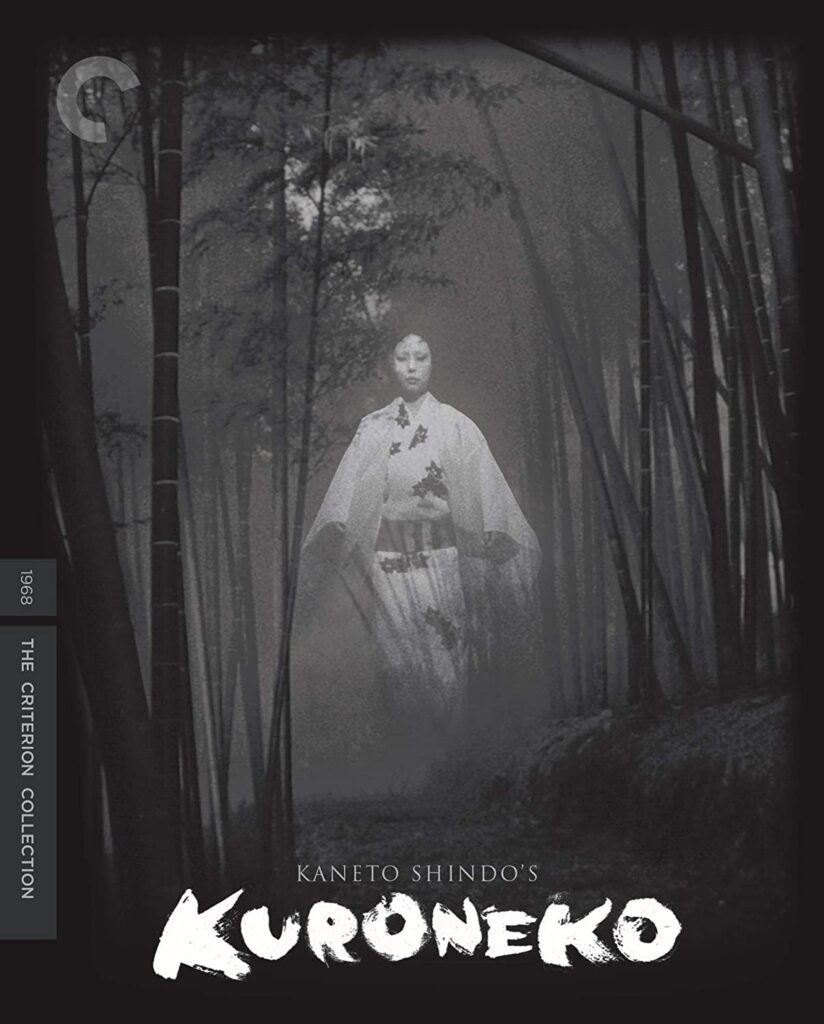 A spooky, poetic Japanese ghost story, Kuroneko is the kind of film that captivates you by virtue of an astonishing opening scene and doesn't let up from there on out. The matter-of-fact grimness of Kuroneko's opening minutes is replaced by a much more otherworldly aesthetic in the rest of the film, but both types are showcases for the deft visual storytelling of Kaneto Shindo.
As the feudal era-film opens, we see a band of roving samurai enter a secluded house, take their fill of food and drink and then systematically gang-rape the two women inside, Yone (Nobuko Otawa) and her daughter-in-law Shige (Kiwako Taichi). The samurai then depart the humble dwelling and Shindo's unblinking camera waits a few beats before they are followed by billows of smoke — mirroring the emergence of the samurai from the dense woods just moments before.
It's a starkly horrifying moment, but the staging and the economy of the shot is undeniably beautiful, and Shindo goes on to explore similarly opposite thematic and stylistic threads throughout the film. After the smoke clears and the house has been reduced to a pile of ash, the dead bodies of the two women are visited by the family's sympathetic black cat, whose tending to their wounds portends a mystical transformation into feline spirits straight out of Japanese folklore.
Taking their revenge on the class that raped and murdered them, the now spectral, aristocratically dressed women lure samurais to their home where booze and potent erotic charm mask the violent fate that awaits. But when Yone's son and Shige's husband, Hachi (Kichiemon Nakamura) — formerly conscripted into the army — is roped into defeating the murderous ghosts, the situation becomes seemingly hopeless for everyone involved.
Kuroneko isn't a terribly frightening film, although its graceful stylistic flourishes, like the way Shige floats through the forest, belie the gruesomeness that awaits the spirits' prey. But the blood and gore gives way to a more psychologically wrenching second half as Hachi cautiously circles Yone and Shige, and enters into a passionate affair with the specter of his wife — charged with eroticism but lacking the warmth of actual human touch. Both know it's not a tenable relationship, and the tragic inevitability of a painful end gives the film its eerily heartrending edge.
Criterion's release of the film includes an hour-long 1998 interview with Shindo, conducted for the Director's Guild of Japan, along with a new interview with critic Tadao Sato about some of the film's themes and its style. The package also includes a booklet with an essay by critic Maitland McDonagh and a reprinted 1972 interview with Shindo about the film.