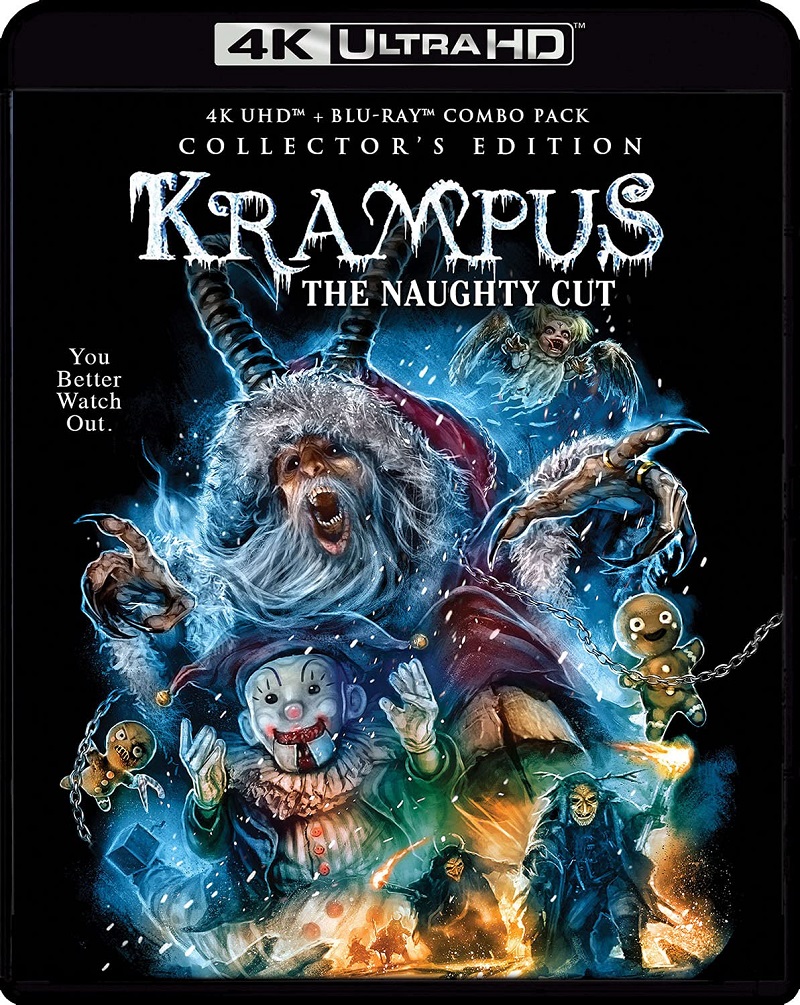 A fan of folklore often feels a pang of loss when one of the creatures or legends you cherish suddenly bursts forth into popular culture. You can feel something you've held valuable has been lost, since the popularization of something specific becomes, almost inevitably, a vulgarization. It's petty, but real. Having known about the folklore and culture around Krampus for several years before he became prominent in pop culture as a kind of "anti-Santa", it feels saddening, and irritating, to see dozens of crummy Christmas horror movies adopting the character/creature as a boring prop.
Remarkably, the biggest studio and budget interpretation of the character, 2015's Krampus directed by Michael Dougherty, does little to violate the spirit of the Krampus legend. It doesn't vulgarize the vengeful spirit into a ridiculous caricature. Rather, it sets the stage for a mirror image of a Christmas film: instead of a hopeful wish coming to fruition, a hope expunged condemns a community for not feeling the Christmas spirit.
The question of how much Christmas spirit was ever around is an open one: Krampus opens with a montage of scenes at a department store where patrons slug it out with each other for the post-Thanksgiving deals. It's a depiction of Christmas commercialism at its worst, and it culminates with pre-high schoolers fist fighting at a Christmas pageant.
One of the fist fighters is Max, who is furious at the other kid's Santa Claus denialism. It isn't that Max believes in Santa Claus anymore, really, but he wants to preserve the legend for little kids. And also, he still believes in Santa Claus.
When his grandmother, who speaks mostly German, advises him to write a letter to Santa, he does so. It's candid, and when his awful cousins steal it and read it aloud at the table, it opens up the family wounds. Because our suburban parents, played by Adam Scott and Toni Collette, dreaded the approach of their "country cousins" David Koechner and Allison Tolman. The separate families do not get along, and after Max's private letter opens rifts in the family, he tears it up and sends it out the window. He rejects the Christmas spirit…
That's enough to trigger the coming of Krampus, a Santa Claus-like figure who punishes bad children with torture and death. And in this film, it is he's who's coming to town. The day after Max throws out his letter, a terrible winter storm cuts off the family from the rest of the world. Strange sounds start coming from the attic. The world shrinks, and becomes frightening and strange. Max's sister Beth braves the cold to find her boyfriend, and gets lost. Hours pass, and the two dads go out to find her…and encounter a cut-off winter wasteland.
Krampus is director Mike Dougherty's second seasonal horror film. His debut was 2007's Trick r' Treat, an anthology of horror stories set around Halloween. He's since gone on to direct Godzilla: King of the Monsters, but I think his heart is in these smaller horror tales, and Krampus shares a feeling with his debut. It's a small story with an ironic twist, where a Christmas-loving boy wants to punish his callous family, and gets far more than he bargained for.
It also has a kind of relentlessness of spirit that is uncommon for a PG-13 horror film. In most modern horror movies, the victims are (with the exception of the protagonist) kind of loathsome. You don't mind seeing them killed. In Krampus, Max's family is stuck up, his aunt's family is overly common but they're difficult to hate. Especially in this newly released Naughty Cut.
Ironically, the new material both adds edge, in terms of more gore and violence, and smooths some down. I watched the film in its initial cut and found the family interactions too harsh, which made it difficult to care about the characters. The Naughty Cut adds in new material that strengthens the family connections, and made me care for characters I didn't like in the original cut.
That's not to say this new version is any kind of a radical departure. The story is the same, and the escalation of the horror works similarly. Krampus is a rare modern slow-burn kind of horror movie, which absolutely takes its time.
Krampus starts slowly, and ramps up slowly…and doesn't ever quite get to the speed you want it to. There's creepy moments, and great creature designs. Krampus himself is an enormously creepy figure, especially early on when he's climbing on roof tops and leaping great distances. He has the power of an elemental force, and lends the film a kind of weight that's often rare in modern horror movies.
But even with a great villain, and a rather bleak finale, Krampus doesn't become the ultimate Christmas horror film it seeks to be. Max's goal is kind of weak, and he's not a very active protagonist. There's a load of great characters and performances (even from actors I do not care for, like David Koechner). They just don't form a completely coherent, well-oiled plot.
When I saw Krampus originally, I thought it was a decent premise marred by irritating characters. The Naughty Cut, with just a few additions, has made me much more sympathetic to the characters, and a much bigger fan of the film. It's just a few judicious additions, but they turned me from a mild admirer to a fan. It still has its story problems, but Krampus is constantly gorgeous (especially on the 4K release), funny, and even occasionally frightening. It's a welcome addition to the company of Gremlins and Rare Exports as superior Christmas horror stories.
Krampus: The Naughty Cut has been released on 4K Ultra HD by Scream Factory. This release includes the film on 4K and Blu-ray, both of which only include the new cut of the film. Extras on the 4K are limited to the commentary by director Michael Dougherty and his co-writers, Todd Casey and Zach Shields. The Blu-ray has the commentary, and includes several other extras. New video extras include "A Dash of Mischief" (19 min) An Interview with Director/Co-Writer Michael Dougherty; "Storm of the Centuries" (9 min) An Interview with Producer Todd Casey; "The Great Protector" (9 min) An Interview with Actor David Koechner; "Something Bad Happened on Christmas" (12 min) An Interview with Actress Allison Tolman; "Max's Journey" (6 min) – An Interview with Actor Emjay Anthony; "Lord of the Things" (10 min) An Interview with WETA's Richard Taylor; "Mapping Mythology" (8 min) An Interview with Storyboard Artist Simeon Wilkins; "I, Krampus" (12 min) An Interview with Performer Luke Hawker; "A Winter Chorus" (8 min) An Interview with Composer Douglas Pipes. Archive extras include "Krampus Comes Alive! – A Five-Part Featurette on the Making of the Film" (30 min); "Behind-The-Scenes at WETA Workshop: Krampus" (10 min), "Deleted/Extended Scenes, Not Seen in the Theatrical Cut" (18 min) several of which have been reincorporated into this new cut; a gag reel (6 min), an alternate ending (2 min), trailers, and a photo gallery.