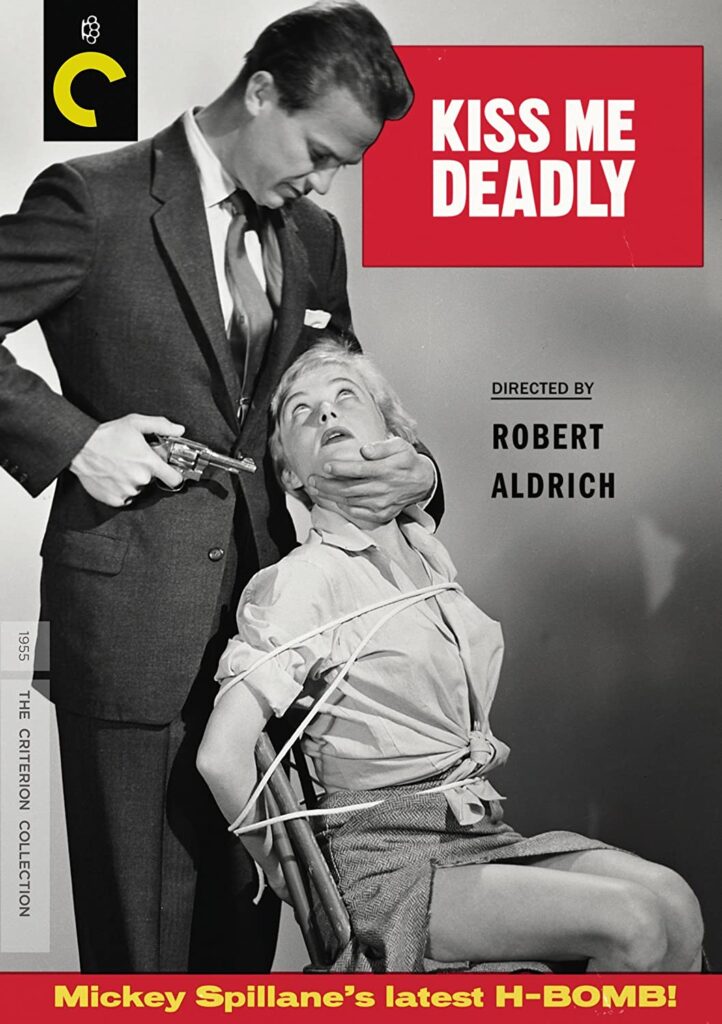 Written by Greg Barbrick
Appearing at the tail end of the classic era of film noir, Kiss Me Deadly (1955) was a stylishly brutal take on the Cold War. The film is based on the Mickey Spillane novel of the same name, although screenwriter A. I. Bezzerides took a lot of liberties with the plot. Spillane's book was about a Mafia conspiracy; Bezzerides changed this to involve high-level conspiracy and a nuclear bomb.
As the film opens, we find private eye Mike Hammer (Ralph Meeker) driving down a deserted road late at night. When a woman runs out in front of his car wearing only a trench coat, Hammer gives her a ride. Her name is Christina (Cloris Leachman, in her film debut), and we soon discover that she has just escaped a mental institution, and wants him to take her to the bus.
Hammer's car is blocked by thugs, and he is presumably knocked out. He wakes up in a strange room, to the sight of Christina being tortured to death. Her body, and an unconscious Hammer are bundled into his car, which is then pushed off a cliff. This time he wakes up in a hospital, and determines to pursue the case. His only real hint is the mysterious phrase Christina uttered before they were intercepted; "If we don't make that bus stop, remember me."
What follows are byzantine plot twists, beautiful women, strange men, and a driven Mike Hammer who will stop at nothing to discover why Christina was killed. While investigating her room, Hammer discovers a book of 19th century sonnets, one containing the line "Only remember me – you'll understand, but if the darkness and corruption leave a vestige of the thoughts that once we had."
The line inspires him to visit the mortuary where Christina was taken, to seek the vestige he knew she was referring to. When the meek autopsy doctor takes Hammer's cash bribe to produce the object she had swallowed, then reneges, the private eye loses his patience and slams his hand into the drawer. Director Robert Aldrich lingers on this moment, glorying in the cruelty of the act, and the man's howls of pain.
The object she had swallowed turns out to be a key, and the locker it opens holds a box – hot to the touch, and emitting otherworldly noises when opened. Hammer leaves it behind, only to discover it missing when he returns. He tracks it down to a certain Dr. Soberin's beach house, where it is being guarded by Christina's "roommate," the mysterious Gabrielle (Gaby Rodgers). She murmurs over and over to Hammer "kiss me," before shooting him – thus giving the film its title. Gabrielle then opens the box, which turns out to be a nuclear device. The house is consumed in flame, and the injured Hammer, and his lovely secretary Velda (Maxine Cooper), who had been locked up by Gabrielle, manage to escape to the water.
It is a frightening ending, as we do not know just how powerful this force is. At one point, the box is referred to as "Pandora's Box," summoning up Cold War terrors of nuclear annihilation. For years, the finale was shown in a truncated version however. After the film's initial release, someone clumsily re-edited the scene to lead us to believe that Hammer and Velda did not escape the house.
In the new Criterion Collection edition of Kiss Me Deadly, the original ending has been restored. In one of the supplements, the crude edit of the alternate ending is offered for comparison.
The most significant bonus feature is a 40-minute documentary about Spillane, Mike Hammer's Mickey Spillane. This was directed by Max Allan Collins, who authored The Road To Perdition. Other features include a six-minute black and white interview with director Alex Cox about Kiss Me Deadly, and the eight-minute "The Long Haul of A. I. Bezzerides," which centers on the screenwriter. Audio commentary is provided by film noir specialists Alain Silver and James Ursini.
True to form, Criterion has also provided an intriguing booklet, in the form of a classic-era pulp fiction rag. The essay "The Thriller of Tomorrow" by J. Hoberman is a discussion of the film. But the really interesting item is a reprint of "You Can't Hang Up the Meat Hook," an article written by Robert Aldrich in 1955 for the New York Herald-Tribune, in which he defends the violence of his movie.
Although Spillane's novel was concerned with the Mafia, and centered in their New York home base – the film takes place in Los Angeles. In fact, L.A. is practically a character all its own here. To visually portray the low-rent side of town that Mike Hammer does most of his business in, the neighborhood of Bunker Hill was chosen. In the short video piece "Bunker Hill, Los Angeles" Jim Dawson takes us to the decaying area circa 1955. It is gone now, a victim of gentrification, but this is a curious look back.
The film noir period is generally considered to have ended shortly after the release of Kiss Me Deadly. With its introduction of Cold War paranoia into the already overheated plot constructs, this is an endlessly entertaining movie. Quentin Tarantino was certainly a fan. The glowing briefcase that John Travolta opens in the beginning of Pulp Fiction is a direct homage.
Robert Aldrich fashioned a genre classic with Kiss Me Deadly, and Criterion's high definition restoration presents this memorable picture with the long-overdue respect it deserves.