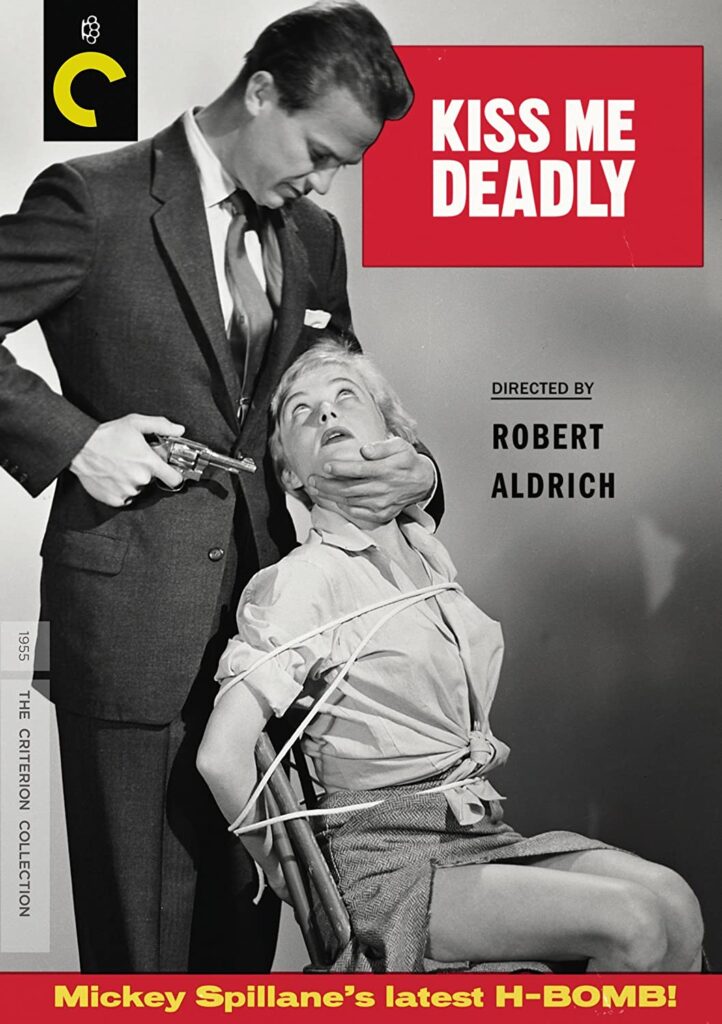 When Mickey Spillane's Mike Hammer debuted in I, Jury (1947) he was possibly the hardest of hardnosed detectives there was, "a new sort of hero–a vigilante enforcer who was detective, judge, jury, and executioner in one," as J. Hoberman describes in the liner notes. Spillane also increased the genre's level of sex and violence, all of which led to many critics deriding the book. Anthony Boucher, San Francisco Chronicle (August 3, 1947) called it "painfully derivative…required reading in a Gestapo training school." Saturday Review of Literature (August 9, 1947) rendered its "Verdict: Lurid." James Sandoe, Chicago Sun Book Week (August 17, 1947) stated, "his novel is a shabby and rather nasty little venture from the indefensible logic of its opening scene to the drooling titillation of its final striptease."
Spillane got a similar reaction to the Hammer novels that followed. The public's opinion about Spillane's work was consistent as well: they loved it. He has been known to tell the story about a dinner party during the 1950s when "some New York literary guy" told him it was disgraceful that seven of the 10 best-selling books of all time were by Spillane, to which he replied, "You're lucky I've only written seven books." Six of those featured Hammer and the character was so popular he was adapted for radio, television, and films.
Oddly enough, the most well known Mike Hammer film, Kiss Me Deadly had a number of changes made to the story and Hammer's character that Spillane walked out when he first saw the film. Director Robert Aldrich and screenwriter A. I. Bezzerides ratcheted up what some saw as the detestable qualities of the character and books to the point of distortion, removing all likable qualities. Police know Hammer (Ralph Meeker) not as a P.I. but as a guy who handles "penny-ante divorce cases." He roughs up a number of guys that stand in his way, including a few who are old and weak. He needlessly breaks a collector's record and takes back offered bribe money.
Also, Hammer's no longer the typical rugged, misogynistic male, as his relations with women are odd. He takes advantage of his secretary Velda's (Maxine Cooper) feeling for him by pimping her out to frame men and make a buck. And he never gets the girl. He has no chance with either of the two women who are naked under their robes when he first meets them, and then he rebuffs the gorgeous Cheesecake (Leigh Snowden), who comes on very strong the moment she sees him. Though Hammer remains a compelling character, no one would mistake him for a heroic figure.
Kiss Me Deadly is one of the darker film noirs in tone and appearance, and right from the start a clue is provided that Hammer's world is going to be thrown upside down as the opening credits roll backwards. Set in and around Los Angeles, he almost wrecks his car one night avoiding Christina (Cloris Leachman) in the middle of the road. She has escaped from an asylum, but Hammer is still willing to help her out. Before they can get home, they are captured and she is tortured to death. An unconscious Hammer and Christina's body are sent over a cliff in his car, but luckily, he survives. Once out of the hospital, he is angry that someone tried to kill him and wants to know why. He discovers Christina has hidden something that a few people will stop at nothing to get their hands on it as an increasing body count makes clear the closer he gets to it.
Director Aldrich led a talented team to create an impressive film. The cast is great bringing to life these unlikable characters. Bezzerides' screenplay offers smart, unexpected twists as Hammer pieces the puzzle together. Ernest Laszlo's cinematography looks very impressive and it's a treat for Angelenos to see what the city looked like 60 years ago. Not an area of the production feels lacking. Kiss Me Deadly has had a great influence on films that is both obvious, the glowing suitcase in Quentin Tarantino's Pulp Fiction, and subtle, the opening of the Ark in Raiders of the Lost Ark, and its unexpected ending should leave a memorable impression with the audience.
The video has been given a 1080p/MPEG-4 AVC encoded transfer displayed at a 1.66:1 aspect ratio that makes Laszlo's cinematography look gorgeous. The blacks are deep and exquisite as they allow for strong shadow delineation. There's noticeable depth, augmented by the Aldrich's framing of shots. Details are evident as great textures can be seen in buildings and Lily's robe. The faces look a touch smooth in spots and there are some brief areas of soft focus, but the source is likely as much to blame as the transfer, which was treated by MTI's DRS system, Pixel Farm's PFClean system, and Digital Vision's DVNR system. The audio is LPCM Mono. Dialogue is clear, though the ADR tends to sound hollow at times.
The features are where Criterion usually stands above the pack and they deliver some choice selections. Identified as film noir specialists, Alain Silver and James Ursini discuss all manner of subjects about the film for an interesting commentary that is slightly dry on occasion.Director Alex Cox on Kiss Me Deadly (HD, 7 min) – Shown in black and white, Cox talks about the film and the differences from the book. Mike Hammer's Mickey Spillane (1080i, 40 min) – Writer Max Allan Collins directed this 1998 documentary about the author, who is interviewed. Many writers and editors sing praises of his talent and impact. Collins writes a postscript about their partnership. The Long Haul of A. I. Bezzerides (1080i, 9 min)- An excerpt of the 2007 documentary of the same name features screenwriter Bezzerides, Mickey Spillane, and other writers talk about the film. Bunker Hill, Los Angeles(HD, 7 min) – Jim Dawson talks about the history of Los Angeles and locations used. Altered Ending (HD, 1 min) – An edit of the film's ending after its release changed the fate of two of the characters. This is how the story ended until the lost footage was restored in 1997. There is also the Theatrical Trailer(HD, 3 min) and a 20-page booklet that contains J. Hoberman's essay "The Thriller of Tomorrow" and Robert Aldrich's "You Can't Hang Up The Meat Hook" from 1955 was written for the New York Herald-Tribune in response to the criticism regarding the film's violence.
For those who like their noir dark, Kiss Me Deadly is the film for you, and Criterion's Blu-ray is so good it will blow you away.