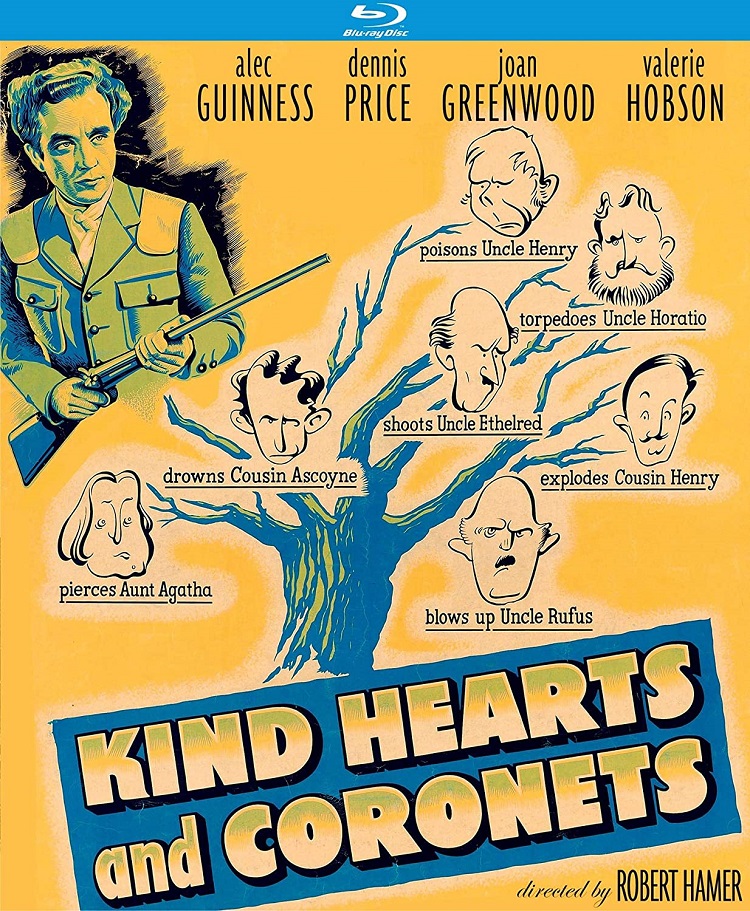 I'm going to go out on a limb here and say that I prefer British comedy over American comedy. The British have a lock on deadpan humor; you either get or you don't. There are themes of class, wealth, and sexual mores that surface every level of this type of humor, that there is a certain reality to it all. Director Robert Hamer's 1949 celebrated satirical classic, Kind Hearts and Coronets, just may be the best of them all, and also the greatest that Ealing Studios produced during the golden age of British cinema.
Loosely based on a novel by Roy Horniman, the film centers on Louis Mazzini (a terrific Dennis Price), an angry young commoner, who avenges his mother's unruly disinheritance after she marries an Italian opera singer. After her death, he basically murders all seven of his distant relatives, the D'Ascoynes (all brilliantly embodied by the legendary Sir Alec Guinness): his Uncle Henry, Uncle Horatio, Cousin Henry, Uncle Ethelred, Cousin Ascoyne, Uncle Rufus, and Aunt Agatha, who not only scorned his mother, but also stand in his way to become the new Duke of Chalfront. However, his plans go awry as he is torn between long-time love Sibella (John Greenwood), and Edith (Valerie Hobson), the widow of one the victims. Ironically, he is sent to prison for a murder he didn't commit – the murder of Sibella's husband Lionel, who really committed suicide. As he finishes his memoirs while awaiting execution, he is given the news of the suicide note that was left at the scene, which relieves him from his hanging. When he gets released, both Sibella and Edith are waiting for him, and a publisher comes up to him and tells him about the memoirs that he wants to publish. Louis then realizes that he forgot them on the desk in his prison cell for anyone to read.
Seeing the film in almost a decade, it's no wonder why its on the BFI's list as one of the greatest British films of all-time (#6). The screenplay by Hamer and John Dighton is really smart and clever; Hamer's direction is wonderful, and it also has beautiful photography by legendary cinematographer Douglas Solocombe. Then there is the acting by Price, Guinness, Greenwood, and Hobson, which is absolutely astounding. Combining all of these elements leads to a very influential landmark of not only British cinema, but of cinema itself.
The original Criterion DVD is OOP (out-of-print), but the new special edition from Kino should make up for that. The special features include a new audio commentary by film historian Kat Ellinger; an introduction by filmmaker John Landis; Those British Faces: Dennis Price – Featurette; an audio interview with Solocombe; the alternate American ending, and its theatrical trailer. I know this is a cliche, but I think that this release should definitely be a must-have in every film-lover's collection.
What else can I say about this brilliant film? It's a motion picture classic on every level. It's daring subject matter and subtle wit still works today, especially since it is celebrating its 70th anniversary. It's a movie that I will continue to enjoy for many years to come.