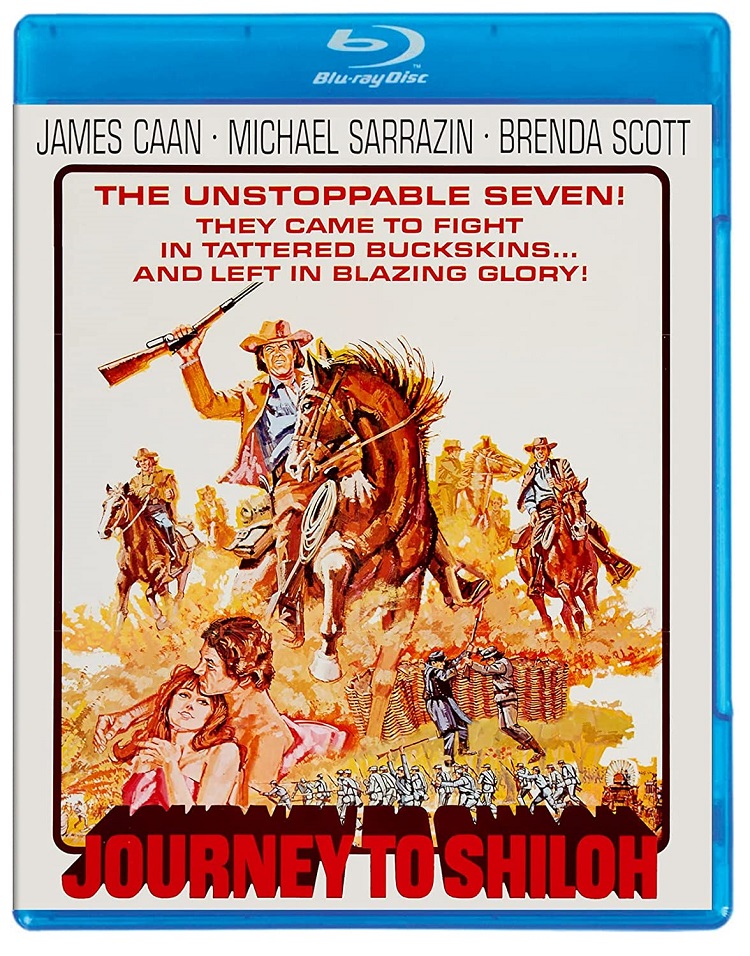 Clearly trying to ride on the success of The Magnificent Seven and The Return of the Seven, Journey to Shiloh, which was released in 1968, boasts the tag line: "The Unstoppable Seven! They came to fight in tattered buckskins… and left in blazing glory!" Unfortunately, what is meant to be a light but poignant look at seven young men anxious to join in a glory-filled battle, who realize that they may not truly understand what it means to be in a war, or what it is they are fighting for, plays out more like "Disney Goes to the Civil War." Though coming from Universal Studios, this movie looks and sounds like a Disney production, right down to the opening song which introduces us to each of the seven characters, and the closing song that sums up the story. One cannot help but expect the Apple Dumpling Gang to ride through at any moment. The film, which became available on Blu-ray from KL Studio Classics on January 11, 2022, does boast an incredible cast chock-full of future stars.
James Caan, who had played Mississippi in El Dorado with John Wayne and Robert Mitchum, was still four years away from playing Sonny in The Godfather when he took on the role of Buck Burnett, the leader of the group. Michael Sarrazin was one year away from starring opposite Jane Fonda in They Shoot Horses, Don't They? when he was cast as Miller Naas, second in command.
Don Stroud, who would appear on what seemed like every television drama in the '70s, would also co-star with Clint Eastwood and Robert Duval in Joe Kidd, after portraying the strong but silent Todo Mclean on the Journey to Shiloh. Harrison Ford was a good nine years away from appearing in a little film called Star Wars, when he was cast as Willie Bill Bearden, the virtually invisible member of the group.
Michael Vincent, who would later add Jan to his name permanently, was five years away from becoming Disney's World's Greatest Athlete, when he stepped into the role of Little Bit Lucket, the youngest member of the team. Paul Petersen was attempting to shake the image of the boy-next-door that he had established during his eight-year run as Jeff on The Donna Reed Show. Unfortunately, he couldn't pull off the bad boy role of J.C. Sutton.
Michael Burns, who arguably had been working the most prior to Shiloh, would continue to guest star on television until he left acting to pursue his interest in history, graduating from the University of California. He earned a Ph. D. from Yale University in 1977 and would become a professor of history at Mount Holyoke College in Massachusetts. It is indicated in the opening song that he will be bringing laughter to the group in the role of Eubie Bell, and yet, is never given anything funny to say or do. We also get to see appearances by James Gammon and Robert Pine, but you may not recognize these young faces.
As our characters travel cross county to join the Confederate Army, we realize they know nothing about slavery. We see them exposed to the situation firsthand, and a realization begins to develop in some of the boys that perhaps they don't agree with the cause being fought for, but we never see that light fully come on.
Spoiler Alert: In what plays out like a production that ran out of funds, the boys get inducted, rushed into battle, and killed. In two cases, we don't even see what happened, we hear about it second hand. So low on funds was the production that we were subjected to the same battle scenes repeated. This film certainly belongs to James Caan, and he does indeed survive, but his ability to immediately deal with the loss of a limb seems a bit unrealistic, and we never get the satisfaction of knowing that he learned something from this experience.
The best of the bonus material is an interview with Don Stroud. Not incredibly insightful, but certainly entertaining. There are theatrical trailers for films featuring the cast that are also enjoyable, and audio commentary by film critic/author Simon Abrams.
The opening of The Journey to Shiloh will fill you with a nostalgic feeling of optimism, but you will really need to unplug your brain to enjoy this contrived collection of scenes filled with one-dimensional performances. There are simply too many questions and questionable motivations that eventually had my brain screaming. I'll admit that I wanted to like the film so much, that I viewed it twice on consecutive nights. My brain was screaming louder the second time with more questions, and thus, The Journey to Shiloh yields Ron's Rejection.