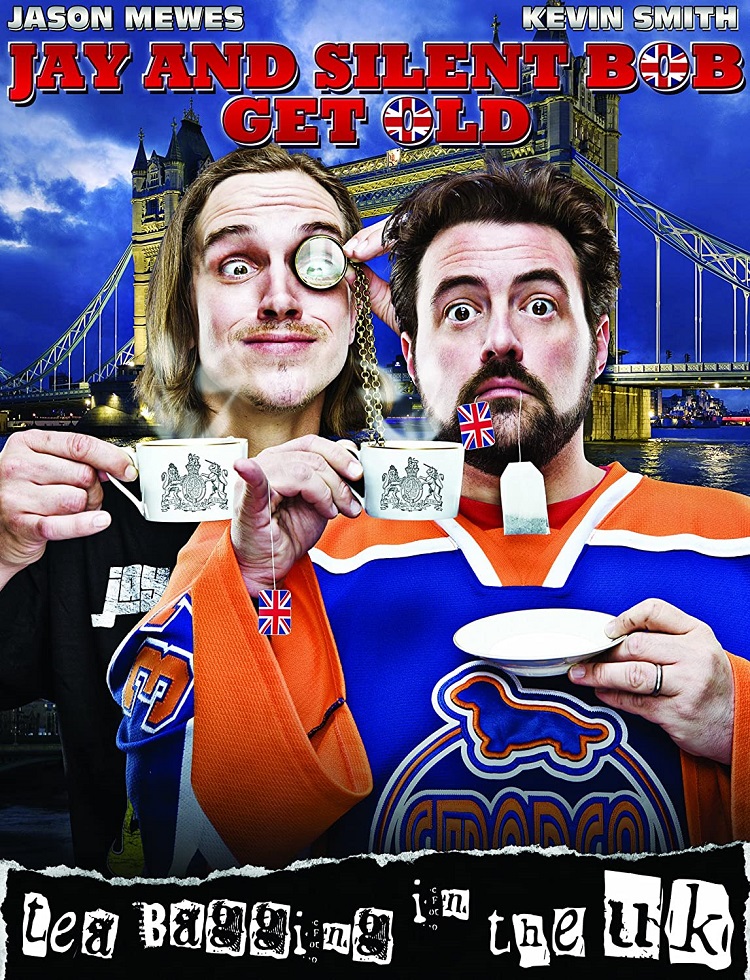 Now that the London Olympics are over, it's time to turn our attention to these other notable American heroes staking their claim in the UK. Capturing not one, not two, but three full live performances, this two-disc set follows the old men from London to Manchester to Edinburgh as they bring their inimitable brand of merriment across the pond.
So what do you get at a Jay and Silent Bob show? Not much of substance, just two blokes riffing on stage for a little over an hour each night. They're not in character, they're just Kevin Smith and Jason Mewes. There's no script, no safety net, no audience questions, just bawdy stream of consciousness ramblings covering familiar topics such as past sexual escapades, drug use, and Smith's increasing waistline and decreasing hairline. Having seen them live a few times in the past at Comic-Con, I was surprised that they took no questions from the audience, but more surprised that Jason Mewes ended up talking even more than notorious blabbermouth Kevin Smith. In fact, Smith mostly sits back and plays the role of moderator in these shows as he gently steers and clarifies Jay's musings.
In each packed concert venue, they emerge on a bare stage and sit next to each other at a basic table for an hour-long chat. After the talking, they get down to the only consistent item appearing in all three sets: a raunchy game where they call a few audience members on stage and have them join Mewes to act out various clothed sexual positions called out by Smith. It's only mildly amusing, and not worth watching three times. No, the meat in this bun is their conversations, and even after a couple of decades it's still fun watching these old friends riff off each other.
A key focus of their conversations is Jay's continuing sobriety, around two years at the time of these tapings. Smith reveals that Mewes really only stays out of trouble when he has something to do, so they've been on this lengthy and now international tour partly as a way to keep him on the wagon. They play most of the drug talk for laughs, but there is a pretty touching sequence in the final (Edinburgh) show where Mewes talks candidly about his own childhood with his drug-addict mom, how he swore it would never happen to him, and the girl that eventually got him into heroin in the first place. If anybody needs a great "scared straight" example, it's worth giving this a watch.
The boys have no new projects to promote other than their ongoing podcasts, and seemingly have no reason to be on the road at all other than their own Mewes drug-prevention agenda, so it's all the more satisfying to watch the warm, sold-out reception they receive at every stop on the tour. You may wonder how they have managed to cultivate and sustain such a dedicated fan base, especially considering their decidedly less-than-famous stature in the strata of celebrity royalty, but ultimately the shows are just about having a laugh with old friends, both in the audience and on stage.
Jay and Silent Bob Get Old: Tea Bagging in the UK is available on DVD and digital download on August 14th. Bonus features include extended conversations trimmed from the final performances.