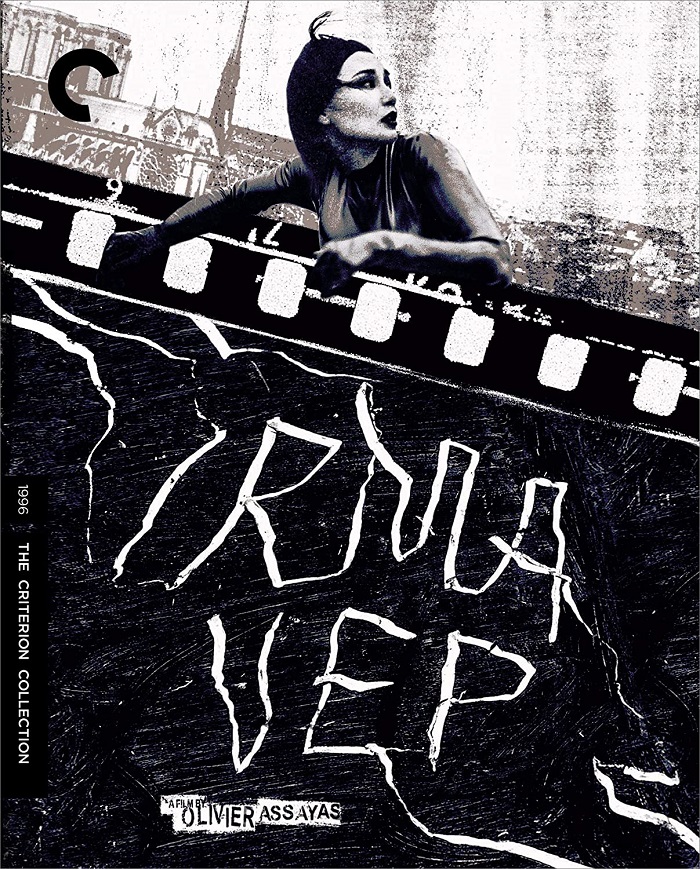 There have been so many films about the often chaotic circumstances and behind-the-scenes drama about the making of a film. However, acclaimed director Olivier Assayas is one of the very few who got it right, especially with his bold and beautifully kinetic 1996 effort Irma Vep, which predicted everything that would happen with the moving image, including the unfortunately sanitized cinema of today.
The great Maggie Cheung stars (and plays a version of herself) as an action star from Hong Kong who is thrust into the middle of a barely controlled movie set; one that is involved in the making (or remaking) of Louis Feuillade's legendary silent crime serial Les Vampires. She is not only hand-picked by Rene (French film legend Jean-Pierre Leaud in a pitch-perfect performance), a highly irrational and ambitious director, but also donned in a skin-tight latex suit to play the lead (the title character and the one originally made famous by Jeanne Roques [aka Musidora] in the original). But as with all movies, no matter which ones, unexpected catastrophes surface on the set. Maggie can't speak French, so cast and crew are forced to speak English. Zoe, a lesbian crew member (Nathalie Richard), constantly and unsuccessfully tries to sleep with her. And Maggie starts to act out the character's criminal impulses (which take place in a scene while she wears the latex suit, sneaks into a naked woman's hotel room, steals her jewelry, and throws it off the roof). In the end, Rene has a fight with his wife, which eventually leads to a nervous breakdown, and is replaced by his director friend Jose Mirano (Lou Castel). He only agrees to take over if he can replace Maggie. As for Maggie, she leaves the film to meet Ridley Scott in New York and then go off to L.A. The last shots of the main film show Rene's unfinished film, which is labeled a huge mess. In this case, I guess it's safe to say that the film-within-a-film should be left on the cutting room floor.
Irma Vep, despite being released in 1996, feels all-too modern. It's a commentary on not just the state of French cinema, but cinema in general. Even a running gag about remakes feels satirical, but genuine. I totally get what Assayas was trying to say, where the once thriving film industry has become too commercialized. This means that filmmakers are always recycling the same stuff, instead of making more personal and intimate films. They care more about the money, rather than the actual time and effort to make a film. Saying this makes me sounds like a snobby critic, but that's what I really took away from watching the film.
As usual, Criterion does a phenomenal job with this release. It has a great new 2K restoration, but also highly informative supplements spread out on two Blu-rays. They include a new interview with Assayas; On the Set of "Irma Vep", a behind-the-scenes featurette; a 2003 interview with Assayas and critic Charles Tesson; a 2003 interview with Cheung and Richard; Musidora, the Tenth Muse, a 2013 documentary on the famous actress who played the character in the original Feuillade classic; Les vampires: Hypnotic Eyes (1916), the sixth episode in the silent serial; Cinema in the Present Tense, a recent address on the state of cinema by Assayas; Man Yuk: A Portrait of Maggie Cheung, a 1997 short film by Assayas; and black-and-white rushes for the film (many of them can be seen throughout the run time). There is also a great new essay by critic Aliza Ma.
I found this film completely fascinating and really accurate. It's obviously not for everyone, but it is a wholly original piece of cinema history and a great milestone in Assayas's body of work. I think it's going to age quite well. Perhaps, it already has.