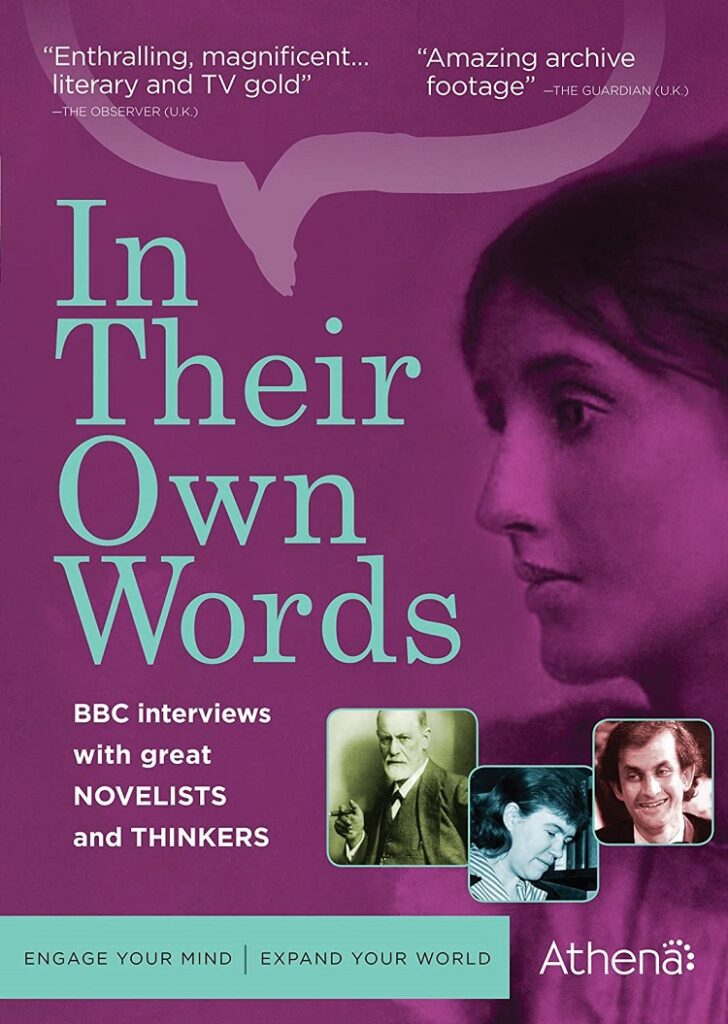 Written by Greg Barbrick
The Athena Company's series of DVDs provide some of the most entertaining and educational programs I have seen. Their recent two-DVD set In Their Own Words is no exception. Each one-hour installment of this six-episode series focuses on some of the most fascinating minds of the 20th century. The title is quite literal, as many of the featured participants are represented by archival footage from the BBC. This is the first time any of these shows have been available in the United States, and each one offers a unique take on the human condition.
A definite highlight is the only surviving voice recording of Virginia Woolf known to exist. There is also a segment featuring Lord of the Rings author J.R.R. Tolkien reading in his invented Elvish language. Pieces spotlighting Jane Goodall, Aldous Huxley, Susan Sontag, and Ian Fleming (among many others) are noteworthy as well.
The first DVD is British Novelists, and contains three episodes. The first is "Among the Ruins, 1919-1939," which focuses on the years between the World Wars. It was an interesting time in British fiction, and it is in this one that the previously mentioned Virginia Woolf recording is used. The second program, "The Age of Anxiety 1945-1969," is primarily concerned with reflections of the enormous tragedy of World War II. One of my favorite discussions in it is with William Golding, the author of Lord of the Flies.
The third chapter is "Nothing Sacred 1970-1990." The focus in this show is the slow process of the breakdown of old prejudices during these years. Subjects examined include the women's movement, the change in sexual mores, and immigration. The talk with Salman Rushdie is just one of the many intriguing segments this episode contains.
DVD number two is titled Great Thinkers, and also features three programs. The first is "Human, All Too Human." In this one, we find a number of different views on the nature of humanity itself are explored. Among those spotlighted are the works of Sigmund Freud and Margaret Mead.
Program two is "The Grand Experiment." In it, the post-World War II "Grand Experiment" of investing as much on combating poverty as had been spent on fighting the war is discussed. Sadly, it shows that society is much more effective in taking lives rather than saving them. "The Culture Wars" ends the disc and set with the evergreen subject of what constitutes "art."
The bonus features on both DVDs are biographies of the featured participants. There is also a very informative 16-page booklet included in the box set. It is always nice to watch programming that is both entertaining and informative. In Their Own Words succeeds on both counts, and is highly recommended.