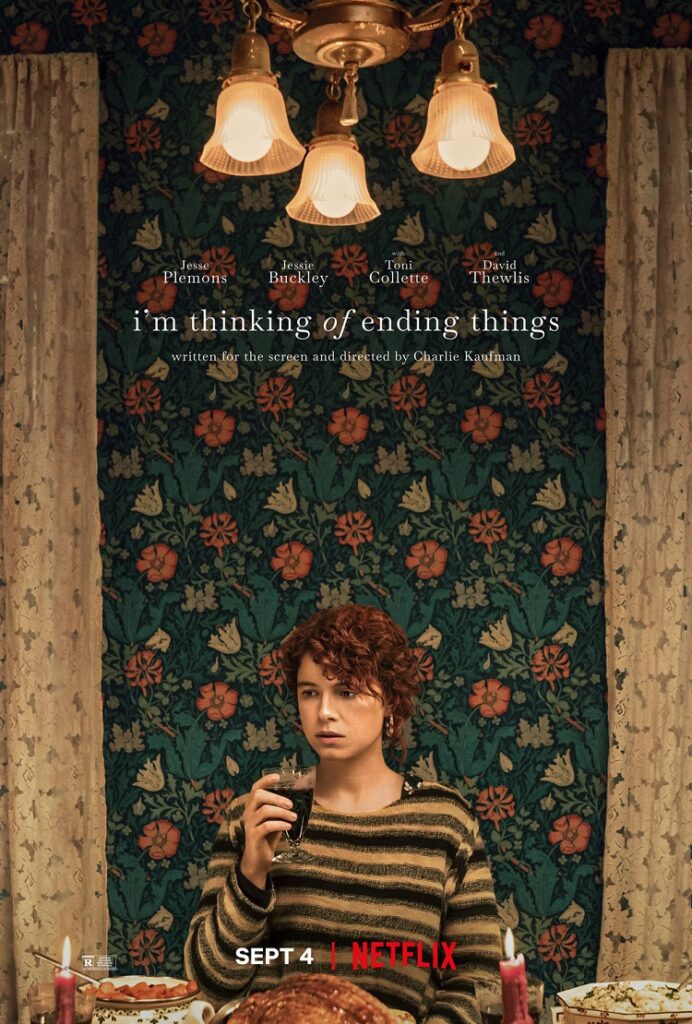 I'm Thinking of Ending Things has a seemingly straightforward plot. Woman goes on a road trip with her partner to meet his parents. Seems pretty simple. However, because it is in the hands of the wonderfully bizarre Charlie Kaufman, I'm Thinking of Ending Things is anything but straightforward. Kaufman is a master at the weird and the melancholic and this film proves to be no different.
When the film begins, a nameless woman (Jessie Buckley), known simply as the Young Woman, and Jake (Jesse Plemons) begin their journey to meet Jake's parents. At that point is when the picture seems like a typical road movie. They engage in mundane conversations with the Young Woman narrating her inner thoughts. Although Jake tries making the trip as pleasing as possible, it's clear with their attempts to relate to one another that they're incompatible and the Young Woman very much thinks the same thing.
During the woman's stream of consciousness, actress Jessie Buckley manages to find layers of leniency within her deadpan delivery. Buckley's gleaming vocal inflections signal how the Young Woman might feel a glimmer of hope about their relationship while expressing remorse over wanting to break up with a partner who seems to mean well. It's a solemn, meticulous performance that is an immediate stretch from the ablaze veneer that Buckley showed as the stubborn Rose-Lynn in last year's Wild Rose.
As for Jesse Plemons, he's a capable screen partner for Buckley, balancing both sympathy and intrigue as Jake. That being said, the unquestionable MVP is Toni Collette as Jake's eccentric mother. Even if her manic energy is a stark contrast to the dreary atmosphere that Kaufman is aiming for, and almost feels a slight riff on her Hereditary performance, Collette still breathes such life into every moment she appears in. Plus, it's in line with the horror aesthetic the film eventually possesses.
With the isolated farmhouse setting and fierce blizzard making the Young Woman feel trapped in an uneasy situation, it's like she's in some kind of thriller. However, she's not fighting for her life or trying to uncover some kind of mystery. Even when a visit to an ice cream shop feels ominous, the Young Woman is slightly disillusioned. Skeptic as she encounters the overly welcoming employees within a luminous landscape captured by cinematographer Lukasz Zal, yet still doesn't feel like she's in a total sense of danger.
In the hands of a more traditional horror filmmaker, the Young Woman would express fear rather than disillusionment as she's thrown into this uncomfortable situation with possibly an eerie score complimenting the atmosphere. But as previously mentioned, Charlie Kaufman is anything but a conventional filmmaker. His own take proves to be a moody, cerebral look at the discomfort of dealing with doomed relationships. One that is amazingly hard to pin down and may require multiple viewings.
I'm Thinking of Ending Things is now streaming on Netflix.