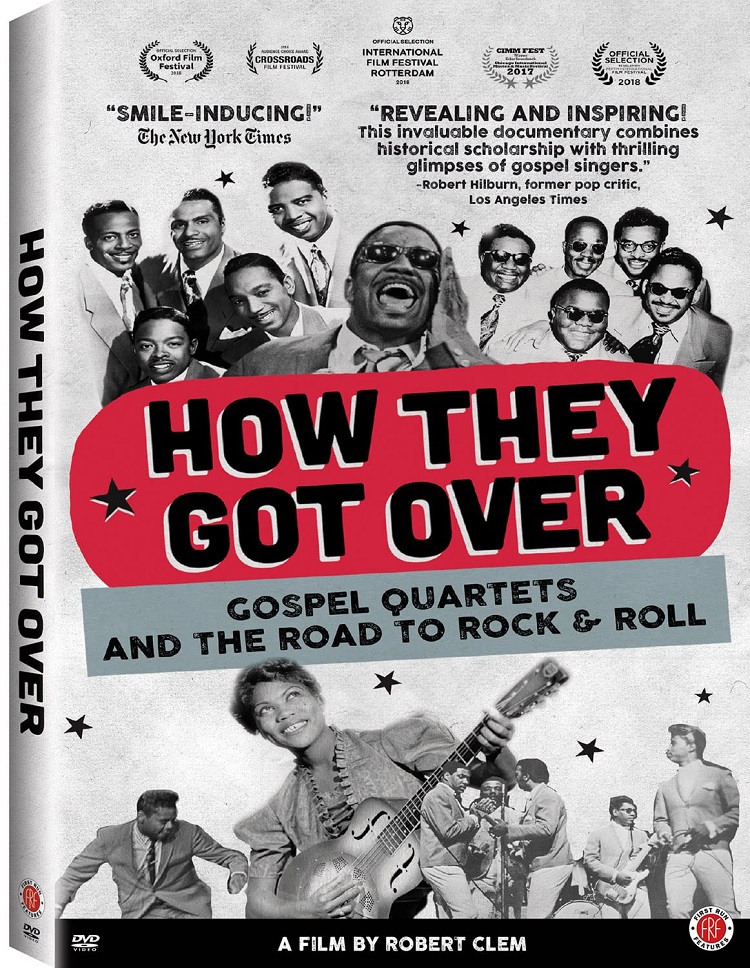 Rock & roll's roots draw from numerous genres—blues, country, and rhythm and blues, to name a few. However, gospel remains one of the most important musical forms that influenced rock's sound in terms of instrumentation and vocal style. How They Got Over: Gospel Quartets and the Road to Rock & Roll presents a fascinating overview of how groups from the 1920s-1950s contributed to the birth of rock; in addition, the development of gospel during this period is explored through archival footage.
The documentary traces the history of gospel quartets from jubilee singers—essentially vocalists all singing into one microphone—into groups with full bands. Originally they arranged traditional songs to fit quartet harmonies, but soon wrote their own compositions. Record companies took notice, and by 1924 began signing groups to small labels. Although groups originally formed in the South, the Great Migration moved them into urban markets, with legendary acts such as the Dixie Hummingbirds and the Soul Stirrers setting new standards in harmonies and singing styles.
Post World War II saw the golden age of gospel, with female vocalists moving to the forefront. The Gospel Harmonettes and Inez Andrews and the Andrewettes continued the quartet style, but strong lead vocalists such as Mahalia Jackson and Sister Rosette Tharpe also emerged during this period. Tharpe in particular is widely considered a pioneer in the foundation of rock & roll, with her electric guitar and full-throated singing style a precursor to such singers as Etta James. More groups also added electric guitar during the 1940s, a move that churches did not universally accept, judging it too close to secular music.
How They Got Over interviews former members of numerous gospel quartets (unfortunately many have since passed), and they recall their days touring the country in the 1940s-1950s. Their tales of racism still shock, with stories of narrowly missing being shot, being refused entrance to hotels, and routinely being pulled over by police for no reason. Yet there are numerous joyful remembrances, specifically concerning how gospel groups helped one another achieve success. They may have participated in "battle of the bands"-type events, but the groups shared the love of the music and the joy of performing in common.
Where How They Got Over particularly shines is when it explicitly demonstrates how gospel influenced the birth of rock & roll. In 1951, gospel quartets brought more showmanship to their stage shows in an effort to stand out, with singers dropping to their knees or musicians playing pianos with their elbows. Groups like the Mighty Clouds of Joy added choreography to their acts, while gospel concerts drew increasing inspiration from the Pentecostal church, incorporating elements from their services: dancing, shouting, and screaming. Watching archival footage of these acts, one can clearly see traces of Jerry Lee Lewis, Elvis Presley, the Temptations, and James Brown.
The documentary also focuses on two notable gospel singers: the Rev. Julius Cheeks and Sam Cooke. Cheeks, leader of the Sensational Nightingales, represented "hard gospel," a style featuring a raw, emotional, no-holds-barred vocal style. Hearing his recordings, one cannot but think of later artists such as Brown, Sly Stone, and Otis Redding taking notes from Cheeks' unrestrained style. Cooke, on the other hand, exemplified "smooth gospel," a more restrained but still passionate method of singing. Once a member of the Soul Stirrers, Cooke would move on to secular music, but would transfer that style to pop through songs such as "You Send Me" or "Cupid." How They Got Over shows footage of Cooke from his Soul Stirrers days that illustrates how little he altered his singing for his pop records.
"Getting over" refers to a phrase used back in the church—specifically in the gospel concert circuit—meaning that a group has satisfied the audience.  Indeed, How They Got Over more than satisfies in its overview of 1920s-1950s gospel quartets, demonstrating the crucial part they played in the development of R&B as well as rock & roll.